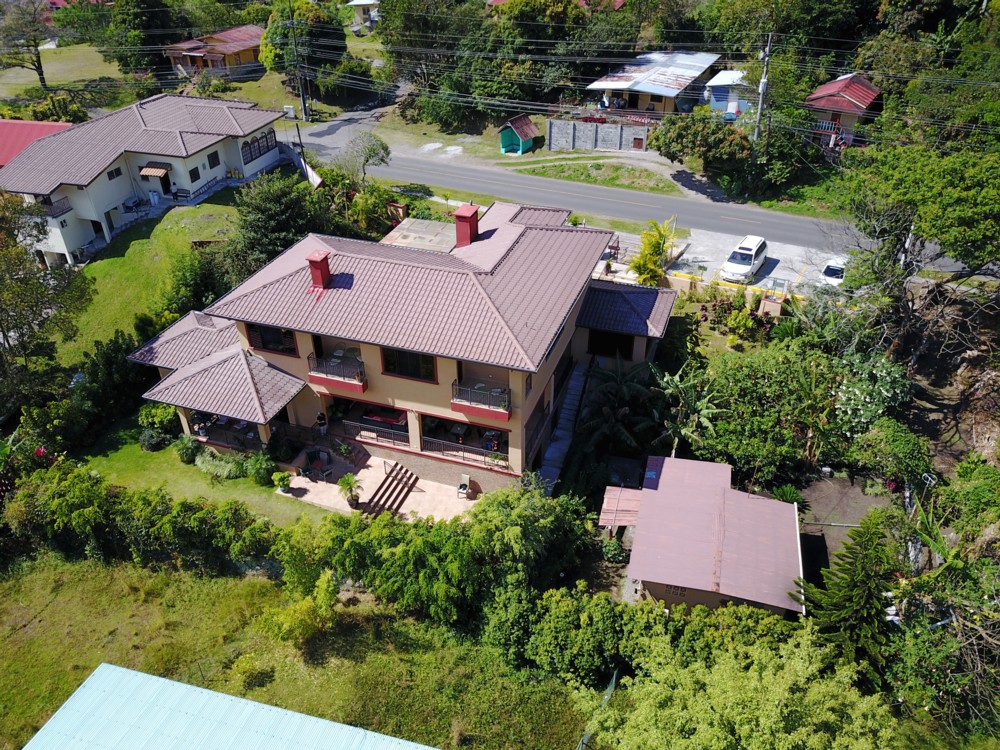 #1 Bed and Breakfast in Boquete For Sale – Profitable Boquete Business – Would Also Make a Wonderful Downtown Luxury 7 Bedroom Residence – # 1 Hotel Boutique en Boquete a la Venta – Negocio Rentable de Boquete
Price Furnished
: $1,250,000
House Size
: 6,000.00 Sq.Ft
557.42 Sq.M
Lot Size
: 1,021 Sq.M
0.25 Acres
Location
: Downtown Boquete, Boquete, Panama
This boutique hotel is a unique opportunity to purchase a stunning and highly acclaimed Boutique Hotel / Bed and Breakfast situated in the beautiful mountain town and tourist resort of Boquete in the highlands of Chiriquí.   New owners would be able to continue the operations of this successful business with immediate effect.
The 6,000 ft² property/structure, specifically designed by a renowned local architect as a Boutique Hotel / B&B, was completed in 2013 and has 6 en-suite guest bedrooms, communal areas and terraces for the guests, an office as well as a separate master suite for the owners which can be used as an additional suite.
The property is ideally situated in a quiet neighborhood on the main road just a 10-15 minute walk out of Boquete town center and has fantastic views of the surrounding mountains.
The property has 557.4 m² of covered space, multiple terraces and beautifully landscaped gardens with water features as well as a hotel parking lot for 5 cars. In addition, there is parking in front of the hotel and across the street for at least 5 more vehicles.
All the tastefully outfitted guest rooms are large and have en-suite bathrooms, custom-built furniture, flat-screen TVs, refrigerators, microwaves, a small desk and generous closet space.
The 2 guest rooms on the ground floor have access to their own small private terraces and the 4 upstairs rooms each have a balcony from which to appreciate the cool climate and mountain views.
The owner's suite has an en-suite bedroom, bathroom with Jacuzzi bath, private laundry room, living room, private terrace with BBQ and access to the professional gourmet kitchen which serves both the owners and the hotel / B&B.
The light and airy professional kitchen has cedar wood furniture and black granite counter tops and is fully equipped with state-of-the-art cooking equipment.  It has a large serving window to the covered restaurant terrace outside.
The communal areas include the reception and office area, the terrace restaurant with comfortable seating area and a gas fire.
There is a covered bar/terrace on the upper floor (complete with gas fire for cozy evenings) which often acts as the meeting point for guests and owners in the balmy evenings. The property has several terraces among the colorful gardens which are suitable for yoga or just for contemplation.
A large basement room is currently used as a storage and workroom. The property has several additional storage rooms and a large laundry and linen storage room to service the hotel / B&B operation.
The facilities include a back-up generator, reserve water tank, UV water filtration system, 3 water heaters (sufficient to provide hot water to the kitchen and all the bathrooms), smoke detectors, security cameras and motion detectors.
This hotel / B&B business, now for sale, has been operational for over 3 very successful and profitable years, with occupancy and revenues showing healthy and consistent growth. The B&B is currently ranked #1 (out of 28) on the Trip Advisor category for the Boquete area as well as #1 for all of Panama for 2017 in this category and has already received several industry awards.
The business has been legally incorporated in Panama and has all the necessary licenses and permits to operate in the hospitality and tourism sector, with restaurant and liquor licenses.   In addition the office has all the business software required, including on-line booking engine and links with key booking sites. Banking and credit card facilities are in place and reliable staff are currently employed and more than willing to stay. In summary, the business is all set for any new owner to step in and continue the profitable operations from day one without any further investment.
Growth potential is vast:
The owners' suite can be turned into a full suite and rented out.
Retreats / training sessions have been held with capacity of up to 60 participants and can be expanded.
Cooking classes are a great success already and can be further developed.
The current owners are selling the property and business as turnkey, complete with all the furniture, equipment and business facilities and records. The owners are also willing to train their successors and the current manager would like to stay on, thus guaranteeing continuity and stable service.
The owners are willing to consider some kind of financing, if necessary.
Boquete
The main features of Boquete include:
A year-round temperature in the low 20s (low seventies Fahrenheit) with fresh mountain air.
Significant North American expat community and tourist destination, which brings with it a wide range of amenities from which to choose, ranging from hostels to luxury, health spas, reliable infrastructure, with English very widely spoken.
A small town, with a small town atmosphere, surrounded by relatively untouched natural beauty.
The ability, if you choose to venture away from the town, to visit rural, traditional Panama. The beaches are just an hour away.
An abundance of outdoor activities, including zip lining, bird watching, rafting, hiking, and golf.
World famous coffee plantations.
Lots of spas and other health-related facilities.
Up until the early 2000's, Boquete was a sleepy, almost completely unknown and unremarkable agriculture-based mountain village with almost zero tourism and very few people living in the area whose families hadn't been there for generations. That changed with a series of events starting with the creation of Valle Escondido, a large residential development aimed at expats. Around the same time, several magazines devoted to people considering to relocates began to flourish, with one of the most popular very regularly touting Boquete as "the land of eternal springtime".
As a result of the publicity and the natural beauty and temperate climate of Boquete, it became, arguably, the best known North American expat destination in the world, as a large expat community developed.
Boquete is a very cozy mountain village and easily explored on foot. Guided tours through the mountains to see waterfalls, coffee plantations, the cloud forest, white water rafting, and the Volcán Barú National Park are available.
***********************************
# 1 Hotel Boutique en Boquete a la Venta – Negocio Rentable de Boquete
– también haría una maravillosa residencia de lujo de 7 habitaciones en el centro
Este hotel boutique es una oportunidad única para comprar un impresionante y muy aclamado Hotel Boutique / Bed and Breakfast situado en la hermosa ciudad de montaña y centro turístico de Boquete en las tierras altas de Chiriquí. Los nuevos propietarios podrían continuar las operaciones de este exitoso negocio con efecto inmediato.
La propiedad / estructura de 6,000 ft², diseñada específicamente por un renombrado arquitecto local como Boutique Hotel / B & B, se completó en 2013 y cuenta con 6 habitaciones de huéspedes en suite, áreas comunes y terrazas para los huéspedes, una oficina y un suite maestro separado para los propietarios que se puede utilizar como una suite adicional.
La propiedad tiene una ubicación ideal en un barrio tranquilo de la carretera principal, a solo 10-15 minutos a pie del centro de la ciudad de Boquete y tiene fantásticas vistas de las montañas circundantes.
La propiedad tiene 557.4 m² de espacio cubierto, varias terrazas y hermosos jardines con características de agua, así como un estacionamiento de hotel para 5 autos. Además, hay estacionamiento en frente del hotel, al otro lado de la calle por al menos 5 vehículos más.
Todas las habitaciones, equipadas con buen gusto, son grandes y tienen baños en suite, muebles hechos a medida, televisores de pantalla plana, refrigeradores, microondas, un pequeño escritorio y amplio espacio de guardarropas.
Las 2 habitaciones de huéspedes en la planta baja tienen acceso a sus propias pequeñas terrazas privadas y las 4 habitaciones de arriba tienen balcón desde donde apreciar el clima fresco y las vistas a la montaña.
La suite del propietario tiene un dormitorio en suite, baño con bañera de hidromasaje, lavadero privado, sala de estar, terraza privada con barbacoa y acceso a la cocina profesional gourmet que sirve tanto a los propietarios como al hotel / B & B.
La luminosa y aireada cocina profesional tiene muebles de madera de cedro y encimeras de granito negro y está totalmente equipada con equipos de cocina de última generación. Tiene una gran ventana de servicio a la terraza del restaurante cubierto afuera.
Las áreas comunes incluyen la recepción y el área de la oficina, el restaurante con terraza con una cómoda zona de asientos y una chimenea de gas.
Hay un bar / terraza cubierta en la planta superior (completa con fogatas de gas para noches acogedoras) que a menudo actúa como el punto de encuentro para invitados y propietarios en las noches templadas. La propiedad tiene varias terrazas entre los coloridos jardines que son adecuados para el yoga o simplemente para la contemplación.
Una gran sala de sótano se utiliza actualmente como almacén y taller. La propiedad cuenta con varias salas de almacenamiento adicionales y una gran sala de lavandería y ropa de cama para el servicio de la operación de hotel / B & B.
Las instalaciones incluyen un generador de reserva, tanque de reserva de agua, sistema de filtración de agua UV, 3 calentadores de agua (suficientes para proporcionar agua caliente a la cocina y todos los baños), detectores de humo, cámaras de seguridad y detectores de movimiento.
Este negocio de hotel / B & B, ahora a la venta, ha estado operativo durante más de 3 años de gran éxito y rentabilidad, con la ocupación y los ingresos mostrando un crecimiento saludable y consistente. El B & B se encuentra actualmente en el puesto # 1 (de 28) en la categoría Trip Advisor para el área de Boquete, así como el # 1 para todo Panamá en 2017 en esta categoría y ya recibió varios premios de la industria.
El negocio ha sido legalmente incorporado en Panamá y tiene todas las licencias y permisos necesarios para operar en el sector de la hospitalidad y el turismo, con licencias de restaurantes y licores. Además, la oficina tiene todo el software empresarial requerido, incluido el motor de reservas en línea y los enlaces con los sitios clave de reserva. Las instalaciones bancarias y de tarjetas de crédito están en su lugar y el personal confiable está actualmente empleado y está más que dispuesto a quedarse. En resumen, el negocio está listo para que cualquier nuevo propietario intervenga y continúe las operaciones rentables desde el primer día sin ninguna inversión adicional.
El potencial de crecimiento es vasto:
La suite de los propietarios puede convertirse en una suite completa y alquilarse.
Se han realizado retiros / sesiones de capacitación con capacidad de hasta 60 participantes y pueden ampliarse.
Las clases de cocina ya son un gran éxito y se pueden desarrollar más.
Los propietarios actuales están vendiendo la propiedad y el negocio como llave en mano, con todos los muebles, equipos e instalaciones comerciales y registros. Los propietarios también están dispuestos a capacitar a sus sucesores y al actual gerente le gustaría mantenerse, garantizando así la continuidad y el servicio estable.
Los propietarios están dispuestos a considerar algún tipo de financiamiento, si es necesario.