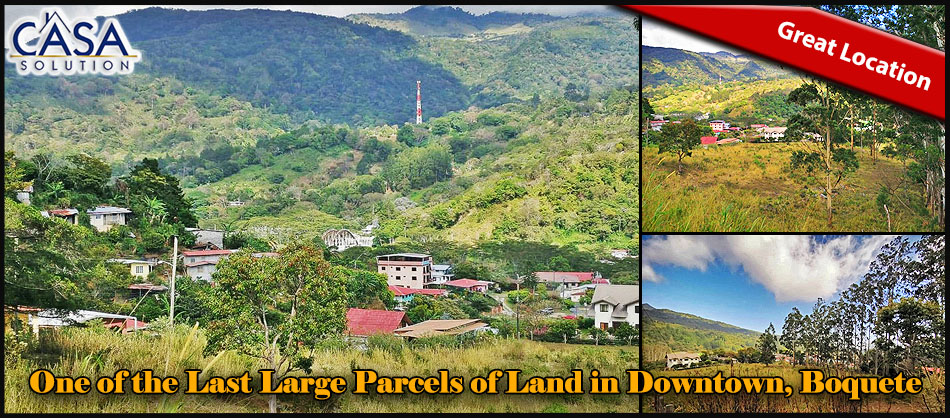 Sold by Casa Solution – Downtown Boquete Over 3,000 Square Meters of Land – Has Outstanding Views Too! – Centro de Boquete Más de 3.000 Metros Cuadrados de Terreno – ¡También Tiene Vistas Excepcionales!
Lot Size
: 3,060 Sq.M
0.76 Acres
Location
: Downtown Boquete, Boquete, Panama
This property is sold.
For more properties currently for sale that are similar to this one, land for sale in downtown Boquete, please visit here.
We would appreciate the opportunity to be of service to you.  Please visit, call 011-507-720-1331 or contact Casa Solution today.
---
This fantastic property is right in downtown Boquete making it a prime target acquisition for development purposes.
A part of the property was just sold leaving the remaining 5,379 square meters – 1.33 acres now for sale or a smaller lot if you desire.  The owner is willing to further divide it into multiple parcels and thus this offering for 3,060 square meters, 3/4 acres.
The property is ideal for a condominium project, a hotel, mixed use development, cabins or a large estate home site with inspiring views.
The land has long street frontage on two sides opening a variety of options for entrances.
The lot's topography is well suited for construction.  The bulk of it is a long and wide stretch of gentle slope with a small part of somewhat steeper grade by the top of the property.
Tall and lovely eucalyptus trees line one side of the lot.
The views from the property are of downtown, the mountains of Jaramillo and the Talamanca mountain range and features like the new Panamonte bridge nearby.  It is beautiful here.
And it is just a couple of blocks, a short walk, from restaurants, shops and the many pleasures of downtown Boquete.
Want a larger piece of this land?  There's the option to buy the entire parcel totaling 5,379 square meters – 1.33 acres.  Or the owner can be flexible on the lot sizes if you would like more or less land.
Please contact Casa Solution if you would like to view this property or have questions about this Land for Sale in Downtown, Boquete with Outstanding Views Too.
**************
Centro de Boquete Más de 3.000 Metros Cuadrados de Terreno en Venta – ¡También Tiene Vistas Excepcionales!
Esta fantástica propiedad está justo en el centro de Boquete, por lo que es una adquisición objetivo principal para fines de desarrollo.
Una parte de la propiedad se acaba de vender dejando los 5.379 metros cuadrados restantes: 1,33 acres ahora a la venta o un lote más pequeño si lo desea.  El propietario está dispuesto a dividirlo aún más en múltiples parcelas y, por lo tanto, esta oferta de 3.060 metros cuadrados, 3/4 acres.
La propiedad es ideal para un proyecto de condominio, un hotel, desarrollo de uso mixto, cabañas o una gran casa de campo con vistas inspiradoras.
El terreno tiene una larga fachada a la calle en dos lados que abre una variedad de opciones para entradas.
La topografía del lote es muy adecuada para la construcción.  La mayor parte es un tramo largo y ancho de pendiente suave con una pequeña parte de pendiente algo más pronunciada en la parte superior de la propiedad.
Los eucaliptos altos y encantadores se alinean a un lado del lote.
Las vistas desde la propiedad son del centro, las montañas de Jaramillo y la cordillera de Talamanca y características como el nuevo puente Panamonte cercano.  Es hermoso aquí.
Y está a solo un par de cuadras, a pocos pasos de restaurantes, tiendas y los muchos placeres del centro de Boquete.
¿Quieres un pedazo más grande de esta tierra?  Existe la opción de comprar el paquete completo con un total de 5,379 metros cuadrados – 1.33 acres.  O el propietario puede ser flexible en cuanto al tamaño de los lotes si desea más o menos terreno.
Por favor comuníquese con Casa Solution si desea visitar esta propiedad o si tiene preguntas acerca de Centro de Boquete Más de 3.000 Metros Cuadrados de Terreno en Venta en Panamá.