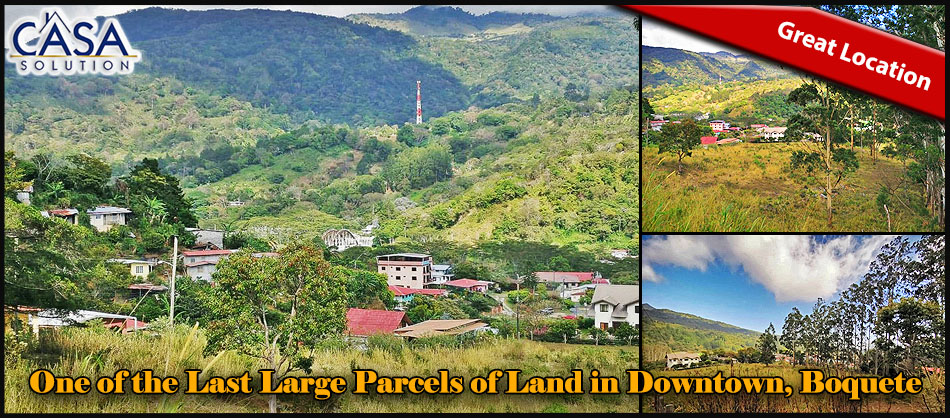 Downtown Boquete Over 3,000 Square Meters of Land for Sale – Has Outstanding Views Too!
Lot Size
: 3,060 Sq.M
0.76 Acres
Location
: Downtown Boquete, Boquete, Panama
This fantastic property is right in downtown Boquete making it a prime target acquisition for development purposes.
The total size of the lot is 9,179 square meters – 2.32 acres.   The owner is willing to divide it into multiple parcels and thus this offering for 3/4 acres.
The property is ideal for a condominium project, a hotel, mixed use development, cabins or a large estate home site with inspiring views.
The land has long street frontage on two sides opening a variety of options for entrances.
The lot's topography is well suited for construction.  The bulk of it is a long and wide stretch of gentle slope with a small part of somewhat steeper grade by the top of the property.
Tall and lovely eucalyptus trees line one side of the lot.
The views from the property are of downtown, the mountains of Jaramillo and the Talamanca mountain range and features like the new Panamonte bridge nearby.  It is beautiful here.
And it is just a couple of blocks, a short walk, from restaurants, shops and the many pleasures of downtown Boquete.
Want a larger piece of this land?  There's the option to buy the entire original parcel totaling 9,387 square meters – 2.32 acres.  Or the owner can be flexible on the lot sizes if you would like more or less land.
Please contact Casa Solution if you would like to view this property or have questions about this Land for Sale in Downtown, Boquete with Outstanding Views Too.