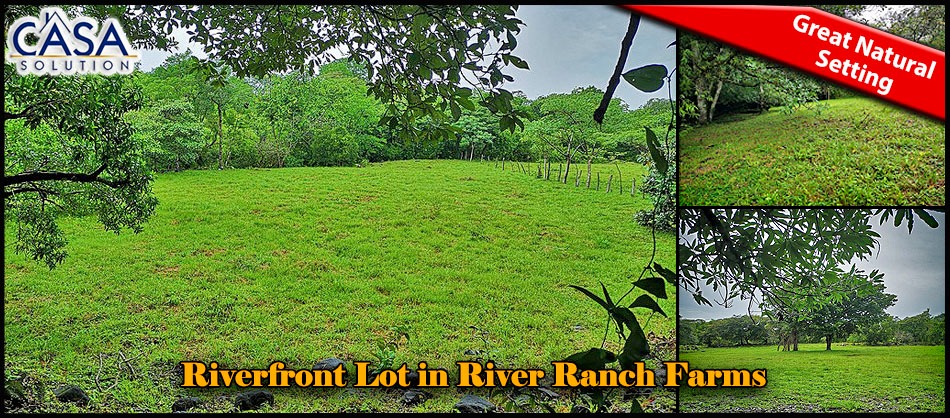 Riverfront 3 Acres of Beautiful Land in River Ranch Farms, Boquete, Panama
Lot Size
: 12,700 Sq.M
3.14 Acres
Location
: Macano, Boquete, Panama
Property Features
: River or Stream Along Border
This lot for sale is located in lovely River Ranch Farms located just next to Boquete, Panama in Macano de Cochea. It is 20 minutes or less to downtown Boquete.
The lot has a well that has already been dug and produces copious water.
There is a beautiful small river that borders the property.
The 3.14 Acres of beautiful land bordering a year-round river in River Ranch is quite large for a home site.
This property has three levels of flat terrain, perfect for building your dream home, or for farming.  The land has a beautiful rock wall along the road, cleared land with plenty of space to build or farm, and also has mature trees and bamboo along a fantastic river.  Electricity runs to the property and there is a 6″ well that produces 85/gal. per minute.
This property is a fantastic option on its own, but you can also purchase another property next to it with a house that has enough space to sleep up to seven people, and includes almost five additional acres of land https://www.casasolution.com/listing/tropical-lifestyle-dream-house-with-river-frontage-on-nearly-5-acres-in-river-ranch-boquete-panama/
Please contact Casa Solution if you would like to view this property or have questions about this Riverfront 3 Acres of Beautiful Land in River Ranch.