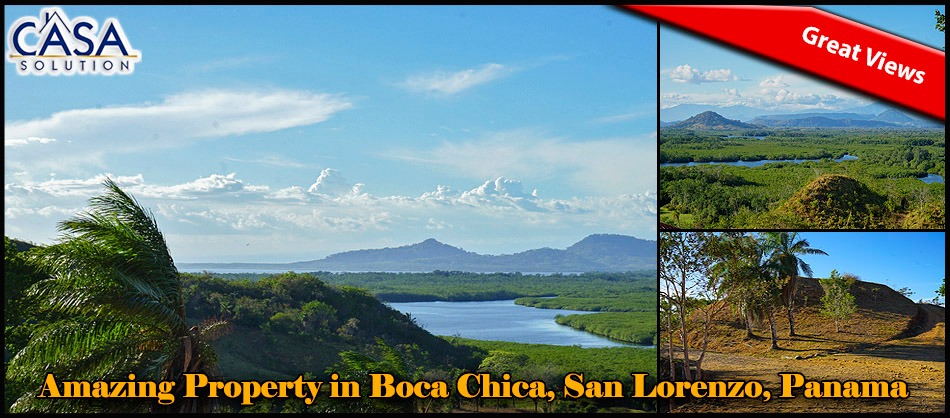 Price Reduction! Amazing View Property in Boca Chica, San Lorenzo, Panama
Lot Size
: 3,166 Sq.M
0.78 Acres
Location
: Boca Chica, Pacific Beaches Chiriqui, Panama
Approximately 45 minutes from David, 1 hour and 20 minutes from Boquete on the Pan American highway and good roads is wonderful Boca Chica.   This amazing view property is located in the beautiful Boca Chica region.
The property shares a deep well with two other property owners providing a dependable water supply.
Electricity is already there by the lot.
A beautiful iron gate provides security and ambiance at the entrance.
There is a nice flat area at the top of the lot that provides a great building site.
It is two adjacent parcels of land offered as a package; one of 2,216 square meters and the other 950 square meters for a combined total of 3,166 square meters.
Boca Chica is the launching point for many Pacific Island excursions into the Gulf of Chiriqui.  The best known beaches around Boca Chica are at sea on small islands where it is typical to find yourself soaking in the rays on white sand, swimming waters of perfect bath-like temperatures and snorkeling all day among scores of tropical fish species without seeing another soul on your little spot of paradise.  The area is a favorite of sport fishermen and occasionally you will see a fishing boat trolling in the distance.
Boca Chica is an easy and fantasy-like island day trip from Boquete.  Either sign up for a tour with transportation with one of Boquete's many tour companies or get directions for the approximately one and a half hour scenic drive to the dock at Boca Chica.
Boca Chica is the subject of much development speculation. The attractiveness of the Boca Chica region as a whole, the proximity to Costa Rica and so many unspoiled islands rich in picture postcard scenery have prompted new hotels and some residential development.
Please contact Casa Solution for more information or to see this Amazing View Property in Boca Chica, San Lorenzo, Panama.