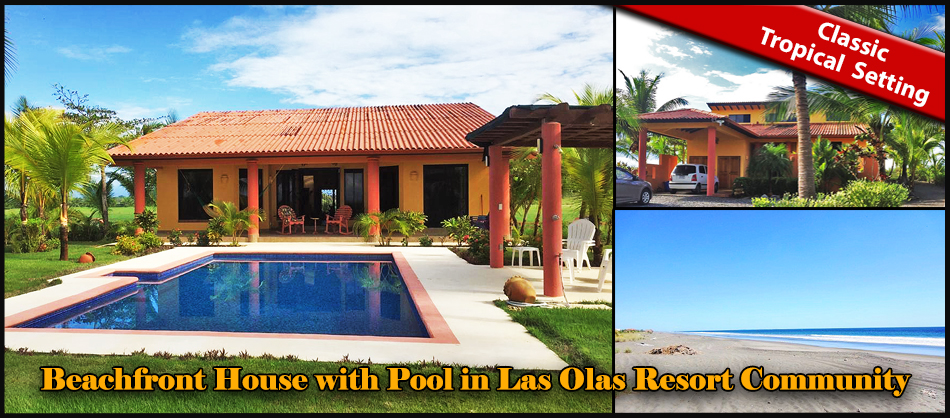 Truly Living on the Beach. – Beachfront House with New Pool for Sale in Las Olas Resort Community, Panama – Furnished – Verdaderamente vivir en la playa – Casa frente al mar con una piscina
House Size
: 2,324.00 Sq.Ft
215.91 Sq.M
Lot Size
: 1,002 Sq.M
0.25 Acres
Location
: La Barqueta, Pacific Beaches Chiriqui, Panama
Enjoy the "living on the beach" lifestyle concept in the closest resort community to David, Panama.
The house was designed to optimize the enjoyment of the oceanfront setting with a wonderful air flow and lots of natural light.
The large swimming pool was completed in 2017.   The pool and its covered poolside pergola are positioned to encourage visits to the  beach between dips in the refreshing pool water.
The pool is framed by mature coconut palms enhancing the classic tropical paradise setting.
The house is on one story, with a multi-level approach.  The entry way features a fountain.
As you step to the living room area, the wide open concept and wide doors lead to the pool and beach beckon.  High ceilings and large windows add to the spacious atmosphere.
The house has a large covered terrace with tiles that look upon the pool and the beach.  It is easily accessible from the living room area.
The rich custom cabinets warm the beautifully designed kitchen, featuring a large bar area which brings together the open floor plan.  A pantry lends storage.
The master bedroom is large and comfortable.  The bathroom has lovely glass block window along with a fun beach house whimsical tile style.
The front of the house has a walled, private garden patio, a perfect place to relax and enjoy the mountain breeze.
The house is fully furnished – ready to move in!  Air conditioning and appliances are included.
Decorative ironwork provides peace of mind security on doors and bedroom windows.
The transferable tax exemption on this house goes all the way to May, 2027.
The house benefits from a water well – a nice added feature.
Please contact Casa Solution for more information or to visit this Beach Lifestyle House with New Pool for Sale in Las Olas Resort Community, PanamaEnjoy the "living on the beach" lifestyle concept in the closest resort community to David, Panama.
**************
Verdaderamente vivir en la playa – Casa frente al mar con una piscina
Disfrute del estilo de vida de playa en la comunidad estilo resort más cercana a David, Panamá.
La casa fue diseñada para optimizar el disfrute del entorno frente al mar con un flujo de aire maravilloso y mucha luz natural.
La piscina se completó en 2017 y junto con su pérgola cubierta invitan a visitar la playa.
La piscina está enmarcada con palmeras que aumentan aún más la escena del clásico paraíso tropical.
La casa es de una sola planta, con un enfoque multinivel.  La entrada cuenta con una fuente.
Al ingresar a la sala de estar, el concepto abierto y las puertas anchas conducen a la piscina e invitan a disfrutar de la playa. Adicional a esto los techos altos y los grandes ventanales añaden aún más espacio al ambiente.
La casa tiene una gran terraza techada y con baldosas que mira directo a la piscina y a la playa.  Es fácilmente accessible a través de la sala de estar.
Los gabinetes personalizados añaden calidez a la cocina que ha sido diseñada de una manera muy hermosa.
La habitación principal es amplia y cómoda.
El frente de la casa cuenta con un patio privado, perfecto para relajarse y disfrutar de la brisa.
La casa está completamente amoblada – lista para ocuparse!
Aire Acondicionado y Línea Blanca incluida.
La exoneración de impuestos es transferible y está en vigencia hasta Mayo del 2027.
Por favor contacte a Casa Solution para más información o para visitar esta Casa de Playa.