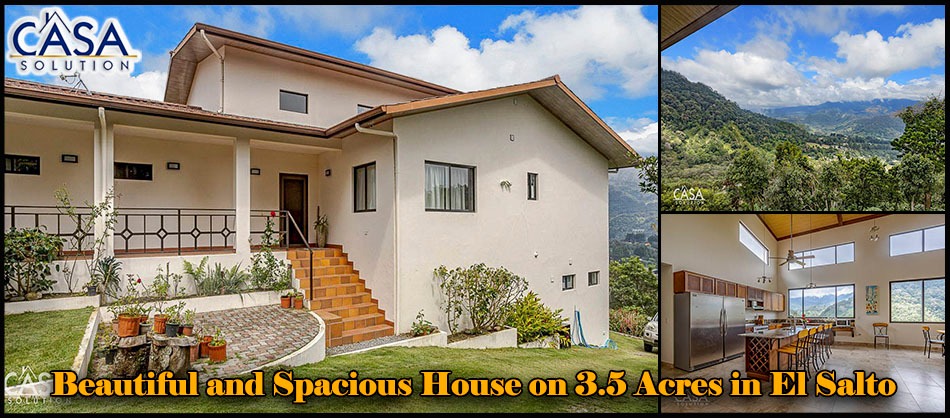 Beautiful House with Incredible View on 3.5 Acres of Productive Coffee Farm in El Salto, Boquete, Panama – Hermosa Casa con Vista Increíble en 3.5 acres y una Finca de Cafe en El Salto, Boquete, Panamá
House Size
: 3,460.00 Sq.Ft
321.44 Sq.M
Lot Size
: 14,190 Sq.M
3.51 Acres
Location
: El Salto, Boquete, Panama
Property Features
: Coffee plants
For those seeking a well maintained coffee farm with a house and incredible Panama mountain view, this house delivers.
As you reach the property, you can't help but be drawn to the lush richness of the valley scene that frames the house.   The continental divide is there on your doorstep. This coffee farm has been extensively upgraded and productive.  More than 3000 new coffee plants have been planted in the last years and more than 1500 this year. This property is set back from the road adding serenity and tranquility to the place. For more privacy, the house is fenced separately from the coffee farm.
Step into the residence to find the view there too.  Picture windows and tall ceilings with lots more glass ensure that you will enjoy the surrounding beauty from inside.
Stylish floor tiles and a pretty fireplace enhance the spacious room – the fireplaces really gives this area a great warmth atmosphere on rainy days.  The kitchen is right there ensuring the chef is part of the action.
Intensely colored granite countertops bring the kitchen alive.  Modern appliances, a versatile island with its own wine rack and pretty plumbing fixtures offer comfort, style and more convenience.  The kitchen has an oversized refrigerator and freezer for your convenience, and modern fixtures  including a pot filling faucet for the stove.
This beautiful house has three bedrooms and two bathrooms.  There is also a one bedroom apartment with a separate entrance for a total of four bedrooms and three bathrooms in the residence.
The bedrooms are large and comfortable.
Unique tile and fixtures along with more striking countertops ensure that each bathroom provides upscale comfort along with stimulating color schemes. The jacuzzi style tub provides relaxation and soothing bubbles.
A wide walk-in closet with lots of custom wood drawers is here too.
The house has a large laundry room and pantry.  It also has a garage. Additionally, the electric system is backed by some solar panels and batteries – you will never go without electricity! The water system has also been upgraded with water tanks in case the municipal water goes out.
And its own guest house.  The guest house provides rental income potential as well as a private place for your visiting relatives or friends. It has a beautiful terrace with views and a gas/wood fireplace.
The tax exemption on this house are transferable and active to August 24, 2027.
This is a great opportunity to own a beautiful house and generate an extra income with one of the world's top commodities, coffee.
Please contact Casa Solution for more information or to view this Beautiful House with Incredible View in El Salto, Boquete, Panama.
---
Hermosa Casa con Vista Increíble en 3.5 acres y una Finca de Café en El Salto, Boquete, Panamá
Para aquellos que buscan una finca de café bien mantenida con una casa y una increíble vista a las montañas de Panamá, esta casa cumple.
Al llegar a la propiedad, no puede evitar sentirse atraído por la exuberante riqueza de la escena del valle que enmarca la casa. La división continental está a la vuelta de la esquina. Esta finca de café ha sido ampliamente mejorada y productiva. Se han plantado más de 3000 nuevas plantas de café en los últimos años y más de 1500 este año
Ingrese a la residencia para encontrar la vista allí también. Las ventanas panorámicas y los techos altos con mucho más vidrio garantizan que disfrutará de la belleza circundante desde el interior.
Las elegantes baldosas del suelo y una bonita chimenea realzan la espaciosa habitación. La cocina está ahí para asegurar que el chef sea parte de la acción.
Las encimeras de granito de colores intensos dan vida a la cocina. Los electrodomésticos modernos, una isla versátil con su propio botellero y bonitos accesorios de plomería ofrecen comodidad, estilo y más conveniencia. La cocina tiene un refrigerador y un congelador de gran tamaño para su conveniencia.
Esta hermosa casa tiene tres dormitorios y dos baños. También hay un apartamento de un dormitorio con entrada independiente para un total de cuatro dormitorios y tres baños en la residencia.
Los dormitorios son amplios y cómodos.
Los azulejos y los accesorios únicos junto con las encimeras más llamativas garantizan que cada baño brinde una comodidad de primer nivel junto con esquemas de colores estimulantes. La bañera estilo jacuzzi proporciona relajación y burbujas calmantes.
Aquí también hay un amplio vestidor con muchos cajones de madera personalizados.
La casa cuenta con amplio lavadero y despensa. También dispone de garaje. Además, el sistema eléctrico está respaldado por algunos paneles solares y baterías, ¡nunca te quedarás sin electricidad! El sistema de agua también se ha mejorado con tanques de agua en caso de que se salga el agua municipal.
Y su propia casa de huéspedes. La casa de huéspedes ofrece un potencial de ingresos por alquiler, así como un lugar privado para sus familiares o amigos que lo visitan.
La exención de impuestos de esta casa es transferible y está activa hasta el 24 de agosto de 2027.
Esta es una gran oportunidad para poseer una hermosa casa y generar ingresos adicionales con uno de los principales productos básicos del mundo, el café.
Comuníquese con Casa Solution para obtener más información o para ver esta Hermosa Casa con Increíble Vista en El Salto, Boquete, Panamá.
Apartment Photos: