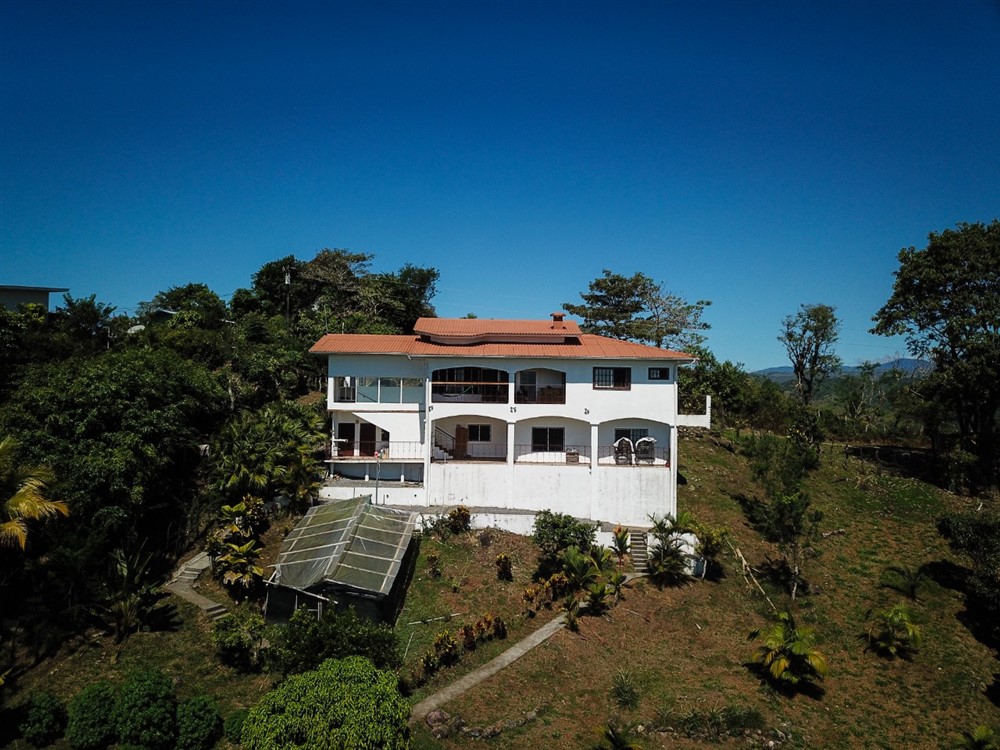 Beautiful House and Property Near Volcan, Panama
House Size
: 4,100.00 Sq.Ft
380.90 Sq.M
Lot Size
: 3,437 Sq.M
0.85 Acres
Location
: Buena Vista, Volcan, Panama
This beautiful house with fantastic views close to Volcan Panama is now available.
The property is only 21 minutes from downtown Volcan and 21 minutes from the Pan American highway in Bugaba.  It is just off of the main road between Volcan and the Pan American.   That makes this a very convenient countryside option.
The main floor which has the primary entrance is ensconced in panels of precious woods – cedar and mahogany.  The fine woods are also found in the kitchen cabinets and closets within the home.
On the main floor are the all of the key living areas.  There are two bedrooms, kitchen, living room, pantry and balcony.
The wonderful views from the balcony reach all the way to the Pacific ocean.
The kitchen has all Ariston appliances including the built-in gas stove, grease extractor, dishwasher, and oven.
The master bedroom has a walk-in closet.  There are also rooms with two built-in closets.
This level has a two car garage with an automated gate.
The lower level has a dining room, kitchen, a one bedroom with a large closet, bathroom and its own view filled balcony.  There is also a storage room or warehouse, and a machine room where the electrical panels, water reserve tank, water pump and pressure tank are located, as well as the electric water heater.
The altitude is 856 meters above sea level, with refreshing temperatures throughout the year and with spectacular views of the Pacific coast, Gulf of Chiriqui, and islands off the coast of Chiriqui, and the surrounding mountains.
The property is in two parcels.  The house property is adjacent to the other piece of land with fruit trees: oranges, tangerines, Persian lemons, grapefruit, water apple and mangos.  This lot has an area of ​​2437 square meters
and it is included as part of the sale for a total of 3437 square meters combined.
The property has electric service, wifi and drinking water.  It is all fully fenced.
Close to this property (not adjacent) and available from the same owner is this Farm Property Near Volcan Panama – Well Established and Prepared for Goat Farm.
Please contact Casa Solution for more information or to view this Beautiful House and Property Near Volcan, Panama.
Apartment