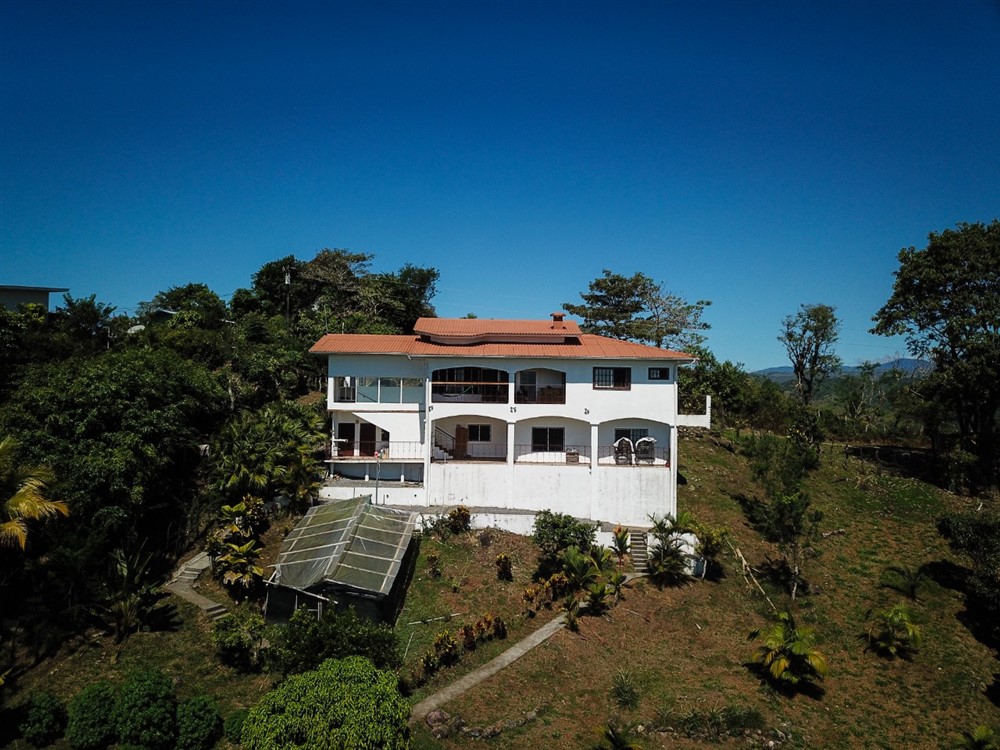 Beautiful House and Property Near Volcan, Panama – Hermosa Casa y Propiedad Cerca de Volcán, Panamá
House Size
: 4,100.00 Sq.Ft
380.90 Sq.M
Lot Size
: 3,437 Sq.M
0.85 Acres
Location
: Buena Vista, Volcan, Panama
This beautiful house with fantastic views close to Volcan Panama is now available.
The property is only 21 minutes from downtown Volcan and 21 minutes from the Pan American highway in Bugaba.  It is just off of the main road between Volcan and the Pan American.   That makes this a very convenient countryside option.
The main floor which has the primary entrance is ensconced in panels of precious woods – cedar and mahogany.  The fine woods are also found in the kitchen cabinets and closets within the home.
On the main floor are the all of the key living areas.  There are two bedrooms, kitchen, living room, pantry and balcony.
The wonderful views from the balcony reach all the way to the Pacific ocean.
The kitchen has all Ariston appliances including the built-in gas stove, grease extractor, dishwasher, and oven.
The master bedroom has a walk-in closet.  There are also rooms with two built-in closets.
This level has a two car garage with an automated gate.
The lower level has a dining room, kitchen, a one bedroom with a large closet, bathroom and its own view filled balcony.  There is also a storage room or warehouse, and a machine room where the electrical panels, water reserve tank, water pump and pressure tank are located, as well as the electric water heater.
The altitude is 856 meters above sea level, with refreshing temperatures throughout the year and with spectacular views of the Pacific coast, Gulf of Chiriqui, and islands off the coast of Chiriqui, and the surrounding mountains.
The property is in two parcels.  The house property is adjacent to the other piece of land with fruit trees: oranges, tangerines, Persian lemons, grapefruit, water apple and mangos.  This lot has an area of ​​2437 square meters
and it is included as part of the sale for a total of 3437 square meters combined.
The property has electric service, wifi and drinking water.  It is all fully fenced.
Close to this property (not adjacent) and available from the same owner is this Farm Property Near Volcan Panama – Well Established and Prepared for Goat Farm.
Please contact Casa Solution for more information or to view this Beautiful House and Property Near Volcan, Panama.

Hermosa Casa y Propiedad Cerca de Volcán, Panamá
Esta hermosa casa con fantásticas vistas cerca de Volcán Panamá ya está disponible.
La propiedad está a solo 21 minutos del centro de Volcán y a 21 minutos de la carretera Panamericana en Bugaba.  Está justo al lado de la carretera principal entre Volcán y la Panamericana.  Eso hace que esta sea una opción de campo muy conveniente.
El piso principal que tiene la entrada principal está instalado en paneles de maderas preciosas: cedro y caoba.  Las maderas finas también se encuentran en los gabinetes de cocina y armarios dentro de la casa.
En el piso principal se encuentran todas las áreas de vida clave.  Hay dos dormitorios, cocina, salón, despensa y balcón.
Las maravillosas vistas desde el balcón llegan hasta el océano Pacífico.
La cocina cuenta con todos los electrodomésticos Aristón, incluida la estufa de gas incorporada, el extractor de grasa, el lavavajillas y el horno.
El dormitorio principal tiene un vestidor.  También hay habitaciones con dos armarios empotrados.
Este nivel tiene un garaje para dos autos con una puerta automatizada.
El nivel inferior tiene un comedor, cocina, un dormitorio con un gran armario, baño y balcón con vista propia.  También hay una sala de almacenamiento o almacén, y una sala de máquinas donde se encuentran los paneles eléctricos, el tanque de reserva de agua, la bomba de agua y el tanque de presión, así como el calentador de agua eléctrico.
La altitud es de 856 metros sobre el nivel del mar, con temperaturas refrescantes durante todo el año y con espectaculares vistas de la costa del Pacífico, el Golfo de Chiriquí e islas frente a la costa de Chiriquí y las montañas circundantes.
La propiedad está en dos parcelas.  La propiedad de la casa es adyacente a la otra porción de tierra con árboles frutales: naranjas, mandarinas, limones persas, toronjas, manzanas de agua y mangos. Este lote tiene un área de 2437 metros cuadrados y se incluye como parte de la venta por un total de 3437 metros cuadrados combinados.
La propiedad cuenta con servicio eléctrico, wifi y agua potable.  Todo está completamente vallado.
Cerca de esta propiedad (no adyacente) y disponible del mismo propietario, está esta propiedad agrícola cerca de Volcán Panamá: bien establecida y preparada para la granja de cabras.
Por favor comuníquese con Casa Solution si desea visitar esta propiedad o si tiene preguntas acerca de esta hermosa casa y propiedad cerca de Volcán, Panamá.
Apartment