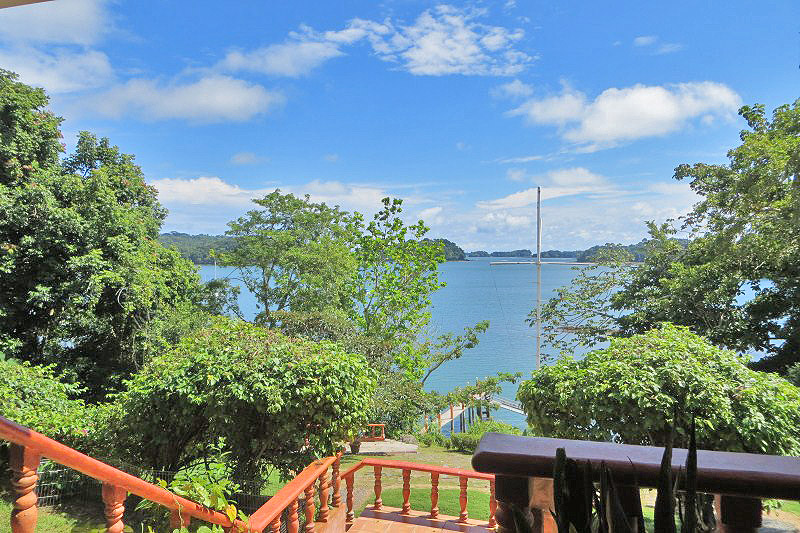 Panama Hotel for Sale with Potential to expand Marina in Boca Chica, Chiriqui, Panama
Lot Size
: 11,500 Sq.M
2.84 Acres
Location
: Boca Chica, Pacific Beaches Chiriqui, Panama
Property Features
: Water Front
Boca Chica is poised for rapid growth. It is the closest desirable launching point to David for island excursions.  The area is being highlighted as a potential rapid development zone due to its enormous appeal, natural appeal and existing infrastructure.  Previously an active resort, this titled property is prime Boca Chica. Ideal for a private home, lodge, inn, or mini-resort it's entirely up to you.
Sale includes:
About 2.8 A. or 1.15 H. Titled of Pacific Ocean waterfront real estate 500 + feet of water frontage
newly constructed highest quality buildings, pool, deck, and dock, (Dock extension prior permit in hand; for boat slip – rentals @ min. of $25 / per foot. FYI: closest marina is in Costa Rica, with laws that are not boater friendly or in the other direction the closest marina is in Panama City!
The business comes with a prior permit (that would likely require renewal) to expand to a 22 slip marina in a growing and just being discovered area in the province of Chiriqui, Boca Chica, Panama on the Pacific coast. This property is currently a small resort, that offers a variety of aquatic activities, including fishing, snorkeling and full service kitchen with tasty local fare, an always open bar, and well appointed rooms.
Boca Chica is the closest nicely developing area to the fishing grounds.
INCOME potential on dock slips is fabulous…. closest marina is in Costa Rica, which was at the time of original posting  of this listing getting $26 a foot with a waiting list! Costa Rica is not boat friendly: requiring a bond be posted and short cruiser permits. Panama: no bond, cruiser permits for 2 years, very reasonable price / easy process.  All you will need to do is watch the boats bob up and down and provide a night watchman. Additional income potential for wash downs, fuel, bait, ice…………… There is also a haul out ramp. More income potential!  The resort has custom built teak furnishings including all doors and cabinets. Included is commercial equipment, appliances, and everything for an ongoing enterprise – turnkey! The inventory list is available upon request.
This property is quietly elegant and is called a "paradise found" by many guests.
It consists of:
2 resort guest bedrooms with terraces, (deluxe)
2 cabana guest bedrooms with terraces, (standard)
1 large suite with a master bedroom with terrace and a guest bedroom/bath, and office with a wet bar. (superior)
1 suite with 2 guest bedrooms/ 1 bath (standard)
Concrete dock with floating dock (for 2 boats) and permit for slip expansion (+ 20 more)
Concrete ramp for hauling boats. (space available for a "rack 'em and stack" facility.)
1 Panamanian corporation
The bar/dining area has a breathtaking ocean view, overlooking lush vegetation and a vanishing edge swimming pool.  The kitchen is well equipped with commercial equipment and open design. It has had many photos taken of it by envious guests.
One of the best views in Panama! This is said over and over again by the many repeat customers.
Property Size is approximate.
Owner financing available, with substantial down payment.
Please contact Casa Solution if you have any questions or would like to visit this Panama Hotel for Sale with Potential to expand Marina in Boca Chica, Chiriqui, Panama
---
Hotel en Panamá en Venta con Potencial para Expandir Marina en Boca Chica, Chiriquí, Panamá
Boca Chica está lista para un rápido crecimiento.  Es el punto de partida deseable más cercano a David para excursiones por la isla.  El área se destaca como una zona de rápido desarrollo potencial debido a su enorme atractivo, atractivo natural e infraestructura existente.  Anteriormente un centro turístico activo, esta propiedad titulada es la principal de Boca Chica.  Ideal para una casa privada, albergue, posada o mini-resort, depende completamente de usted.
Venta incluye:
Aproximadamente 2.8 A. o 1.15 H.  Titulado de bienes raíces frente al mar en el Océano Pacífico 500 + pies de frente al agua, edificios recién construidos de la más alta calidad, piscina, terraza y muelle, (extensión del muelle con permiso previo en la mano; para embarcaciones de alquiler – mínimo de $ 25 / por pie.  FYI: la marina más cercana está en Costa Rica, con leyes que no son amistoso o en la otra dirección el puerto deportivo más cercano está en la ciudad de Panamá.
El negocio viene con un permiso previo (que probablemente requiera renovación) para expandirse a una marina de 22 puertos en un área en crecimiento y recién descubierta en la provincia de Chiriquí, Boca Chica, Panamá en la costa del Pacífico.  Esta propiedad es actualmente un pequeño resort, que ofrece una variedad de actividades acuáticas, que incluyen pesca, esnórquel y cocina de servicio completo con deliciosa comida local, un bar siempre abierto y habitaciones bien equipadas.
Boca Chica es la zona en desarrollo más cercana a los caladeros.
El potencial de INGRESOS en muelles es fabuloso…. El puerto deportivo más cercano está en Costa Rica, que en el momento de la publicación original de este listado recibía $ 26 por pie con una lista de espera. Costa Rica no es amigable con los barcos: requiere que se publique una fianza y permisos de crucero cortos.  Panamá: sin fianza, permisos de crucero por 2 años, precio muy razonable / proceso fácil.  Todo lo que necesita hacer es observar cómo los barcos suben y bajan y proporcionar un vigilante nocturno. Potencial de ingresos adicionales para lavados, combustible, cebo, hielo …………… También hay una rampa de arrastre. ¡Más potencial de ingresos! El complejo tiene muebles de teca hechos a medida que incluyen todas las puertas y gabinetes.  Se incluyen equipos comerciales, electrodomésticos y todo lo necesario para una empresa en curso: ¡llave en mano! La lista de inventario está disponible a pedido.
Esta propiedad es tranquilamente elegante y muchos huéspedes la llaman un "paraíso encontrado".
Consiste en:
2 habitaciones de huéspedes del resort con terrazas, (de lujo)
2 habitaciones tipo cabaña con terraza (estándar)
1 gran suite con un dormitorio principal con terraza y un dormitorio / baño de invitados, y oficina con zona de bar. (superior)
1 suite con 2 habitaciones / 1 baño (estándar)
Muelle de hormigón con muelle flotante (para 2 embarcaciones) y permiso de expansión de deslizamiento (+ 20 más)
Rampa de hormigón para transporte de embarcaciones. (espacio disponible para una instalación de "estacionar y apilar").
1 corporación panameña
El bar / comedor tiene una impresionante vista al mar, con vistas a una exuberante vegetación y una piscina al borde de la fuga.  La cocina está bien equipada con equipamiento comercial y diseño abierto. Ha tenido muchas fotos tomadas por invitados envidiosos.
¡Una de las mejores vistas de Panamá! Esto lo repiten una y otra vez los muchos clientes habituales.
El tamaño de la propiedad es aproximado.
Financiamiento del propietario disponible, con un pago inicial sustancial.
Por favor comuníquese con Casa Solution si desea visitar esta propiedad o si tiene preguntas acerca de este Hotel en Panamá en Venta con Potencial para Expandir Marina en Boca Chica, Chiriquí, Panamá