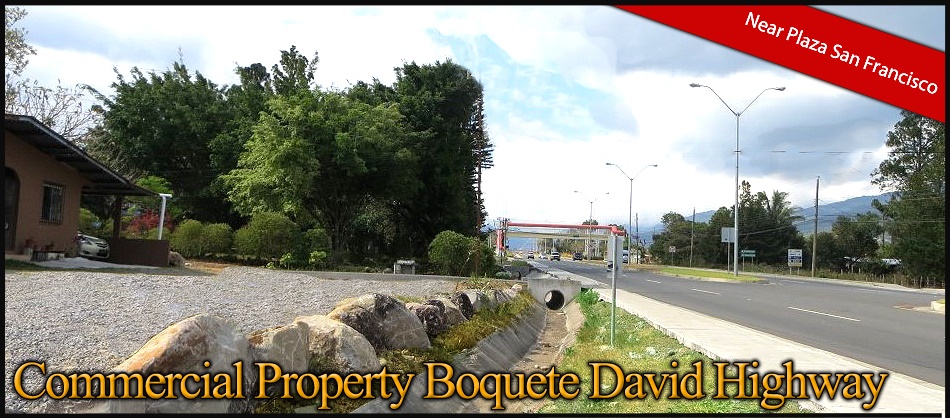 Commercial Property Boquete David Highway near Plaza San Francisco — Propiedad Comercial Via Boquete David cerca de la Plaza San Francisco
House Size
: 2,500.00 Sq.Ft
2.32 Sq.M
Lot Size
: 1,200 Sq.M
0.30 Acres
Location
: Alto Boquete, Boquete, Panama
This commercial opportunity property of 1,200 square meters is right on the new four lane highway that connects Boquete and David.  Everyone must pass this spot to go back and forth between the two cities.  And even better, this lot is just a couple hundred meters from the impressive Plaza San Francisco.
The property currently has a building with six bedrooms and six bathrooms.  It could be remodeled and turned into a motel, restaurant or a retail site among other possibilities. It could also be a house with rental units.
Construction size is rough approximate.
Lots of space for parking in front of and next to the building.
Please contact Casa Solution if you have any questions or would like to visit this Commercial Property Boquete David Highway near Plaza San Francisco.
************************************
Propiedad Comercial Via Boquete David cerca de la Plaza San Francisco
Esta propiedad es una oportunidad comercial de 1.200 metros cuadrados está justo en la nueva carretera de cuatro carriles que conecta Boquete y David. Todo el mundo debe pasar este lugar para ir y venir entre las dos ciudades. Y aún mejor, este lote es sólo un par de cientos de metros de la impresionante Plaza de San Francisco.
La propiedad actualmente tiene un edificio con seis dormitorios y seis cuartos de baño. Podría ser remodelado y convertido en un motel, restaurante o de un sitio de ventas entre otras posibilidades. También podría ser una casa con las unidades de alquiler.
Tamaño de construcción en bruto es aproximada.
Un montón de espacio para el estacionamiento delante y al lado del edificio.