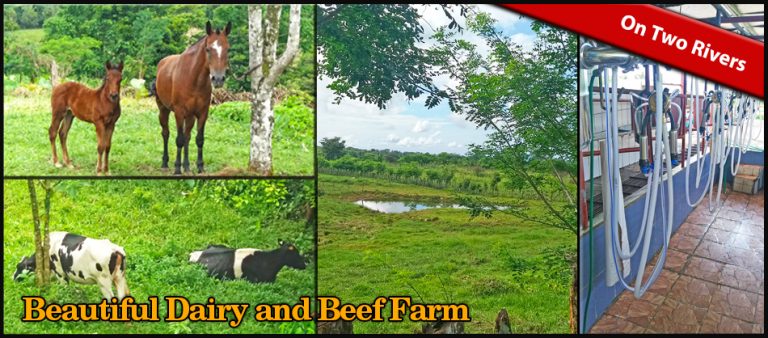 Incredible Low Price! Dairy Farm for Sale in Panama With House, Equipment, and More – Granja Lechera en Venta en Panamá con Casa, Equipo y Más
House Size
: 1,400.00 Sq.Ft
130.06 Sq.M
Lot Size
: 40,000 Sq.M
9.88 Acres
Location
: San Vicente, David, Panama
This is truly beautiful farm land with cool weather living.
This farm is an impressive and producing Panama farm property for sale and is bordered by a river.
This parcel with the second house, dairy equipment, a car, a truck and tools is available separately, but is part of a larger dairy farm that has the following features as described by the owner: "There are two large rivers and 5 springs on the whole property. The property is green year round with plenty of pasture, water and rain.  The farm had (at time of posting) about 150 head of cattle;  60 dairy – 50 red angus – 40 calves. The farm is being sold turnkey.  It is returning $130,000 a year but has the potential of easily 180,000  with adding more milking cows.  I add about 5 a month. We are milking 45 now with 15 in the "bull pen" and can easily handle 75 or more milking with the brand new 10 stall milking station and refrigerated holding tank.  We have refrigerated hanging for the processing of our beef cows and are sold as tender steaks."
This parcel of the farm is being sold with the following:
Dairy
At the dairy there is a 1,400 sq. foot nice house.  The front porch view goes from Los Olas to Costa Rico. You can watch the ships come in.  All furnished.
 Truck
Car
Tools
The dairy is equipped with all new equipment and is relatively new, all carrying warranties.
There are also three employees who would like to continue working on the property.
Listed under Volcan due to proximity. Also close to David and less than an hour to Boquete.
Ask about owner financing now available.
Note: Above information on income, operations and number of cows, etc. at time of original posting when the property was offered at a much higher price.  Please contact us to confirm current numbers.
This is a great opportunity to have a farm in Panama.  Please contact Casa Solution for more information or for a visit.
Want more property than 9.75 hectares? More adjacent farm property is also for sale from the same owner.    For more on the entire farm, visit this page: Beautiful Dairy and Beef Farm for Sale
********************
Granja lechera en venta en Panamá con casa, equipo y más
Esta es realmente una hermosa tierra de cultivo con una vida fresca.
Esta granja es una propiedad agrícola impresionante y productiva de Panamá para la venta y está rodeada por un río.
Este paquete con la segunda casa, equipo de lechería, un automóvil, un camión y herramientas está disponible por separado, pero es parte de una granja lechera más grande que tiene las siguientes características descritas por el propietario: Hay dos grandes ríos y 5 manantiales en el toda la propiedad La propiedad es verde durante todo el año con mucho pasto, agua y lluvia. La granja actualmente tiene alrededor de 150 cabezas de ganado; 60 lácteos – 50 angus rojos – 40 terneros. La granja se vende llave en mano. Está devolviendo $ 130,000 por año pero tiene el potencial de fácilmente 180,000 con la adición de más vacas lecheras. Agrego alrededor de 5 por mes. Estamos ordeñando ahora 45 con 15 en el "corralillo" y podemos manejar fácilmente 75 o más ordeños con la nueva estación de ordeño de 10 puestos y el tanque de retención refrigerado. Tenemos colgantes refrigerados para el procesamiento de nuestras vacas de carne y se venden como carnes tiernas.
Esta parcela de la granja se vende con lo siguiente:
Lechería
En la lechería hay otra bonita casa de 1,400 pies cuadrados. La vista del porche frontal va de Las Olas a Costa Rico. Puedes ver los barcos entrar. Todo amueblado.
-Camión
-Coche
-Herramientas
La lechería está equipada con todo el equipo nuevo y tiene aproximadamente 4 meses de antigüedad, todas con garantías.
También hay tres empleados a los que les gustaría seguir trabajando en la propiedad.
Listado bajo Volcán debido a la proximidad. También cerca de David y menos de una hora a Boquete.
Pregunte sobre el financiamiento del propietario ahora disponible.
Esta es una gran oportunidad para tener una granja en Panamá. Contáctese con Casa Solution para más información o para una visita.
¿Quiere más propiedades que 9.75 hectáreas? Más propiedades agrícolas adyacentes también están a la venta del mismo propietario. Para obtener más información sobre toda la granja, visite esta página: Hermosa granja de productos lácteos y carne de vaca en venta