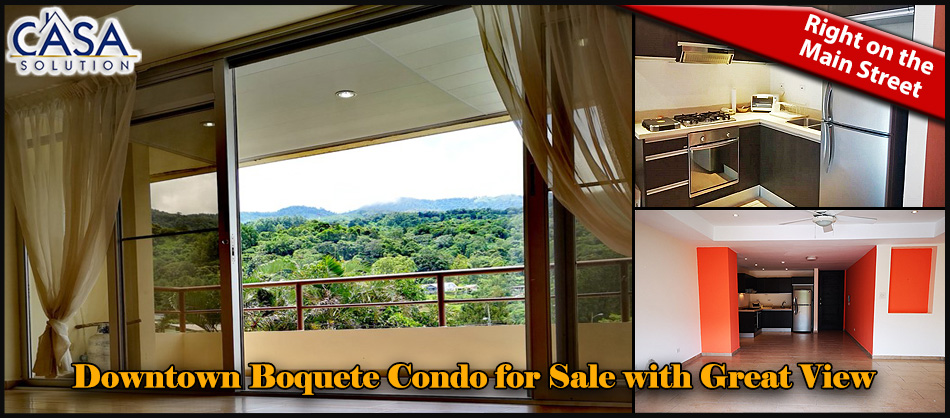 Downtown Boquete Condo for Sale with Great View – Building is Right on the Main Street Near Center of Town
House Size
: 1,025.00 Sq.Ft
95.23 Sq.M
Location
: Downtown Boquete, Boquete, Panama
Just a few blocks from the Central Park in downtown Boquete is a modern three story condo building called The Fountain.
It is conveniently located close to many restaurants, shops, spas, tourist attractions and all the great conveniences of downtown Boquete Panama.
This condominium in that building has a great view of the mountains in Jaramillo, part of the Talamanca mountain range.  It has a huge balcony from which to enjoy the tropical scene and another from the bedroom that looks out on the town.
The condo's location facing the back and side of the building make it a quieter option than those on the Main street.
The finishes in the building are very modern – especially the beautifully appointed kitchen.
The apartment has other great attributes such as a bowl sink in the bathroom, ceiling fans, and air conditioning (though you may not use it given Boquete's spring-like climate).
The appliances and cabinet in the condo are included.
Enjoy having a transferable tax exemption on this condominium to March 12, 2029.
Please contact Casa Solution to view this Downtown Boquete Condo for Sale – Building is Right on the Main Street Near Center of Town or for more information.