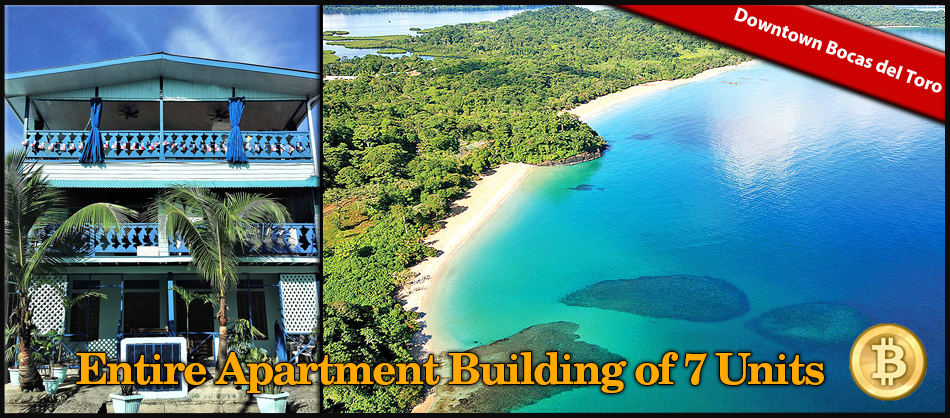 Entire Apartment Building of 7 Units in the Heart of Bocas del Toro Downtown – Fully Furnished – Titled Property – Significant Income – Edificio de apartamentos completo de 7 unidades en Bocas del Toro
Price Furnished
: $399,000
House Size
: 3,700.00 Sq.Ft
343.74 Sq.M
Lot Size
: 200 Sq.M
0.05 Acres
Location
: Bocas del Toro - Isla, Bocas del Toro, Panama
Live the Island Good Life with this business & investment opportunity in Bocas del Toro.  This centrally located apartment building has seven 1 bedroom apartments and is offered fully furnished.  The building has both ocean and downtown views.
The building is full most of the time.  When full, the revenue is $3,600 per month.  It brings in over $40,000 per year.
The apartments are very secure.  They are across from the police station, have cameras, motion detector lights and a metal gate.
The location is excellent.  It is just 1 minute to the central park and main street businesses by stores, restaurants. etc.
It is across from water taxis to the mainland and outerlying islands.  The apartment building is just 4 blocks from the airport.
There are no more conveniently located apartments in town.
The apartments already have Hi speed internet and HD cable television.
The washer and dryer are less than a year old.
The 7 apartments are versatile and at varied price points for everyone's budget, from $350 to $700 month; from double beds to king beds.
The building is three stories.  It has both city water and water catchment systems along with a backup water tank.
Included are lots of appliances such as 9 refrigerators, 8 air conditioners and 7 stoves.
Bocas del Toro has become an international hot spot for world travelers.  Seeking a tropical paradise without the risk of dangerous hurricanes?  Panama's position near the equator means essentially no hurricanes with only minor impacts when one starts to form on its way north.
******************************
Edificio de apartamentos completo de 7 unidades en Bocas del Toro
– Totalmente amueblado – Propiedad con título – Ingresos significativos
El edificio está lleno la mayor parte del tiempo. Cuando está lleno, el ingreso es de $3,600 por mes. Aporta más de $40,000 por año.
Los apartamentos son muy seguros. Están frente a la estación de policía, tienen cámaras, luces de detector de movimiento y una puerta de metal.
La ubicacion es excelente Está a solo 1 minuto del parque central y los principales negocios de la calle por tiendas, restaurantes. etc
Los 7 apartamentos son versátiles con precios variados para el presupuesto de todos, desde $350 hasta $700 al mes; desde camas dobles hasta camas king.
El edificio es de tres pisos. Tiene sistemas de captación de agua y agua de la ciudad junto con un tanque de agua de reserva.
Se incluyen muchos electrodomésticos como 9 refrigeradores, 8 aires acondicionados y 7 estufas.