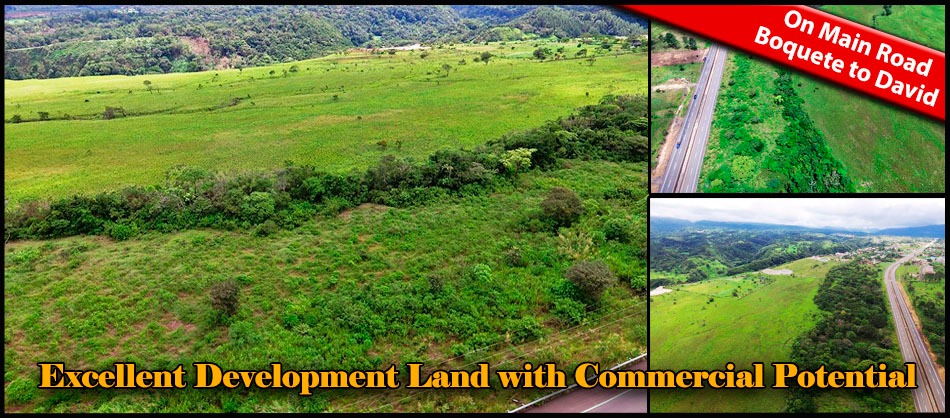 Excellent Development Land for Sale On Main Road Between Boquete & David, Panama – Excelente Terreno de Desarrollo en Venta en la Carretera Principal entre Boquete y David, Panamá
Lot Size
: 118,136 Sq.M
29.19 Acres
Location
: Alto Boquete, Boquete, Panama
For commercial development of a shopping center, residential community or mixed use enterprise you can't beat this excellent development land in Boquete, Panama.
The property has so many outstanding characteristics.
Its location right on the main and only major road between Boquete and David Panama is foremost.  The property has an extensive and long road frontage.
The land is nearly entirely flat, about 99%.
Views from the property are amazing in every direction.  From here, you have great views of Volcan Baru, Panama's highest peak, the Talamanca mountain range in another direction and the beauty of the Colga River canyon too.
The property has many of the characteristics of successful residential communities like Los Molinos or Boquete Canyon Village, yet it is located closer to Boquete's downtown area, is right on the main road for easier access and infrastructure development and has commercial potential those communities don't have given its prime on the road location.  Also, the temperature here is a bit cooler than those other fine communities.
The land is close to the new Boquete Convention Center currently under development and in the Boquete zone where commercial development is taking off.
It has been preliminarily approved for both residential and commercial use.
Also, the property is already in four separately titled parcels.  The owners are willing to sell all of the property or just one of the parcels if desired including a 9,447 road frontage property.
One great option for this property is to consider the development of a commercial plaza, townhouses or condos and apartments in the middle of the property and a hotel by the canyon where the views are most intensely beautiful.
Please contact Casa Solution for more information or to visit this Excellent Development Land for Sale in Alto Boquete, Panama.

Excelente Terreno de Desarrollo en Venta en la Carretera Principal entre Boquete y David, Panamá
Para el desarrollo comercial de un centro comercial, comunidad residencial o empresa de uso mixto, no puede superar este excelente terreno de desarrollo en Boquete, Panamá.
La propiedad tiene muchas características sobresalientes.
Su ubicación justo en la carretera principal y única entre Boquete y David Panamá es lo más importante.  La propiedad tiene un frente de carretera extenso y largo.
El terreno es casi completamente plano, alrededor del 99%.
Las vistas desde la propiedad son increíbles en todas las direcciones.  Desde aquí, tiene excelentes vistas del Volcán Barú, el pico más alto de Panamá, la cordillera de Talamanca en otra dirección y la belleza del cañón del río Colga también.
La propiedad tiene muchas de las características de comunidades residenciales exitosas como Los Molinos o Boquete Canyon Village, pero se encuentra más cerca del centro de Boquete, está justo en la carretera principal para facilitar el acceso y el desarrollo de infraestructura y tiene un potencial comercial que esas comunidades no han dado su mejor momento en la ubicación de la carretera.  Además, la temperatura aquí es un poco más fría que las otras comunidades finas.
El terreno está cerca del nuevo Centro de Convenciones de Boquete, actualmente en desarrollo, y en la zona de Boquete, donde el desarrollo comercial está despegando.
Ha sido aprobado preliminarmente para uso residencial y comercial.
Además, la propiedad ya está en cuatro parcelas tituladas por separado.  Los propietarios están dispuestos a vender toda la propiedad o solo una de las parcelas si lo desean, incluyendo una propiedad frente a la carretera de 9.447.
Una gran opción para esta propiedad es considerar el desarrollo de una plaza comercial, casas adosadas o condominios y apartamentos en el centro de la propiedad y un hotel junto al cañón donde las vistas son más bellas.
Por favor comuníquese con Casa Solution si desea visitar esta propiedad o si tiene preguntas acerca de este excelente terreno de desarrollo en venta en Alto Boquete, Panamá.