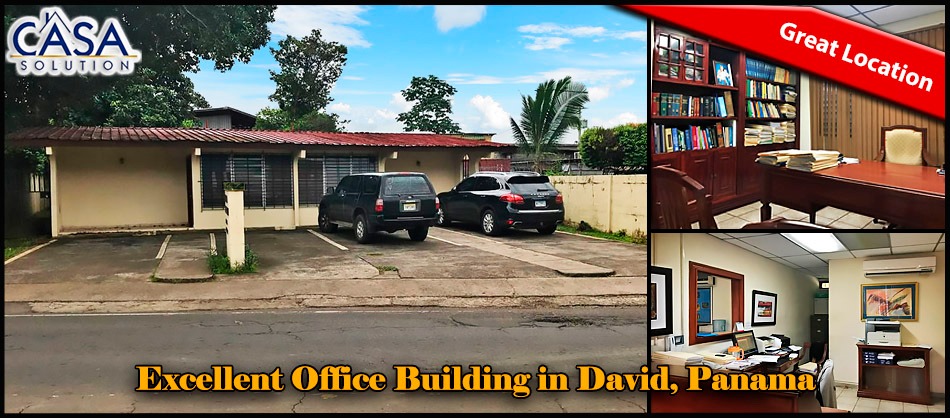 Excellent Office Building in Central Location for Sale in David, Panama – Included with the Property Are …. – Excelente Edificio de Oficinas en una Ubicación Central para la Venta en David, Panamáa Corp & Permanent Residencies For A Full Family
House Size
: 1,210.00 Sq.Ft
112.41 Sq.M
Lot Size
: 370 Sq.M
0.09 Acres
Location
: David, David, Panama
This excellent office building is located in one of David Panama's busiest and rapidly developing commercial zones.
It is a great option for an office with its own dedicated parking spaces.  Currently, this is the site of one of David's most successful law office.  It is in easy walking distance from the David's Alcaldía central government offices.
Could also easily be converted into a residence.
The price is negotiable.
Please contact Casa Solution for more information or to visit this Excellent Office Building in Central Location for Sale in David, Panama by appointment.
*********************
Excelente Edificio de Oficinas en una Ubicación Central para la Venta en David, Panamá – Incluidos con la Propiedad hay una Corporación y Residencias Permanentes para una Familia Completa
Este excelente edificio de oficinas está ubicado en una de las zonas comerciales más concurridas y de rápido desarrollo de David Panamá.
Es una excelente opción para una oficina con sus propios espacios de estacionamiento dedicados.  Actualmente, este es el sitio de una de las oficinas de abogados más exitosas de David.  Está a poca distancia a pie de las oficinas del gobierno central de la Alcaldía de David.
También podría convertirse fácilmente en una residencia.
El precio es negociable.
Por favor comuníquese con Casa Solution para obtener más información o para visitar este Excelente Edificio de Oficinas en una Ubicación Central en Venta en David, Panamá.