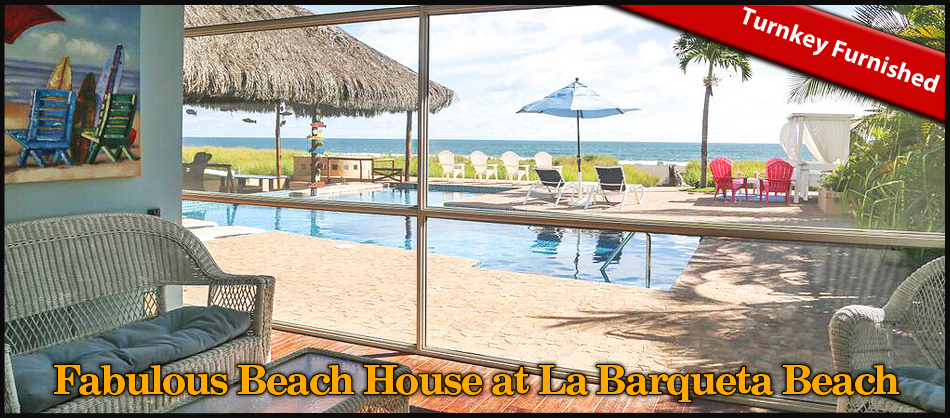 Super Deal! Fabulous Beach House with Pool at La Barqueta Beach Gated Community- Close to Boquete – Turnkey Furnished Espectacular Casa de Playa con Piscina en Las Olas, Barqueta, Chiriquí
Price Furnished
: $495,000
House Size
: 2,400.00 Sq.Ft
222.97 Sq.M
Lot Size
: 1,002 Sq.M
0.25 Acres
Location
: La Barqueta, Pacific Beaches Chiriqui, Panama
This is an incredibly fabulous beach house in the closest beach resort to David, Panama and Boquete, Panama.  The property has been tastefully cultivated and designed to optimize the pleasure of residents and visitors.
The house is in immaculate condition.
Las Olas Resort and La Barqueta beach are about 20-30 minutes from David and about 1 hour from Boquete, Panama.   This is the closest beach destination to these locations and also the most developed beach resort and residences in all of Chiriqui Province.
This property is the perfect beach house: fully furnished, turnkey*, titled, tax abated** – nestled in a gated community on 16 miles of beautiful beach.
Modeled after a "beach cottage" look, the entirely concrete structure is softened with Spanish tiles and wood molding to create cozy charm.  The furnishings are imported from the United States to  enhance the home's custom look and guarantee quality.  As one of the largest pools on the beach, the 26,000 gallon salt water pool is perfect for both legitimate exercise and entertaining at the swim-up bar.
Multiple outdoor sitting areas allow for time in the sun as well as under the shade of the palm-thatch rancho.  If your dream home involves listening to the crashing waves at night, then open the grand sliding doors and sleep insect-free thanks to the screened-in porch that surrounds the ocean side of the house.  Enjoy a private outdoor shower in the Green Suite's spacious full bath or relax in the attached sitting room of the Coral Suite.  For those concerned about mobility, the beach house is situated on one level for easy access in-and-out as well as within.  Current owners love living in the area and look forward to their next building adventure in Panama.
*When we say TURNKEY, we mean it.  The sale price includes all of the furniture -inside and out,- linens, dishes, décor, appliances, modems, EVERYTHING!  This is a truly unique opportunity to purchase a home that is totally ready to occupy.
**This home is tax abated until June 27, 2029
HOA fee is ONE-TIME, annual assessment of $720
Annual fee covers 24/7 gate staff, tri-weekly trash removal, and maintenance of common ground
SEE PHOTOS BELOW… But first:
*****************************************
Esta es una casa de playa increíblemente fabulosa en el proyecto de Playa más cercano a David y Boquete. La casa está en perfecto estado. Las Olas Resort y playa La Barqueta están a unos 20-30 minutos de David y a 1 hora de Boquete. Este es el destino de playa más cercano a estos lugares y también el proyecto de playa más desarrollado en toda la provincia de Chiriquí. Esta propiedad es la casa de playa perfecta: totalmente amueblado, llave en mano *, titulado – ubicado en una comunidad cerrada con 16 millas de hermosa playa. Diseñada con un estilo de "cabaña de playa", la estructura es de concreto con baldosas españoles y moldes de madera para crear un ambiente acogedor.
Los muebles son importados de los Estados Unidos para mejorar la apariencia personalizada de la casa y garantizar la calidad. Consta con una de las piscinas más grandes de la playa, la piscina de agua salada de 26,000 galones es perfecta tanto para el ejercicio como para el entretenimiento.
* Cuando decimos TURNKEY, lo decimos en serio. ¡El precio de venta incluye todos los muebles – en el interior y exterior, – ropa de cama, platos, decoración, electrodomésticos, módems, todo! Esta es una oportunidad verdaderamente única para comprar una casa que está totalmente lista para se ocupada.
*****************************************
Some Helpful Questions and Answers from the Owners:
"How do I get there?
Three options to reach our beautiful beach: 1.  Short flight on Copa Airlines from Panama City to David (PTY-DAV).  2.  Ride on air-conditioned coach from Albrook Terminal to David Terminal.  3.  Drive a rental car- originating at Tocumen Airport.
How close are you to the beach?
All you need to do is walk the short, 20 meter path through the protected sea grass to reach the beach.  This picture is taken at the end of the patio to give you a better idea of scope.
Is it safe to walk the beach/street?
YES.  Many people ask about the presence of vendors and wild dogs they may have experienced in other parts of Latin America.  We have neither.  Of course, all beaches are technically "public," but rarely do we see non-residents outside of major holidays.
Are there any restaurants/bars nearby?
There are!  A ten minute walk will get you to one of three "typica" restaurants serving fish, patacones, drinks, etc.  Of course, for a more formal dining experience the restaurant at Las Olas Hotel serves three meals a day.
What are the best months to be there?
Especially if you are from a colder climate (like me), Panama weather is beautiful all year round.  We have two "seasons" here:  green season and dry season.  The peak of summer is November through April where there is very little to no rain.  Occasional afternoon showers begin in April and get more frequent between September and October.
Do you have good grocery stores?
Shopping is very similar to an experience in North America.  Four major chains service David:  Super Baru, Rey, Romero, and Super 99.  Most everything you would want is available.  If you are particularly heath conscience, the Organica store in nearby Boquete provides customers with supplements, powders, etc.
What if i get sick?
We're actually really fortunate that health care is top notch in Panama- especially in comparison with other Latin American countries.  AND…it's shockingly affordable.  David is home to all the specialists you may need, and most speak English.  Our doctors are located in Hospital Chiriqui, and highly recommended.
How many homes in the development?
We're one of 52 homes along the 2-mile stretch of road that runs through Barqueta Nice.  We're a multinational bunch -mostly American and Canadian.  BN is a quiet, friendly place to live.
Do I need a Panama bank account to purchase property?
You DO NOT.  Our property is titled just as it would be in the United States and the US dollar is Panama's currency.  You will need a bank account if you would like to eventually become a permanent resident, but NOT to purchase property.
What activities are available?
Aside from lying in the pool with a cold drink??  So many things to do: horseback riding, kayak the mangroves, zip-line, tour coffee plantations, ride white water rapids,whale watch, and more.  All these activities are within a two-hour driving radius from the house.
What do you enjoy the most/least about living in Panama?
Hmmm…after almost five years as a full-time resident I will never tire of the beautiful weather and spending afternoons watching the Pacific Ocean.  Like staring into a fire, the ocean remains mesmerizing.  If I have to pick a 'least,' I would have to say the "mañana mentality" is a very real thing.  No one is in a hurry…ever…and that takes some serious adjusting to accept.
Do you have staff?
We employ two wonderful locals to maintain the pool/yard and clean the inside of the home.  Jose takes care of the outside for us two hours a day-six days a week ($3.50/hr.), and Deika cleans inside once a week ($2.50/hr).  Of course, by no means do you have to keep them on.  However, should you like maintenance help they have worked with us for years, know the property, and would be thrilled to carry on for you
How is the internet?
Service is provided by a vendor on our beach, IP COM, and very reliable.  We have 15 mg. of fiberoptic Internet for $64/month.
Do you have/need a generator?
We do NOT have a generator because it doesn't seem necessary.  Like all other metal, a generator would quickly oxidize in the salt air and the power rarely has gone out long enough to warrant the purchase
Why are you selling?
We do get asked this.  Why?  We're young, had a five year plan, and that time is up.  We'd do it again in a heartbeat.  This home, and the community is wonderful."