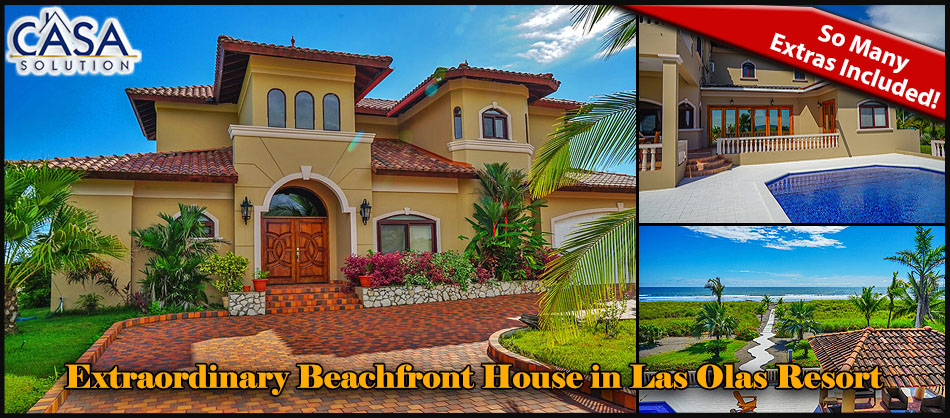 Price Reduction! Extraordinary Beachfront House for Sale with 5 Bedrooms & So Many Extras Including Swimming Pool, Furnishings, 3 Vehicles, Generator & More in Las Olas Resort Community, Panama
Price Furnished
: $749,000
House Size
: 5,560.00 Sq.Ft
516.54 Sq.M
Lot Size
: 2,400 Sq.M
0.59 Acres
Location
: La Barqueta, Pacific Beaches Chiriqui, Panama
This extraordinary house and property right on the beach is one of the finest oceanfront homes in all of Chiriqui province.
Its location is ideal within the Las Olas resort community.  Las Olas in La Barqueta, has luxury homes lining the beach on each side of the hotel.  The side to the right of the hotel has a long stretch of beautiful homes of various sizes and designs.  Most have medium size lots.  The left side where this fabulous home is located is considered more exclusive, with larger lots and much bigger residences.  For example, this home is located on well over 1/2 an acre.
This residence is a rare opportunity to enjoy a large, high quality oceanfront house with lots of wonderful extras.
The home has super curb appeal as you approach.  You know you are in for a pleasurable visit as you enter over the high quality paver enriched driveway.  The outlined entry door, two car garage and multi-faceted design elements evoke modern, yet impressive presence.  Lovely foliage and landscaping help to set the pretty scene.
Entering the house, you find the interior relaxing with a sublime quality.  High quality picture window patio doors bring the ocean view inside.  The upgraded portals easily open to the beautiful recreational pool area with the Pacific ocean enticing you just beyond.
The high ceiling entry adds grandeur to the home.  A trey ceiling frames the more intimate front living room space.  Large, quality floor tiles adorn the floor.
An adjacent dining room area with long table and chandelier evokes scenes of exclusive dinner parties.
The tasteful modern kitchen is well-aligned with the special quality of this fine home.  It has all the desirable modern appliances along with upgraded fixtures and double kitchen sink.  The new model refrigerator is an example of the superior choices put into making this home far exceed the norm.
The house's bedrooms are very large.  Lots of windows help ensure great lighting and pretty scenes.
Enjoy the master bath features.  Of special note is that large jacuzzi tub great for relaxing and enjoyment.
The upstairs balconies provide breathtaking views.
Headed outside on to the patio, you are tempted to take a relaxing deep breath…it is such a pretty scene.  The pool area is well designed to add to the subtle enjoyment of the setting.  It can be enjoyed from the covered or sun filled patio areas or from the large well-tiled poolside.
A rancho provides an easy way to be out in the pool and beach areas also bringing the two swimming options together.
An easy to walk pathway forgoes the typical approach with a winding flow that took special artistic care to create.  It looks great!  Tropical, well-landscaped plants accompany your steps to the sand.
Once on the beach, you can walk for miles.  It is lightly occupied with the sparkling waters accompanying you.
Among the many extras of the house are the fine furnishings included in the price.  They are not your typical included-with-the-price type furnishings.
The house has been enhanced with a full house industrial strength backup electric generator.  No outages to think about.
The house has central air conditioning.  Many other beach homes here have individual room units. Central air is a significant upgrade.
And the 5 bedrooms brings lots of options for a large family, visiting friends and family, office, craft rooms, exercise rooms, massage room or whatever you desire.
Three super vehicles are included too… a 2018 Mitsubishi pickup with very low mileage, a Jeep CJ and an electric golf cart add a lot of value to the purchase as well as simplify sliding into into this supreme Panama beach lifestyle.
The house has its own water well.  It could be hooked up to an additional local community source if desired.
The tax exemption on this home to August 1, 2026 is transferable to you as the new owner.
Want to take a quick trip to the mountains? Boquete is only an hour or less away.  Volcan just a touch farther.
City life amentities? David, Panama's third largest city is less than half an hour from here.
This is a great beach residence with lots of wonderful extras.  There are more than even mentioned.  Please consider this great property for your new home in Panama.
Please contact Casa Solution if you would like to view this property or have questions about this Extraordinary Beachfront House for Sale in Las Olas Resort Community Near David, Panama & Boquete, Panama.
More about Las Olas
Las Olas resort is in the nearest recreational beach access to rapidly growing David, Panama (Panama's third largest city) and famous Boquete.
The Las Olas Resort is the largest and most developed beach resort in Chiriqui Province. Many luxury homes and impressive quality condominiums have been built in this 2,000 acre development and it enjoys the security and amenities of Las Olas as well as a great location about a half hour from David's city amenities.
Las Olas has an excellent restaurant with both inside and outdoor beachfront seating, tennis courts, gym, resort style swimming pools, walking trails, a calm mangrove waterway that is perfect for kayaking and observing nature.  It also has a resort hotel.