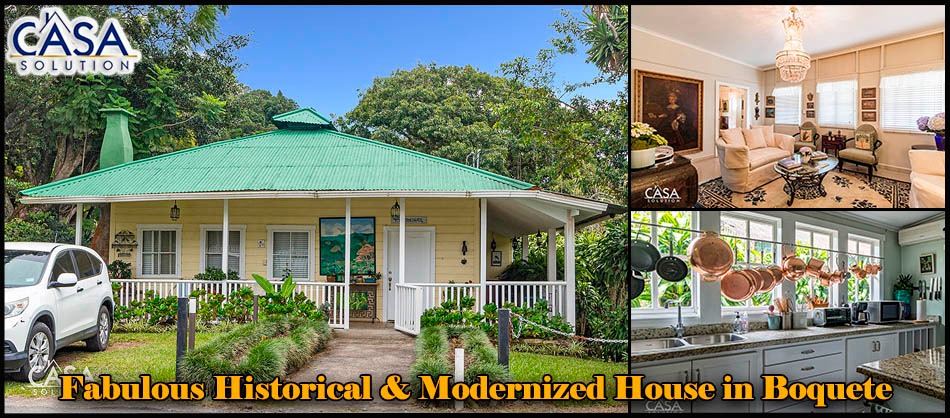 Fabulous One of a Kind Historical & Modernized House "El Fresal" for Sale in Front of the Panamonte Hotel
House Size
: 1,860.00 Sq.Ft
172.80 Sq.M
Lot Size
: 521 Sq.M
0.13 Acres
Location
: Downtown Boquete, Boquete, Panama
Live the sublime Boquete lifestyle in this 109 year old historical treasure and modernized gem of a home.
Walk right out your door, cross the street and into the wonderful Panamonte Hotel restaurant or bar.  Take an easy stroll into the center of downtown from this super-prime location.
This cozy home features a commodious master bedroom suite with a large bathroom. It is connected to an abundant wardrobe with plenty of space.  A sweet master bedroom feature is its private terrace – perfect for a morning coffee or read.
The guest bedroom is a comfortable space with its own bathroom and closet too.
Upon entering the invitingly warm kitchen, an ample island countertop offers the combination of lots of cooking space with a spot for guests and loved ones to join you.  Plenty of windows gives this space tremendous natural light overlooking a lush setting.   Next to the kitchen, a dedicated laundry room also offers extra space for storage.
The well presented living area is charming with an old-world feel… a great spot for relaxation.  Connected to it, the studio is a room of elegance and style awash of natural lighting.
A flowing connected interior places the dining room in between the living room, kitchen, and study room.
The porch wraps around the east and north sides of the house. It offers a beautiful open-plan living with space for a BBQ, sitting area, and a small coffee table.
You will love the charms of this historical home in Downtown Boquete. It is conveniently located moments from an abundance of retail shops, cafes, and restaurants making it a truly wonderful option for a great life in Boquete, Panama.
The house is a rare historical treasure from the early 1900's.   It is an original residence of one of the area's first European settler farming families of the region.  The family went on to become one of the Province's most esteemed.
The location, history and features make this a lifestyle and investment opportunity in a red hot location not to be missed!
Please contact Casa Solution if you would like to view this property or have questions about this Fabulous One of a Kind Historical & Modernized House for Sale right in front of the Panamonte Hotel in Panama.