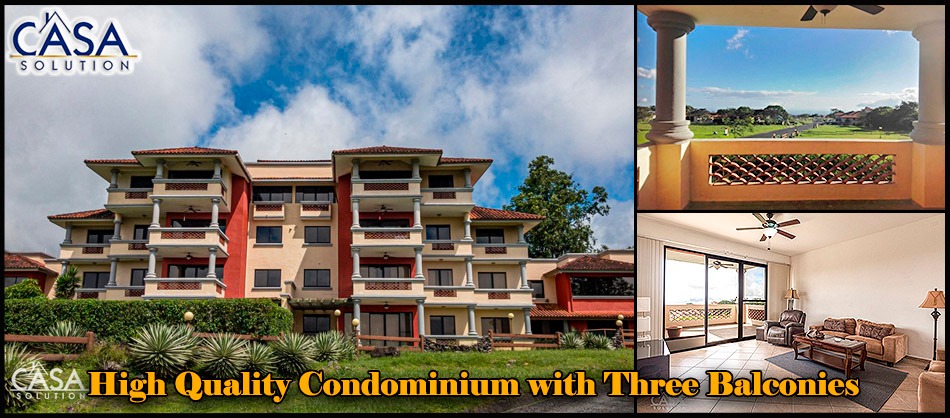 Under Contract – High Quality Condominium with Three Balconies & Great Views for Sale in Boquete Country Club – Furnishings Included! – Condominio de Alta Calidad con Tres Balcones y Excelentes Vistas en Venta en Boquete Country Club – ¡Los Muebles Están Incluidos!
House Size
: 1,789.00 Sq.Ft
166.20 Sq.M
Location
: Alto Boquete, Boquete, Panama
This high quality condominium for sale in Boquete, Panama presents a great combination of convenience, location, views, and value.
The condo is in the Mountain View apartments, some of the nicest condos for sale in all of Boquete.   As you enter the gates of this excellent residential community in a great microclimate location, you turn your right to see two four-story condo towers.  This condo is in the first of the two and provides easy access as well as right by the door parking.
You can choose to take the elevator or pop up the only one story of stairs to come to the condo entrance.   Once inside, the many large windows on both sides of condo, front and back, usher in lots of light as well as views.  Everything is very nice from the kitchen cabinets, to the very pretty floor and wall tiles. The finishes of the condo are of high quality and user friendly.
This condo has a wonderful three balconies – one accessible from the open floor plan living room area and one accessible from each of the two bedrooms.
The unobstructed views from the balconies are of this very pretty development and reach past Alto Boquete's plateau all the way to the Pacific Ocean on a clear day.
This is a great investment property with upside potential and is easy to rent out.
Furnishings and appliances are included too.
Please contact Casa Solution for more information or to view this high quality condo for sale in Boquete Country Club, Boquete, Panama.
About Boquete Country Club
Boquete Country Club is a master planned gated community located just five minutes from the town of Boquete . The design of Boquete Country Club, promises a different and special lifestyle. Combining a myriad of leisure facilities and world-class infrastructure including a Club House with Gym & Spa (already completed) and a state-of-the-art Equestrian Center (already completed), Boquete Country Club provides not only an excellent standard of living, but also a quality investment in this increasingly popular corner of the world.
Amenities
Among the many amenities you will find available as a Boquete Country Club resident are a Gym & Spa facility with views overlooking into the spectacular canyon wall that borders the development site, as well as a state-of the-art Equestrian Center, two tennis courts, ecological trails, and much more.
Club House
The Club House amenities at Boquete Country Club include:

• Gym & Spa (already completed)
• Enclosed and open-air social areas
• Outdoor pool and Jacuzzi
• Terraces with view to the natural surroundings
Equestrian Center
Boquete Country Club´s Equestrian Center is another highlight of the community, consisting of:
• An outdoor riding field
• Indoor riding arena
• Social areas
*******************
Condominio de Alta Calidad con Tres Balcones y Excelentes Vistas en Venta en Boquete Country Club – ¡Los Muebles Están Incluidos!
Este condominio de alta calidad en venta en Boquete, Panamá presenta una gran combinación de conveniencia, ubicación, vistas y valor.
El condominio se encuentra en los apartamentos de Mountain View, algunos de los mejores condominios en venta en todo Boquete. Al ingresar a las puertas de esta excelente comunidad residencial en un excelente microclima, gire a la derecha para ver dos torres de condominios de cuatro pisos. Este condominio está en el primero de los dos y ofrece un fácil acceso, así como el estacionamiento junto a la puerta.
Puede elegir tomar el ascensor o abrir la única historia de escaleras para llegar a la entrada del condominio. Una vez dentro, las muchas ventanas grandes en ambos lados del condominio, adelante y atrás, dan paso a mucha luz y vistas. Todo está muy bien desde los gabinetes de la cocina, hasta el piso y los lindos azulejos de la pared. Los acabados del condominio son de alta calidad y fáciles de usar.
Este condominio cuenta con tres maravillosos balcones, uno accesible desde la sala de estar de planta abierta y otro accesible desde cada una de las dos habitaciones.
Las vistas despejadas desde los balcones son de este desarrollo muy bonito y alcanzan la meseta de Alto Boquete hasta el Océano Pacífico en un día despejado.
Esta es una gran propiedad de inversión con potencial de crecimiento y es fácil de alquilar.
Los muebles y los electrodomésticos están incluidos también.
Póngase en contacto con Casa Solution para obtener más información o para ver este condominio de alta calidad a la venta en Boquete Country Club, Boquete, Panamá.
Acerca de Boquete Country Club
Boquete Country Club es una comunidad cerrada planificada ubicada a solo cinco minutos de la ciudad de Boquete. El diseño de Boquete Country Club promete un estilo de vida diferente y especial. Combinando una gran cantidad de instalaciones de ocio e infraestructura de clase mundial que incluyen una Casa Club con Gimnasio y Spa (ya completada) y un Centro Ecuestre de vanguardia (ya completado), Boquete Country Club ofrece no solo un excelente nivel de vida , sino también una inversión de calidad en este rincón del mundo cada vez más popular.
Comodidades
Entre las muchas comodidades que encontrará disponibles como residente del Boquete Country Club se encuentran un gimnasio y un spa con vistas a la espectacular pared del cañón que bordea el sitio de desarrollo, así como un centro ecuestre de última generación, dos canchas de tenis , senderos ecológicos y mucho más.
Club House
Las comodidades del Club House en Boquete Country Club incluyen:
Gimnasio y Spa (ya completado)
Áreas sociales cerradas y al aire libre
Piscina al aire libre y jacuzzi
Terrazas con vista al entorno natural
Centro Ecuestre
El centro ecuestre de Boquete Country Club es otro punto culminante de la comunidad, que consiste en:
Un campo de equitación al aire libre
Pista de equitación de interior
Áreas sociales