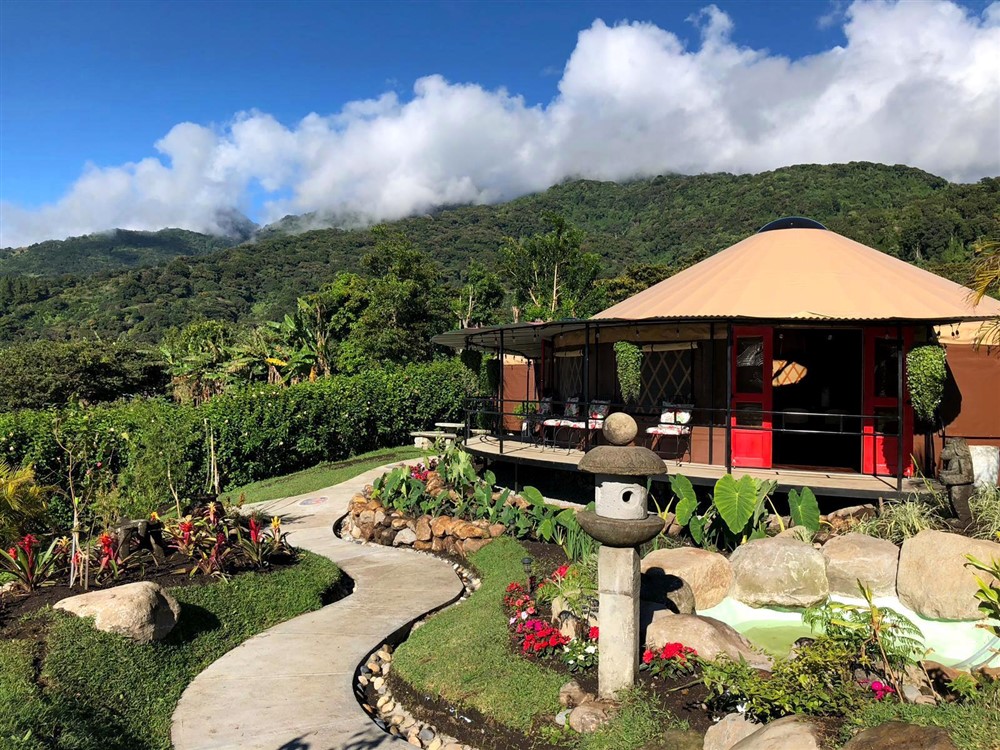 Hold Your Next Party, Event, Fiesta or Meeting at the Spectacular Villa Gauguin's Mountain, Boquete, Panama
Location
: Alto Quiel, Boquete, Panama
Enjoy this spectacular new destination for your Boquete, Panama meeting, party or special event.
The Villa Gauguin provides a unique and gorgeous location for your group.  The facilities are versatile.
The Villa is a private and gated enclave comprised of three event facilities.
The property has wonderful features to delight your guests and make the experience of your event the talk of the town for years to come.
Property Features
Les Chambers Lodging
The beautifully landscaped grounds are host to cabin and yurt lodging options.
Sleep in Luxury tropical all wood cabins and Mongolian style glamping yurts. All exquisitely furnished.
La Galerie – Event Space
This large space provides more than 700 sq ft of fashionable wood flooring with open space artfully created in-the-round for your special event.
Abundant natural light with a large central ceiling dome and exceptional views of the ocean and mountains are some of the features of this lovely event location.
Also, state of the art electronics are on-site for sound, music and video events.
Rocky's Cafe & Lounge 
A charming and eclectic meal venue for up to 24 persons is housed in the European style main residence.  Rocky's Café & Lounge can be reserved for small private groups.
Food Service can be catered based on your group size and preferences. A coffee bar and continental breakfast awaits you at Rocky´s Cafe.
Play chess, checkers, or card games at your leisure in the lounge area.
La Maison de Jouir – Event Space
A bright and artistic room with theatre style seating for up to twenty four participants.
Features a wall size reproduction of Gauguin's most celebrated painting.
La Cheminee – Outdoor Fireplace Gathering Place 
Enjoy this delightful gathering place with wood burning fireplace and relaxation area.
Glamping
Also ask about the fabulous glamping experience unique to this prized location in Boquete.
The Villa Gardens:
Gentle walkways guide you and your guests through lush edible landscaping, stunning gardens and a magical waterfall feature.  This is a tropical landscape at its very best!
The Boutique
Snacks and quality gifts are available for your guests from the boutique at the Villa.
Event and Lodging Pricing
Please contact us for pricing or additional information concerning your event.  The owners are currently providing special offers.