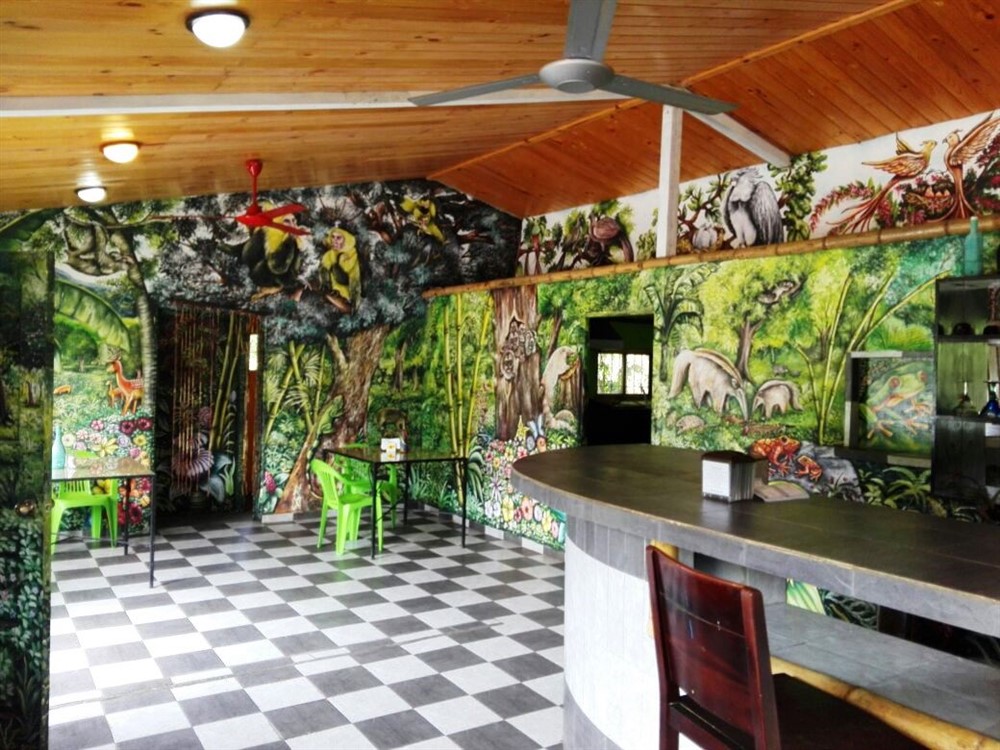 Hostal and Restaurant on the Main Road in Palmira, Boquete, Panama – Hostal y Restaurante en la Carretera Principal en Palmira, Boquete
House Size
: 4,940.00 Sq.Ft
458.94 Sq.M
Lot Size
: 3,000 Sq.M
0.74 Acres
Location
: Palmira, Boquete, Panama
This commercial property has a Great location that has become a landmark destination for Palmira, Boquete and the surrounding area.
It offers multiple possibilities for a business: a restaurant, accommodations and a conservation and education center, among others.
Spacious grounds offer the possibility of creating beautiful gardens or adding more structures.
There is plenty of parking space on the main road.
Outdoor areas include a terrace, kitchen, picnic and outdoor sitting area.
The property has two main buildings:
The restaurant
The front of the property leads you to the restaurant. This multi-purpose space can be used as a Bar, Restaurant, kitchen and children's parties event room.  The restaurant's walls are completely painted with animals and jungle themes.
It has a big kitchen with pizza oven.
Accomodations
Added on to the restaurant building there is a hostel – consisting of one big dorm, indoor kitchen, one bathroom, outdoor kitchen and laundry room.
There is a separate one-bedroom apartment.
The Casita
The Casita is a separate building consisting in a glass, square structure that includes a big room, a kitchen and a bathroom.  This building could be used as a dining area or restaurant.
Other features
On demand gas water heather
Plenty of open space that can be used.
The property currently has two living environments for animals that the owner will move to the neighboring property within six weeks of signature of promise to purchase agreement.
******************
Hostal y Restaurante en la Carretera Principal en Palmira, Boquete
En frente de la propiedad te lleva al restaurante. Este espacio se puede utilizar como sala de eventos, restaurante, cocina y fiestas infantiles.
La Casita es un edificio separado que consiste en una estructura cuadrada de vidrio que incluye una gran sala, una cocina y un baño. Este edificio podría ser utilizado como un comedor o un restaurante.
Please contact Casa Solution if you have any questions or would like to visit this Hostal and Restaurant on the Main Road in Palmira, Boquete, Panama – Hostal y Restaurante en la Carretera Principal en Palmira, Boquete.