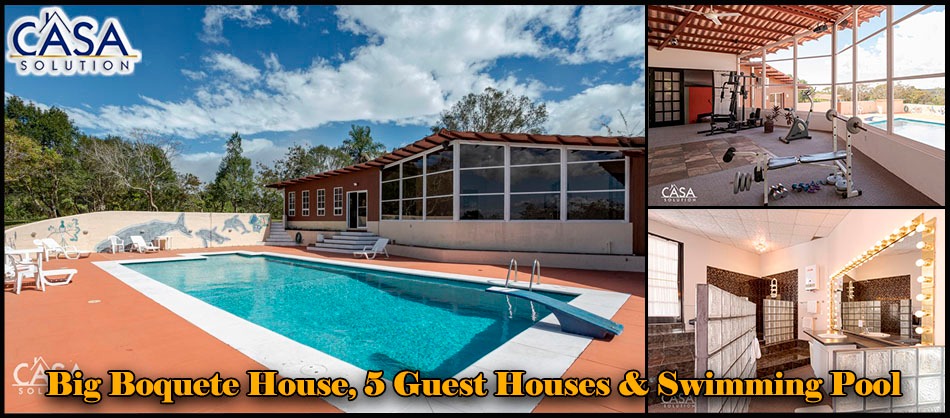 Big Boquete House or Hotel, 5 Guest Houses, Swimming Pool and More – Currently a Hotel – Could Also Be Your Residence with 5 Rental Incomes – Hotel con Vista al Cañon
House Size
: 6,200.00 Sq.Ft
576.00 Sq.M
Lot Size
: 14,924 Sq.M
3.69 Acres
Location
: Alto Boquete, Boquete, Panama
Get pleasure from one of the very special places of peace on earth!!  Or, develop it as you like!!  Either way, this unique property, bordered by the Rio Cochea canyon, just south of Boquete, could be yours!
It covers 3.69 acres(14,724mts2), in a lovely town, that's rated by International Living, as "one of the best places to retire in the world."  Be enthralled by the fabulous 280 degree views of Volcan Barú, Panama´s highest peak, the Cochea river canyon and the Pacific coast.
Let go your worries and cares while strolling along the groomed trail surrounding the property.  Pause and enjoy the soothing sounds of the river, running through the green valley, 100 meters (300 feet) below.  Enjoy the chatter of the many tropical birds that regularly visit (hummingbirds, parakeets, nightingales and more).
At a refreshing 800 meters (2,625 ft.) experience a life-lifting renewal, the miraculous sunrises, and all in harmony with the beauty and nature around.  Boquete enjoys a most comfortable year-round average temperature of 22 Celsius (72F).
This exceptional piece of land is a well-planned, spacious complex comprising the main house with five large cabins.  Enjoy the warmth of the solar-heated swimming pool.  Play in the regulation-size volleyball court.  Keep in shape on the running and walking trails.  And there is a small gym too!
The main house, with a two-vehicle carport, is large, at 2,648 ft2 (246 m2).  It features a massive master bedroom 32`x20`(10.6m x6.6m), two other 14`x 14`bedrooms, and three (3) full bathrooms.
Entertain in the spacious living room.  Put meals together in the completely-equipped kitchen.
Enjoy an income: Spread around this special property are five large cabins, 34` cabins all feature fully-equipped kitchens (frost-free refrigerators, gas stoves, microwaves, toasters, coffee makers, and more).  Each cabin features queen-size beds with orthopedic mattresses, a sofa-bed, & large bathrooms with hot showers.  The cabins are handicapped accessible.
All utilities are in place, and operating; including electricity, potable water (with 1,000 gallons in reserve), regular telephone service, wireless internet, and cell phone service.
Of special note; no poles, no wires… That`s because all electrical wiring is out of sight … underground, in a effort to maintain the harmony and beauty of this unique location.
This very desirable property is 8 km. before Boquete center.  Property access is over a short 38 meter well-maintained gravel road and concrete drive.  The single entrance to the property is only with a remote control.  Security cameras are in place.
Come and experience for yourself the greenery, the views, and all the peace and quiet you can handle!
THE DETAILS … IN SHORT….
Located in Boquete, Chiriqui, república de Panamá Area: 1.5 ht (14,724 sq.m.) 3.69 acres in flowers, grass and native trees Buildings: 5 cabins, 1 house.
Amenities:
Solar-heated 40`x 20`x 8`swimming pool, regulation size volleyball court, gym, two viewpoints with seating, cliff-side running/walking trail.
Construction: concrete with steel stud frame, Pana-Lit outside panels, tehalit roofing, gypsum inside.  All on one-level.  Handicap accessible.
Utilities:
Electricity: Edechi Power, Unión Fenosa -110volt.
Water supply: municipal potable water- with 1,200 gallons in reserve.
Propane on-demand water heaters for each house
Appliances: Cabins: stoves, refrigerators, microwaves, coffee makers, toasters, water heaters, fans, and televisions.
House: All G.E. appliances include gas stove, side-by-side refrigerator, dishwasher and dryer (washer- new Whirlpool).
Outside: Parking for 19 vehicles
Parking facilities: Cabins and house 2-car carports
Distance to public transport: 380 meters
Landscape lighting along road inside property.
Owner financing considered.
Please contact Casa Solution if you would like to view this property or have questions about this Big Boquete House or Hotel with 5 Guest Houses a Swimming Pool and More in Panama.
---
Casa Grande u Hotel en Boquete, 5 Casas de Huéspedes, Piscina y más, Actualmente un Hotel, También podría ser Su Residencia con 5 Ingresos de Alquiler
¡¡Disfruta de uno de los lugares especiales de paz en la tierra!! O, ¡desarrolla como quieras!  De cualquier manera, esta propiedad única, bordeada por el cañón del río Cochea, justo al sur de Boquete, ¡podría ser tuya!
Cubre 3,69 acres (14,724 mts2), en un pueblo encantador, calificado por International Living, como "uno de los mejores lugares para retirarse en el mundo".  Déjese cautivar por las fabulosas vistas de 280 grados del Volcán Barú, el pico más alto de Panamá, el cañón del río Cochea y la costa del Pacífico.
Deje ir sus preocupaciones  mientras pasea por el sendero arreglado que rodea la propiedad.  Haga una pausa y disfrute de los relajantes sonidos del río, que atraviesa el valle verde, a 100 metros (300 pies) por debajo.  Disfrute de la charla de las muchas aves tropicales que visitan regularmente (colibríes, periquitos, ruiseñores y más).
A una refrescante temperatura de 800 metros (2.625 pies), experimenta una renovación vital, los amaneceres milagrosos y todo en armonía con la belleza y la naturaleza que lo rodea.  Boquete disfruta de una temperatura promedio más cómoda durante todo el año de 22 Celsius (72F).
Este excepcional terreno es un complejo espacioso y bien planificado que comprende la casa principal con cinco cabañas grandes.  Disfrute del calor de la piscina climatizada con energía solar. Juega en la cancha de voleibol de tamaño reglamentario.  Manténgase en forma en los senderos para correr y caminar.  ¡Y también hay un pequeño gimnasio!
La casa principal, con una cochera para dos vehículos, es grande, con 2,648 pies2 (246 m2).  Cuenta con una enorme habitación principal de 32 'x 20' (10,6 mx 6,6 m), otras dos habitaciones de 14 'x 14' y tres (3) baños completos.
Entretener en la amplia sala de estar.  Prepare las comidas en la cocina totalmente equipada.
Disfrute de un ingreso: distribuidas alrededor de esta propiedad especial hay cinco cabañas grandes, 34 cabañas todas cuentan con cocinas totalmente equipadas (refrigeradores libres de heladas, estufas de gas, microondas, tostadoras, cafeteras y más).  Cada cabina cuenta con camas tamaño queen con colchones ortopédicos, un sofá cama y amplios baños con duchas de agua caliente.  Las cabañas son accesibles para discapacitados.
Todas las utilidades están en su lugar y en funcionamiento;  incluyendo electricidad, agua potable (con 1,000 galones en reserva), servicio telefónico regular, internet inalámbrico y servicio de telefonía celular.
De nota especial; sin postes, sin cables…  Eso se debe a que todo el cableado eléctrico está fuera de la vista… bajo tierra, en un esfuerzo por mantener la armonía y la belleza de esta ubicación única.
Esta propiedad muy deseable es de 8 km antes del centro de Boquete.  El acceso a la propiedad se realiza a través de un corto camino de grava y concreto de 38 metros en buen estado.  La entrada única a la propiedad es solo con un control remoto.  Las cámaras de seguridad están en su lugar.
¡Ven y experimenta por ti mismo la vegetación, las vistas y toda la paz y la tranquilidad que puedes manejar!
Por favor  comuníquese con Casa Solution si desea visitar esta propiedad o si tiene preguntas acerca de esta Casa Grande u Hotel en Boquete, 5 Casas de Huéspedes, Piscina y más, Actualmente un Hotel en Alto Boquete, Boquete, Panamá.
New Photos – Dry Season
Original Photos – Green Season