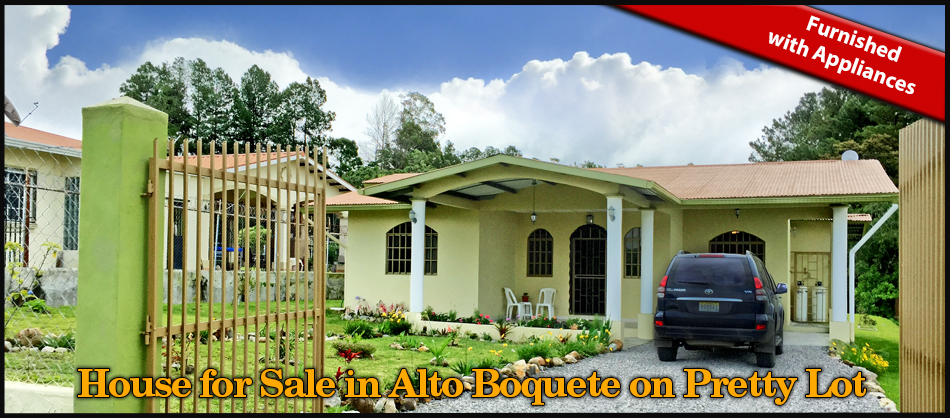 Sold – House in Alto Boquete on Pretty Lot – Furnished with Appliances – Casa en Venta en Alto Boquete – Amueblada con Electrodomésticos
House Size
: 1,350.00 Sq.Ft
125.42 Sq.M
Lot Size
: 1,392 Sq.M
0.34 Acres
Location
: Alto Boquete, Boquete, Panama
This property is sold. Casa Solution handles more property sales in the Boquete area than all other agencies combined. We would appreciate the opportunity to be of service to you. Please visit, call 011-507-720-1331 or email us today.
This house is located in a nice and quiet area of Alto Boquete close to the Boquete Country Club development.  The kitchen in the house and the nice lot are particularly notable.
There is a seasonal stream in the rear of the property.  The house has lots of pretty built-in wood work.   The kitchen is very nice with custom cabinets and convenient features.  The house is designed with an open floor plan.
The house has been secured with a fence and ironwork on the windows.  There is a backup water tank.
The house is very conveniently located.  It is about 8 minutes to the center of downtown Boquete.
The lot enjoys orange, avocado and guava trees.
House size is approximate.
****************
Casa en Venta en Alto Boquete – Amueblada con Electrodomésticos
Esta casa está ubicada en una zona agradable y tranquila en Alto Boquete cerca del desarrollo del Boquete Country Club. La cocina de la casa y el lote son particularmente notables.
Hay un flujo estacional en la parte trasera de la propiedad. La casa tiene muchos trabajos de madera empotrados. La cocina es muy bonita, con gabinetes personalizados y características convenientes. La casa está diseñada con un plano de planta abierto.
La casa ha sido asegurada con una cerca y rejas en las ventanas. Hay un tanque de agua de respaldo.
La casa está muy bien ubicada. Está a unos 8 minutos del centro de la ciudad de Boquete.
El lote disfruta de naranjos, aguacates y guayabas.
El tamaño de la casa es aproximado.