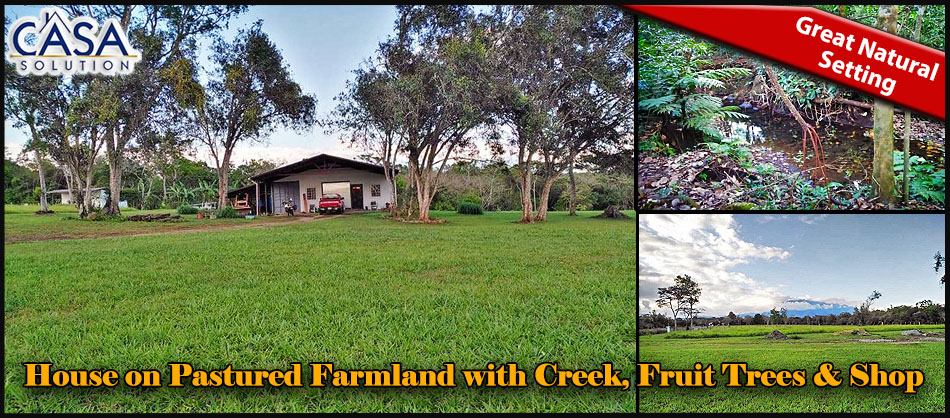 House on Pastured Farmland with Creek, Fruit Trees & Rancho / Shop – Private – Choose Your Size 1, 2 or 4 Hectares – Casa en Tierras de Pastoreo con Arroyo,  Árboles Frutales y Tienda – Privado – Elija su Tamaño de 2 o 4 hectáreas
House Size
: 1,440.00 Sq.Ft
133.78 Sq.M
Lot Size
: 20,000 Sq.M
4.94 Acres
Location
: Potrerillos, Boquete, Panama
This pastured farmland property with pretty views and a house is now for sale in Panama.  Consider living in the existing house or staying there while you watch your dream house being built on the property.
The property is being offered with either 1, 2 or 4 hectares.   It is about 80% flat.  The price shown is with 2 hectares.
You will enjoy views all the way to the Pacific ocean, David, mountains and even Volcan Baru from this land.
There is a seasonal (8 month) creek on the property for an enjoyable water feature.
The house is an open studio type floor plan with an attached shop.  There are also covered porches.  The property is secluded and private, yet convenient.
The house has water plus a 600 gallon reserve water tank.
There is also a casita for workers or for your use.
An irrigation system feeds the 25 fruit trees here which include orange, kumquat, guava, and pipas. There are also 50 banana trees too.
This property in Potrerillos Abajo in Panama is less than 250 meters from the main paved road and is only about 5 minutes from the center of town.   It is also only about 20-25 minutes from downtown Boquete.
Listed under Boquete due to proximity.
Want more land?  This property is also available with 41,577 square meters, 4 hectares, over 10 acres for $299,000.
The options:
1 hectare without rancho: $75,000
2 hectares without rancho: $130,000
2 hectares with rancho: $190,000
4 hectares with rancho: $299,000
Please contact Casa Solution if you would like to view this property or have questions about this Private House on Pastured Farmland with Creek & Shop in Panama.
---
Casa en Tierras de Pastoreo con Arroyo,  Árboles Frutales y Tienda – Privado – Elija su Tamaño de 2 o 4 hectáreas
Esta propiedad de tierras de pastoreo con bonitas vistas y una casa está ahora a la venta en Panamá. Considere vivir en la casa existente o quedarse allí mientras observa cómo se construye la casa de sus sueños en la propiedad.
La propiedad se ofrece con 1, 2, o 4 hectáreas. Es aproximadamente un 80% plano. El precio mostrado es con 2 hectáreas.
Disfrutarás de vistas hasta el océano Pacífico, David, montañas e incluso el Volcán Barú desde esta tierra.
Hay un arroyo estacional (8 meses) en la propiedad para disfrutar de una fuente de agua agradable.
La casa es un plano de planta tipo estudio abierto con una tienda adjunta. También hay porches cubiertos. La propiedad está aislada y es privada, pero conveniente.
La casa tiene agua más un tanque de reserva de agua de 600 galones.
También hay una casita para trabajadores o para su uso.
Un sistema de riego alimenta los 25 árboles frutales aquí que incluyen naranja, kumquat, guayaba, y pipas. También hay 50 plataneros.
Esta propiedad en Potrerillos Abajo en Panamá está a menos de 250 metros de la carretera principal pavimentada y está a solo 5 minutos del centro de la ciudad. También está a solo 20-25 minutos del centro de Boquete.
Incluido en Boquete debido a su proximidad.
¿Quieres más tierra? Esta propiedad también está disponible con 41,577 metros cuadrados, 4 hectáreas, más de 10 acres por $ 299,000.
Las opciones:
1 hectárea sin rancho: $ 75,000
2 hectáreas sin rancho: $ 130,000
2 hectáreas con rancho: $ 190,000
4 hectáreas con rancho: $ 299,000
Comuníquese con Casa Solution si desea ver esta propiedad o si tiene preguntas sobre esta Casa en Tierras de Pastoreo con Arroyo,  Árboles Frutales y Tienda – Privado.