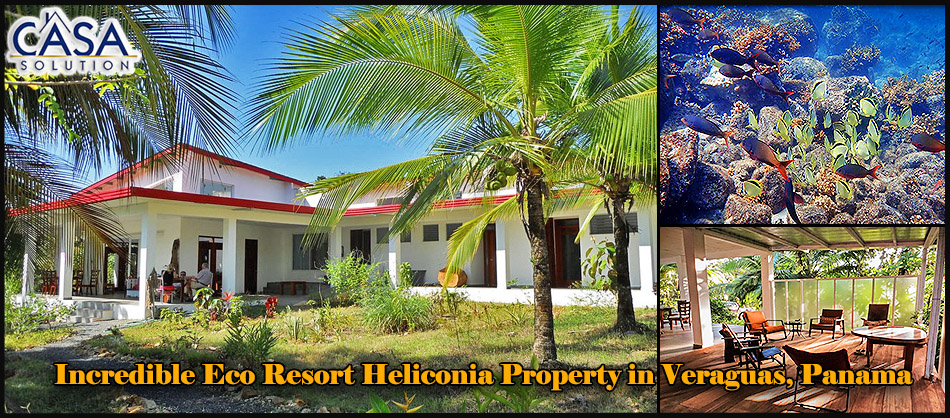 Incredible Eco Resort Heliconia Property or Your New Eco Estate on Nearly 20 Acres for Sale in Veraguas, Panama
Price Furnished
: $1,500,000
House Size
: 4,155.00 Sq.Ft
386.00 Sq.M
Lot Size
: 78,532 Sq.M
19.41 Acres
Location
: Mariato, Veraguas, Panama
This incredible eco resort is a nature and ocean lover's dream come true!  It could be your new enterprise or your new eco friendly estate in Panama.
Heliconia Bed & Breakfast is located near the Azuero Sunset Coast in Panama, a one hour drive south of Santiago, in Veraguas Province. Hotel Heliconia B&B has comfortable accommodations surrounded by an almost 8 hectare botanical garden.  There are three beaches within 5 kilometers of the property.
The focus of the property is on environmental & community oriented vacations.   The location presents an ideal base for tours to Coiba Island, exploring Cerro Hoya National Park, as well as nearby Cebaco Island. Bird watching, whale watching and other ecotourism activities are available in the area.  The inhabitants of the nearby fishing village of Malena are devoted to protecting the Sea Turtles which visit to lay their eggs on Malena beach.
Torio beach, popular with locals is located south of Malena.  You will find a wide beach with shallow, warm waters, safe for swimming.  There are several restaurants located in and around Torio.
Cerro Hoya National Park is located at the south western end of the Azuero peninsula.  Covered with virgin rain forest it is home to endangered species and wildlife.
Heliconia Bed & Breakfast offers accommodations in a relaxed atmosphere on the Azuero Sunset Coast, where you can relax & enjoy all your senses.
There are four spacious bedrooms.
The property has a restaurant which currently provides delicious 3 course dinners with fresh local ingredients.
The property sits on nearly 8 hectares of reforested botanical garden with an extra house.  The main building is a functioning bed and breakfast.  The property has fully tiled floors and verandas, new fridge/freezer, new AC units (2020) and the roof and walls were fully painted in 2020.   There is a large outside veranda space.
The property has a parking lot.
There is room to expand.  An Internet tower is installed. The kitchen custom cabinetry is hardwood cedar with beautiful silestone countertops.
There are 2 stoves and a new Samsung washing machine and gas dryer.
The property also has an extra workshop building.
From the Forward Thinking Owners:
"Our Commitment to Sustainability
It is our aim to keep our foot print as small as possible.
To attain that goal we do or have done the following:
We bought 8 hectares of grazing pasture which we have reforested with native trees, shrubs and flowers. Among them species that are considered endangered in Panama (Mahogany, Rosewood) threatened or vulnerable. As a result, we now have more than 100 species of birds living on or visiting our property. Among them the sapphire-throated hummingbird, which is endangered in Panama. We also get visitors from north America, among them the rare mangrove cuckoo, prothonotary warblers and eastern kingbirds.
We have installed LED lights and energy saving light bulbs wherever possible.
We harvest rainwater from the roof. This water is filtered and treated to make it safe for human consumption.
We installed on-demand electric water heaters.
We provide a 4 stroke outboard motor to our partner/captain for our boat trips to replace his 2 stroke motor. A 4-stroke is much more efficient, cleaner & quieter and uses 30% less fuel and 90% less oil.
We support two local associations, the Malena Turtle Protection Association and the Quebro Agro-Ecological Association. Both are working to protect turtle nests and the mangrove areas. We encourage our guests to visit these associations.
We separate our garbage. Organic waste goes to the compost pile, bottles are re-used wherever possible and we recycle whatever recycle companies will accept.
Waste water is treated and filtered on-site and then channeled to a leach field on our property.
We are a member of the Panamanian Foundation of Sustainable Tourism (Fundación Panameña de Turismo Sostenible) and support the latest developments in ECO-tourism. We also participate in a pilot project introducing an ECO-certification for Panamanian tourism companies."
This wonderful property combines a business opportunity with the chance to do great things for the world and to live a magnificent lifestyle.
Please contact Casa Solution if you would like to view this property or have questions about this Incredible Eco Resort Property for Sale in Panama.
---
Incredible Eco Resort Heliconia Property on Nearly 20 Acres for Sale in Veraguas, Panama
¡Este increíble resort ecológico es un sueño hecho realidad para los amantes de la naturaleza y el océano!
Heliconia Bed & Breakfast está ubicado cerca de la Costa de Azuero en Panamá, a una hora en auto al sur de Santiago, en la provincia de Veraguas. El Hotel Heliconia B&B ofrece cómodas habitaciones rodeadas por un jardín botánico de casi 8 hectáreas. Hay tres playas a 5 kilómetros de la propiedad.
El enfoque de la propiedad está en vacaciones orientadas al medio ambiente y la comunidad. La ubicación presenta una base ideal para excursiones a la isla Coiba, explorando el Parque Nacional Cerro Hoya, así como la cercana isla Cébaco. La observación de aves, ballenas y otras actividades de ecoturismo están disponibles en el área. Los habitantes del cercano pueblo de pescadores de Malena se dedican a proteger a las tortugas marinas que visitan la playa para desovar.
La playa de Torio, popular entre los lugareños, se encuentra al sur de Malena. Encontrará una amplia playa de aguas cálidas y poco profundas, segura para nadar. Hay varios restaurantes en los alrededores de Torio.
El Parque Nacional Cerro Hoya está ubicado en el extremo suroeste de la península de Azuero. Cubierto de selva tropical virgen, es el hogar de especies y vida silvestre en peligro de extinción.
Heliconia Bed & Breakfast ofrece alojamiento en un ambiente relajado en la Costa de Azuero, donde podrá relajarse y disfrutar de todos sus sentidos.
Hay cuatro amplios dormitorios.
La propiedad tiene un restaurante que actualmente ofrece deliciosas cenas de 3 platos con ingredientes locales frescos.
La propiedad se asienta sobre casi 8 hectáreas de jardín botánico reforestado con una casa adicional. El edificio principal es un Bed & Breakfast en funcionamiento. La propiedad tiene pisos y terrazas completamente de baldosas, refrigerador / congelador nuevo, nuevas unidades de aire acondicionado (2020) y el techo y las paredes se pintaron por completo en 2020. Hay una gran terraza exterior.
La propiedad cuenta con estacionamientos.
Hay espacio para expandirse. Hay una torre de internet instalada. Los gabinetes personalizados de la cocina son de madera de Cedro con hermosas encimeras de Silestone.
Hay 2 estufas, una lavadora, y secadora de gas Samsung.
La propiedad también cuenta con un edificio de taller.
De los propietarios con visión de futuro:
"Nuestro compromiso con la sostenibilidad
Nuestro objetivo es mantener nuestra huella lo más pequeña posible.
Para lograr ese objetivo, hacemos o hemos hecho lo siguiente:
Compramos 8 hectáreas de pastos de pastoreo que hemos reforestado con árboles, arbustos y flores nativos. Entre ellas especies que se consideran en peligro de extinción en Panamá (Caoba, Palo de Rosa) amenazadas o vulnerables. Como resultado, ahora tenemos más de 100 especies de aves viviendo o visitando nuestra propiedad. Entre ellos el colibrí garganta de zafiro, que se encuentra en peligro de extinción en Panamá. También recibimos visitantes de América del Norte, entre ellos el raro Cuco de Manglar, las Currucas Protonotarias y los pájaros Rey del Este.
Hemos instalado luces LED y bombillas de bajo consumo donde a sido posible.
Recolectamos agua de lluvia del techo. Esta agua se filtra y se trata para que sea apta para el consumo humano.
Instalamos calentadores de agua eléctricos bajo-demanda.
Proporcionamos un motor fuera de borda de 4 tiempos a nuestro socio/capitán para nuestros viajes en barco para reemplazar su motor de 2 tiempos. Unos 4 tiempos es mucho más eficiente, limpio y silencioso y usa un 30% menos de combustible y un 90% menos de aceite.
Apoyamos a dos asociaciones locales, la Asociación Protectora de Tortugas Malena y la Asociación Agroecológica Quebro. Ambos están trabajando para proteger los nidos de tortugas y las áreas de manglares. Alentamos a nuestros huéspedes a visitar estas asociaciones.
Separamos nuestra basura. Los residuos orgánicos van a la pila de abono, las botellas se reutilizan siempre que es posible y reciclamos todo lo que aceptan las empresas de reciclaje.
Las aguas residuales se tratan y filtran en el sitio y luego se canalizan a un campo de lixiviación en nuestra propiedad.
Somos miembros de la Fundación Panameña de Turismo Sostenible (Fundación Panameña de Turismo Sostenible) y apoyamos los últimos desarrollos en ECO-turismo. También participamos en un proyecto piloto de introducción de una certificación ECO para empresas turísticas panameñas".
Por favor comuníquese con Casa Solution si desea visitar esta propiedad o si tiene preguntas acerca de esta Increíble Propiedad Eco Resort en Venta en Panamá.
Local Panama Wildlife and Nature Photos from the Heliconia owners