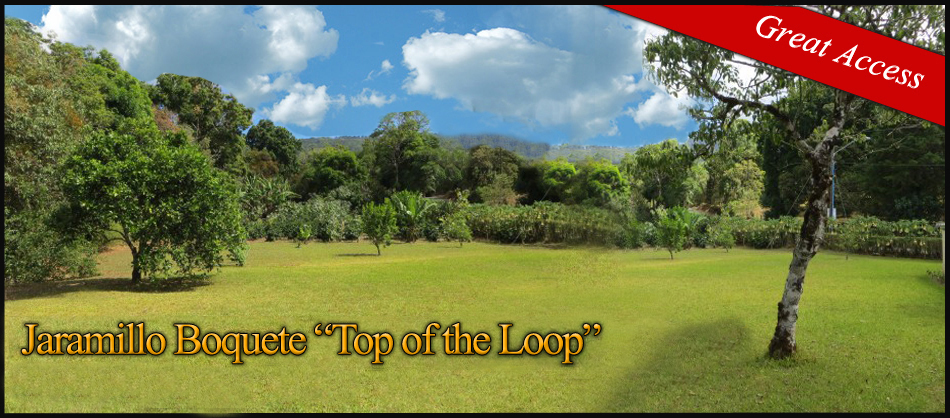 Sold by Casa Solution – Jaramillo, Boquete Lot for Sale. – Now with High Speed Internet & Cable TV Access – Lote en Venta en Jaramillo Boquete con Acceso a Internet y Tv
Lot Size
: 3,087 Sq.M
0.76 Acres
Location
: Jaramillo, Boquete, Panama
This property is sold. Casa Solution handles more property sales in the Boquete area than all other agencies combined. We would appreciate the opportunity to be of service to you. Please visit, call 011-507-720-1331 or email us today.
For more properties similar to this one currently for sale, please visit here.
Live amongst the coffee and trees.
This Boquete lot for sale is in a wonderful setting along the paved Jaramillo loop road.
The property has lots of mature coffee plants along with many towering trees. The trees provide cushion from the paved road that lines the property and also live along the mountain stream that borders here.
Fruit trees and bushes on this lot include delicious cherimoya, blackberries, oranges, bananas and lemon.
The property has the benefit of municipal water and electricity at the lot line.
Very good Internet and Cable TV Service Available.  Cable Onda connection is now available at this lot providing up to 40 Megabytes per second and over 200 channels for Cable TV, and Land Line telephone lines.
A beautiful building lot for your new home.
******************************
Lote en Venta en Jaramillo Boquete con Acceso a Internet y Tv
Este lote Boquete a la venta se encuentra en un entorno maravilloso a lo largo de la carretera pavimentada hacia Jaramillo.
La propiedad tiene una gran cantidad de plantas de café maduros, junto con muchos árboles altísimos. Los árboles proporcionan amortiguador de la carretera pavimentada que las líneas de la propiedad y también viven a lo largo del arroyo de montaña que bordea aquí.
Arboles frutales y arbustos en este lote incluyen deliciosos chirimoya, moras, naranjas, bananas y limón.
La propiedad tiene la ventaja de agua municipal y electricidad al pie de finca.
Muy buen servicio de Internet y TV por cable disponible. La conexión de Cable de Onda ya está disponible en este lote que proporciona hasta 40 megabytes por segundo y más de 200 canales de TV por cable, líneas telefónicas y de telefonía fija.