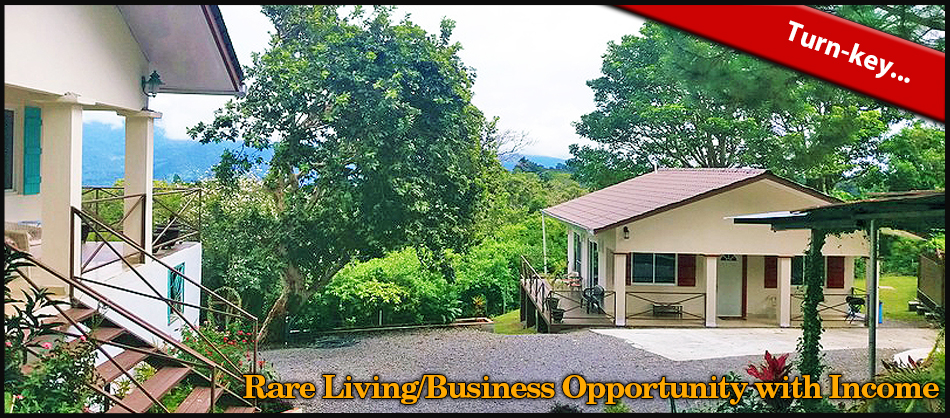 Big Price Reduction – Seller Financing Up to 50% Available – Rare Living/Business Opportunity with Guaranteed Income – Two Homes Offer a Unique Lifestyle with built-in Positive Cash Flow – Casas en Venta, Boquete, Panama
Price Furnished
: $329,000
House Size
: 1,810.00 Sq.Ft
168.15 Sq.M
Lot Size
: 1,003 Sq.M
0.25 Acres
Location
: Volcancito, Boquete, Panama
This property package includes two beautiful, high-quality homes on one large lot located in the Volcancito Highlands of Boquete, Panama.
The homes have a fantastic income history using only Airbnb…with its prime location and absolutely fantastic views, this property is in high demand for consistent short-term rental clientele.
Perhaps the best part about this opportunity is that the owner is willing to finance up to half of the purchase price, allowing the new owner(s) to enjoy the rental cash flow immediately while making interest-only payments for up to three years!
Property Details:
– The homes are each two bedrooms and one bathroom for a total of four bedrooms and two bathrooms.
– The larger of the two homes has a caretaker/common area that includes a washer/dryer.  That area is fully wired and plumbed and could easily be converted to a third bedroom for the main home if desired.
– This property is being sold completely turn-key…it includes everything you need to move right in and continue running the existing business.
– Professionally furnished and decorated.
– Beautifully-designed iron electric security gate.
– Professionally landscaped.
– Volcan Baru, the Talamanca Mountain Range, and lots of tropical scenery are visible from the homes and surrounding property.  Enjoy these views from the huge balconies of each home.
– Plenty of water with backup water tanks.
– 6,000-Watt backup generator.
– Located adjacent to several luxury homes, yet has an asking price of about half of what those homes are worth, which makes for sustained value.
– Both homes and the land are titled together.
– Property generates Airbnb short-term rental income with considerable bookings already set for 2018!
– The seller is willing to vacate at closing or rent back for one year after closing, and is willing to assist with managing the property for (or with) the new owner
Just completed: The owner just added a new giant storage area with shelving under the deck of one of the houses (September 2018).
Contact Casa Solution for more information or to see this wonderful opportunity to immediately own two homes in Boquete.
***************
Oportunidad de negocio con ingreso garantizado: dos casas ofrecen un estilo de vida único con flujo de caja positivo integrado – Casas en Venta, Boquete, Panamá
Este paquete de propiedades incluye dos hermosas casas de alta calidad en un lote grande ubicado en las Tierras Altas de Volcancito de Boquete, Panamá. Las casas tienen una fantástica historia de ingresos utilizando solo Airbnb … con su ubicación privilegiada y vistas absolutamente fantásticas, esta propiedad tiene una gran demanda de clientes consistentes de alquileres a corto plazo. Quizás la mejor parte de esta oportunidad es que el propietario está dispuesto a financiar hasta la mitad del precio de compra, lo que permite a los nuevos propietarios disfrutar del flujo de efectivo de alquiler de inmediato mientras realizan pagos de solo interés por hasta tres años.
Detalles de la propiedad:
– Las casas son cada una de dos dormitorios y un baño para un total de cuatro dormitorios y dos baños.
– El más grande de los dos hogares tiene un área de cuidador o área común que incluye una lavadora / secadora. Esa área está completamente cableada y conectada y podría convertirse fácilmente en un tercer dormitorio para la casa principal si así lo desea.
– Esta propiedad se vende completamente llave en mano … incluye todo lo que necesita para moverse directamente y continuar con el negocio existente.
– Profesionalmente amueblado y decorado.
– Puerta de seguridad eléctrica de hierro bellamente diseñada.
– Jardinería profesional.
– Volcán Barú, la Cordillera de Talamanca y muchos paisajes tropicales son visibles desde las casas y las propiedades circundantes. Disfrute de estas vistas desde los enormes balcones de cada hogar.
– Un montón de agua con tanques de agua de respaldo.
– Generador de respaldo de 6.000 vatios.
– Ubicado junto a varias casas de lujo, tiene un precio de venta de aproximadamente la mitad de lo que valen esas viviendas, lo que lo convierte en un valor sostenido.
– Tanto las casas como la tierra están tituladas juntas.
– ¡La propiedad genera ingresos de alquiler a corto plazo de Airbnb con reservas considerables ya establecidas para 2018!
– El vendedor está dispuesto a desalojar en el momento del cierre o el alquiler durante un año después del cierre, y está dispuesto a ayudar con la gestión de la propiedad para (o con) el nuevo propietario.
Contáctese con Casa Solution para obtener más información o para ver esta maravillosa oportunidad de tener inmediatamente dos casas en Boquete.