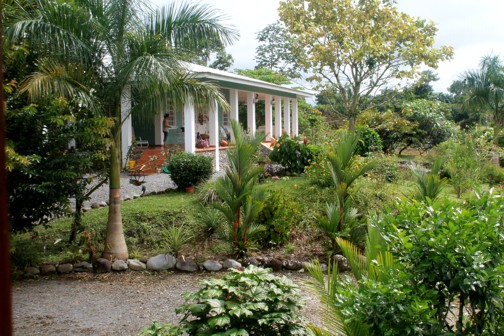 House Plus Guest House for Sale on 2.63 Acres Close to David, Panama
House Size
: 6,040.00 Sq.Ft
561.13 Sq.M
Lot Size
: 10,659 Sq.M
2.63 Acres
Location
: Bugaba, David, Panama
This house compound is located just north of the Chiriquí town of Concepcion just a half hours drive east of the Costa Rican border, 25 minutes drive west of David, Panama, 8 minutes to Bugaba and a 7 hours drive west of Panama City.  Also, just 5 kilometers from the Pan American highway.
This plantation house is built out of steel and concrete. The only wood used in construction is termite resistant hardwood Teak used for the flooring. Construction was in 2010 and it was built to high North American standards.
The main house has 4,000 square feet under roof with 15 ceiling fans and a full air conditioning system. However, the property sits at an elevation of 1350 feet which affords fresh day and night time breezes; thus a very comfortable living environment.
As with traditional plantation houses there is a wide and south-facing verandah. This house has the added feature of a second enclosed patio veranda on the west side of the house.
Tropical living is done as much as possible either outside the home or where the cooling breezes can be enjoyed.  This secured patio with its high vaulted ceilings and tiled floors provides a spacious and airy place to sit and relax.
The enormous living room, teak flooring and furniture gives the stately living and dining area that final touch of "Colonial Style" elegance.
The kitchen features granite countertops, dishwasher, sink and large stove.
The master bedroom is located directly off the main living room area. It has walk-in closets and an ensuite bathroom with soaker tub and shower.
The guest bedroom is light and airy and has teak dresser and closets.
The third bedroom has a bed/settee combination. The room is light and airy and, if needed, there is a split style air conditioner. Each of the guest bedrooms has its own ensuite bathroom.
Close to the kitchen is a pantry and a large stainless steel refrigerator.
Down the hallway is the utility room with a washer/dryer and sink.
And, for those seeking rental income, a bed and breakfast scenario or would enjoy a guest house, on this two and three quarter acre property there is a full sized second home. This was where the owners lived when they were building their dream plantation home.
It has west and south facing balconies and even an ocean view.  The house is tastefully decorated with teak window shutters and accents.
Marble counter tops highlight this compact kitchen design.
This is a perfect guest house or in-law suite. The ground floor features a two and a half car garage and ample space for a workshop.
The owners have tastefully cleared and landscaped the garden. Anyone who has visited the Hawaiian islands will be delighted with the ever present fragrance of tropical blooms that can be enjoyed throughout the plantation house gardens.
A driveway runs down through the property to the nearby Mula river.
This will be a true delight to any nature lover or bird watcher. The river flows year long and provides a safe and refreshing place to enjoy a swim.
Pictured below is the swimming hole. There is no public access to this spot – so it is yours to enjoy almost exclusively.
Although municipal water is nearby, the property features a well and large storage tank. The water has been tested at the local university and is of excellent quality. Electricity is from a local provider however, there are two well established solar power distributors in the area, so it would be feasible to be entirely off-the-grid if you wished.
Lots of fruit trees on this property.
This is a convenient location near to David, beaches, Volcan and Boquete Panama.
Note: The owners have previously installed a solar system at another Panama house and could happily advise the new owners on a system for this house if desired.
Main house approximately 4,200 square feet.  Guest house about 1,800 square feet.
Listed under David, Panama due to proximity.
Tax exemption transferable to you as the new owner.
Please contact Casa Solution to view these two houses for sale in Chiriqui, Panama.