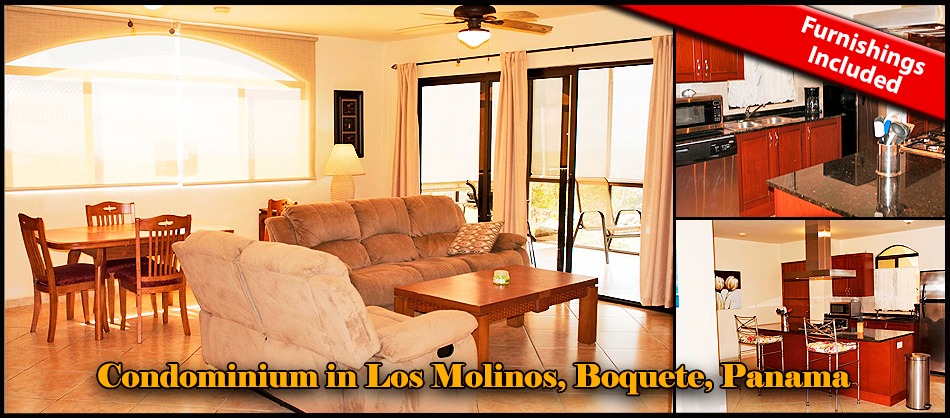 Super Deal! Make an Offer! Los Molinos Boquete Panama Great Value! Condominium for Sale with Furnishings and a Garage Included
Price Furnished
: $165,000
Rental Price Furnished
: $1,200
House Size
: 1,400.00 Sq.Ft
130.06 Sq.M
Location
: Alto Boquete, Boquete, Panama
This very nicely furnished first floor condo with added garage in the Los Molinos gated community of Boquete is a great option for part-time, investment or full-time living.
This condo was expanded by fully enclosing the ground floor terrace.
The terrace is a comfortable spot from which to enjoy the year-round spring-like weather and views.
The unit has views of enormous waterfalls and an inspiring canyon.  There is lots of cabinet space and the large size of the unit gives it a spacious feel.
For your added comfort, the apartment for sale has central air conditioning.
Enjoy the many amenities of Los Molinos and the canyon front pool right next to your unit that is for the small group of condo owners.
Please ask us about this outstanding large condo in Los Molinos, Boquete, Panama for sale.
The finishes in the condominium are high-end.
The condo is for sale fully furnished with appliances.
It also includes a rare enclosed dedicated garage for car and personal item storage which is super for part-time residents with a vehicle.  It could also be used as a workshop or storage area.
The Los Molinos development has recently completed a tennis court just steps away.  Los Molinos has plenty of other amenities including a restaurant.
More photos and information coming soon.
**************************
Condominio en Los Molinos, Boquete Venta
Desde el condominio, disfrutar de excelentes vistas de imponentes cascadas de agua, un hermoso cañón, y vista al Volcán Barú.
Este es el modelo más grande disponible en Los Molinos con una superficie añadido fuera de la sala que podría ser utilizado como comedor, zona de ocio o rodeada por un tercer dormitorio.
Los acabados en el condominio son de alta calidad.
El condominio se vende completamente amueblado con electrodomésticos. También incluye una de dos plazas de garaje cerrado.