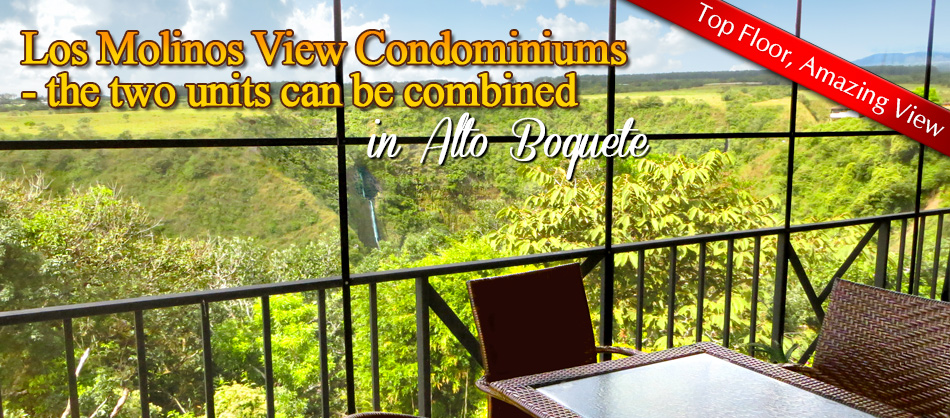 Los Molinos View Penthouse condo #2 – Apartamento #2 en Los Molinos con Hermosa Vista, Boquete
Price Furnished
: $223,500
House Size
: 1,615.00 Sq.Ft
150.04 Sq.M
Location
: Alto Boquete, Boquete, Panama
The best view condominium options currently available for sale in Boquete.  These impressive side by side units comprise the entire top floor penthouse of the Segovia condominium building in Los Molinos. The condos are available individually – pick the one you like better – and the owner plans to keep the other one.  Therefore, despite the note in the banner above, they are not currently offered as a pair.
These condos are in Hacienda Los Molinos. They are on the second and highest floor of a four unit building next to a canyon side swimming pool reserved for residents of the condo cluster.  The condominiums have amazing views across a massive canyon. Straight ahead through the glass door floor to ceiling windows or from the ample balconies you will be astonished by the enormous waterfalls on the other side of the canyon that cascade hundreds of feet from your eye level to the canyon's natural setting below.  The waterfalls are huge and run strongest in the green season. When it rains, they multiply into an inspiring array of water features spouting water into the canyon from countless streams. The view to the right of the units is towering Volcan Baru, Panama's highest peak, with its constantly changing visage depending on the time of day. The unit is blessed by this natural setting and the advantages of having a small number of units in the building. Furthermore they are in Hacienda Los Molinos, a residential development with wonderful amenities including a new spa/gym, hotel and private security. The development has been recently graced after a successful start with a large influx of capital resulting in a robust phase two as well as ongoing improvements to the already impressive setting.
The units are each two bedrooms. They have a modern style open floor plan, quality kitchen appliances, and large bedrooms. They are offered fully furnished.
The entrance to the condos is an easy one story walk up with easy stairs and comes to a large open landing which acts as an extension to the units. It is an unusual opportunity to set the tone as you approach each unit with plants or other decoration. The landing even has impressive views of its own to the man-made lakes and streams of the development as well as the Jaramillo mountain range. A nice entry and exit from this quality residence.
The lighting inside is excellent as the condos are open and have lots of windows. Quality window treatments accent the ambiance. The finishes in the units are of great quality including large floor tiles, ceiling fans for the occasional warm afternoon, granite countertops, a large island, and dishwashers in both units are some of the features. Inset lighting and other light fixtures provide mood options. Balconies wide enough for dining tables make for wonderful outdoor dining possibilities.
Enclosing the balcony in one of the units has made it an awe-inspiring view-filled extension of the unit. Built-in cabinets in the bedrooms provide good storage.
With upgrades and very fine furnishings. Furnishings for are included in the price. The units are free and clear without any mortgages so this lifestyle is available to quickly step into right away with a down-payment.
Consider purchasing one of these units for a trouble-free home or second residence easy to leave for extended periods.  Enjoy an amazing penthouse condo residence in wonderful Los Molinos, Boquete.
*******************
Apartamento #2 en Los Molinos con Hermosa Vista, Boquete
Las mejores opciones de condominios de vista actualmente disponibles para la venta en Boquete. Estos impresionantes apartamentos de lado a lado comprenden todo el ático de la planta superior del edificio de condominios de Segovia en Los Molinos. Los apartamentos están disponibles de forma individual, elija el que más le guste, y el propietario planea quedarse con el otro. Por lo tanto, a pesar de la nota en el banner anterior, actualmente no se ofrecen como un par.
Estos apartamentos se encuentran en Hacienda Los Molinos. Están en el segundo piso más alto de un edificio de cuatro condominios al lado de una piscina lateral del cañón reservada para los residentes del grupo de condominios. Los condominios tienen increíbles vistas hacia un enorme cañón. Directamente a través de las ventanas de cristal de la puerta del piso al techo o desde los amplios balcones, quedarán asombrados por las enormes cascadas del otro lado del cañón que caen a cientos de pies desde su nivel de ojos hasta el entorno natural del cañón. Las cascadas son enormes y corren más fuerte en la temporada verde. Cuando llueve, se multiplican en una serie inspiradora de características de agua que arrojan agua al cañón desde incontables corrientes. La vista a la derecha de los condominios se alza sobre el Volcan Baru, el pico más alto de Panamá, con su rostro en constante cambio dependiendo de la hora del día. El apartamento está bendecido por esta configuración natural y las ventajas de tener un pequeño número de unidades en el edificio. Además están en Hacienda Los Molinos, un desarrollo residencial con maravillosas comodidades que incluyen un nuevo spa / gimnasio, hotel y seguridad privada. El desarrollo se ha adornado recientemente después de un comienzo exitoso con una gran afluencia de capital que resultó en una fase 2 robusta, así como mejoras continuas a la configuración ya impresionante.
Los apartamentos son cada uno de dos habitaciones. Tienen un plano de planta abierto de estilo moderno, electrodomésticos de cocina de calidad y amplios dormitorios. Se ofrecen completamente amueblados.
La entrada a los condominios es fácil subir a una planta con escaleras fáciles y llega a un gran aterrizaje abierto que actúa como una extensión de las unidades. Es una oportunidad inusual para establecer el tono a medida que te acercas a cada apartamento con plantas u otra decoración. El aterrizaje incluso tiene impresionantes vistas de los lagos artificiales y los arroyos del desarrollo, así como la cordillera de Jaramillo. Una buena entrada y salida de esta residencia de calidad.
La iluminación interior es excelente, ya que los condominios están abiertos y tienen muchas ventanas. Los tratamientos de ventana de calidad acentúan el ambiente. Los acabados en las unidades son de gran calidad, incluyendo grandes pisos, ventiladores de techo para la tarde cálida ocasional, encimeras de granito, una isla grande y lavavajillas en ambas unidades son algunas de las características. La iluminación de inserción y otras luminarias brindan opciones de estado de ánimo. Los balcones lo suficientemente amplios para las mesas de comedor son ideales para cenar al aire libre.
Encerrar el balcón en una de las unidades lo ha convertido en una impresionante extensión llena de vistas de la unidad. Los armarios empotrados en las habitaciones proporcionan un buen almacenamiento.
Con mejoras y muebles muy finos. Los muebles están incluidos en el precio. Las unidades son gratuitas y claras sin hipotecas, por lo que este estilo de vida está disponible para entrar rápidamente en un pago inicial.
Considere la posibilidad de comprar una de estos condominios para un hogar sin problemas o una segunda residencia fácil de dejar por períodos prolongados. Disfrute de una increíble residencia en un ático en Los Molinos, Boquete.