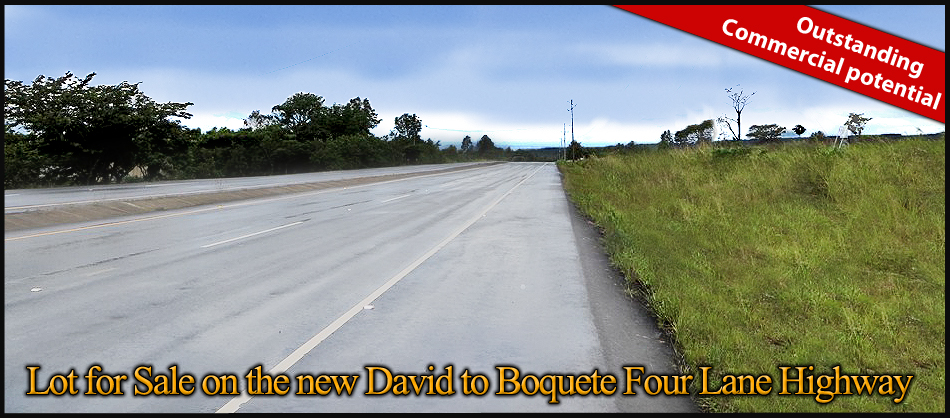 Great Lot for Sale on the new David to Boquete Four Lane Highway
Lot Size
: 5,000 Sq.M
1.24 Acres
Location
: Alto Boquete, Boquete, Panama
This relatively flat lot has outstanding commercial potential. It is well-located on the newly expanded four lane road between David and Boquete.
In addition to it's high traffic location, the lot also has excellent views. About 10 minutes from downtown Boquete and 20 minutes from David.
This zone is poised for growth given its much cooler than David climate, convenience and ease of access to both David and Boquete.
Big enough for a supermarket, shopping center or residential complex.
Please contact Casa Solution if you would like to view this property or have questions about this Great Lot for Sale on the new David to Boquete Four Lane Highway in Panama.
---
Gran Lote en Venta en la Nueva Autopista de Cuatro Carriles de David a Boquete
Este lote relativamente plano tiene un potencial comercial excepcional. Está bien ubicado en la carretera de cuatro carriles recientemente ampliada entre David y Boquete.
Además de su ubicación de alto tráfico, el lote también tiene excelentes vistas. A unos 10 minutos del centro de Boquete ya 20 minutos de David.
Esta zona está preparada para el crecimiento dado su clima mucho más fresco que el de David, la conveniencia y la facilidad de acceso tanto a David como a Boquete.
Lo suficientemente grande para un supermercado, centro comercial o complejo residencial.
Por favor comuníquese con Casa Solution si desea visitar esta propiedad o si tiene preguntas acerca de este Gran Lote en Venta en la Nueva Autopista de Cuatro Carriles de David a Boquete