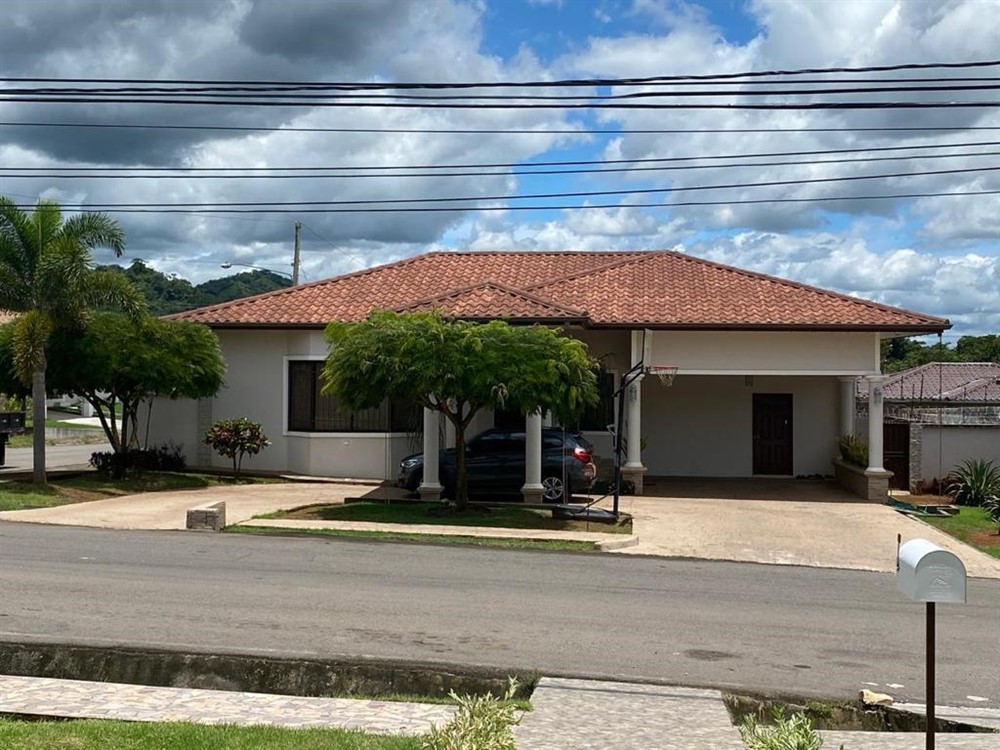 Quality House for Sale in Las Colinas Gated Community in David, Chiriqui – Casa de Calidad en Venta en el Residencial Las Colinas en David, Chiriquí
House Size
: 2,357.30 Sq.Ft
219.00 Sq.M
Lot Size
: 633 Sq.M
0.16 Acres
Location
: David, David, Chiriqui, Panama
This is a beautiful, quality 4 bedroom and 4.5 bathroom house conveniently located a 5-minutes drive from downtown David.
This property is located on a corner lot within the Las Colinas gated community.  This residential area has a 24-hour security checkpoint offering peace of mind for you and your family.  For added safety measures, the windows have protective bars on them and the patio is enclosed by a security wall with barbed wire on top.
This is a very nice area with good roads, infrastructure, and easily accessible to the essential services of shops, schools and restaurants.
The house is in excellent condition with high quality finishes.
An ample living and dining area provides a bright, open space for everyday family life.
The backyard has great privacy and it is a quiet space for alfresco dining or to enjoy a BBQ with friends. This grassy backyard offers great play space for kids.
The house comes with a/c units and a stove.
Another feature of the house is a maid's bedroom and bathroom.
Enjoy living in the safety and security of this peaceful gated community.
Please contact Casa Solution if you would like to view this property or have questions about this Lovely House for Sale in Las Colinas Gated Community in David, Chiriqui.
---
 Hermosa Casa en Venta en el Residencial Las Colinas en David, Chiriquí
Esta es una hermosa casa de 4 cuartos y 4.5 baños convenientemente situada a 5 minutos del centro de David.
Esta propiedad está situada dentro del complejo residencial, Las Colinas. Este residencial cuenta con una garita de seguridad las 24 horas ofreciendo seguridad completa para ti y tu familia.  Para extra seguridad, la casa cuenta con barras protectoras en las ventanas y una muralla con alambres protectores cubriendo el patio trasero.
Es un área muy amena con buenas calles e infraestructuras.
La casa esta en optimas condiciones y cuenta con hermosos acabados.
Una amplia sala de estar y comedor ofrece un espacio abierto y luminoso para la vida familiar diaria.
El patio trasero cuenta con buena privacidad y es un espacio tranquilo para disfrutar de un BBQ con los amigos.
Adicionalmente, esta casa cuenta con una recámara y baño de sirvienta.
La casa está lista para habitar. Cuenta con una estufa y  aires acondicionados.
Comuníquese con Casa Solution si desea ver esta propiedad o si tiene preguntas sobre esta Hermosa Casa en Venta en el Residencial Las Colinas en David, Chiriquí.