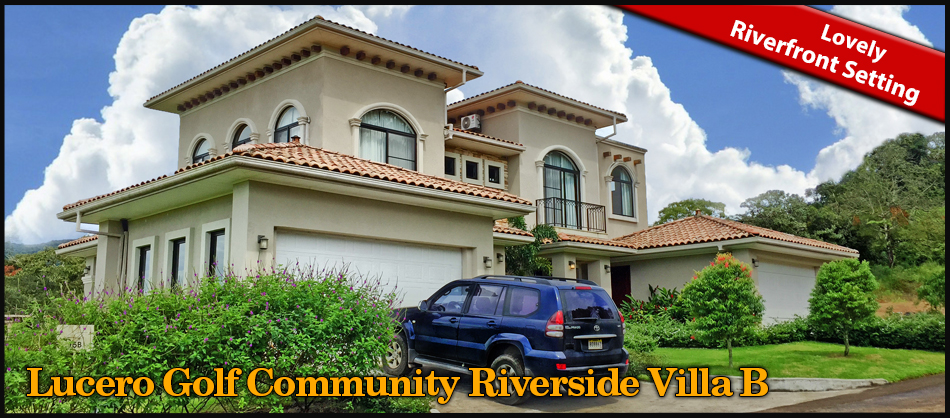 Lucero Boquete Golf Community Riverside Villa B for Sale – Furnished – 3 bedrooms – Lucero Boquete Golf Riverside Community Villa En Venta
Price Furnished
: $310,000
House Size
: 1,920.00 Sq.Ft
178.37 Sq.M
Lot Size
: 944 Sq.M
0.23 Acres
Location
: Jaramillo, Boquete, Panama
Lucero continues its impressive development with this outstanding villa now being offered at an incredible price.  Furnishings and appliances included.
This villa is beautiful and in a lovely riverfront setting.
This is the right time to buy at Lucero.  Lucero is on the move.  The development is shining.  In addition, innovative tree houses were recently completed providing an incredible guest experience for those who wish to experience the development first hand and from high off the ground.  The new world-class club house was recently completed.
The Riverside Villa is an open-concept, Tuscan inspired townhouse offering views of the Agua Blanca River.
The river is close enough to hear the soothing sounds from the villa.  The windows are floor to ceiling. The floor imported porcelain.  The kitchen cabinets are quality Italian imports.  Countertops are granite with granite backsplashes in the kitchen.  The residence comes with a two-car garage too.
Until now, if you wanted to live in Lucero, you needed to buy a lot and build or purchase one of the high-end luxury houses with corresponding price points. Now you can live in Lucero or have a second home there without big ticket house construction.
Furnishings are included.
More about the Riverside Villas from Lucero:
These open-concept, Tuscan-inspired villas offer residents views of the Agua Blanca River, which is close enough to hear the soothing sounds of the water flowing by.
Open-concept dining, kitchen and living room
Floor-to-ceiling windows
Imported porcelain flooring
Quality hardwood kitchen cabinetry
Granite counters with granite backsplash
Delta or similar washroom fixtures
All hardwood doors
2-car garage
From 178.33 sq. m. / 1,919.52 sq. ft. to 182.60 sq. m. / 1,965.5 sq. ft."
Take a Look at the Adjacent Townhouse Villa Too:
Also consider these one-story luxury villas just completed by Lucero, Boquete, Panama:
****************
Lucero Boquete Golf Riverside Community villas en venta
Lucero continúa su desarrollo en curso con este primer dúplex recién terminado. Y es impresionante.
Elija de la nueva de dos dormitorios o tres opciones de villa dormitorio momento, al mismo precio. Son casi del mismo tamaño. Cada unidad viene con su propio 800 metros cuadrados de propiedad.
Este es el momento adecuado para comprar a Lucero. Lucero está en movimiento. Con la nueva carretera asfaltada derecho a las ventas de desarrollo han sido muy ágiles, nuevas casas están empezando la construcción y el desarrollo está brillando. Además, innovadoras casas en los árboles apenas se están terminando lo que proporcionará una experiencia del huésped increíble para aquellos que deseen experimentar el desarrollo de primera mano y desde arriba de la tierra. La nueva casa del club está en marcha.
El Riverside Duplex es un concepto abierto, Toscana adosado inspirado con vistas al río Agua Blanca. El río es lo suficientemente cerca como para oír los sonidos relajantes de la doble hélice. Las ventanas de piso a techo. El piso de porcelanato importado. Los gabinetes de la cocina son las importaciones italianas de calidad. Las encimeras son de granito con salpicaderos de granito en la cocina. La unidad viene con un garaje para dos coches también.
Hasta ahora, si quería vivir en Lucero, lo necesario para comprar un lote y construir o comprar una de las casas de lujo de gama alta con puntos de precio correspondiente. Ahora se puede vivir en Lucero o tener una segunda casa allí sin la construcción de la casa grande de entradas.