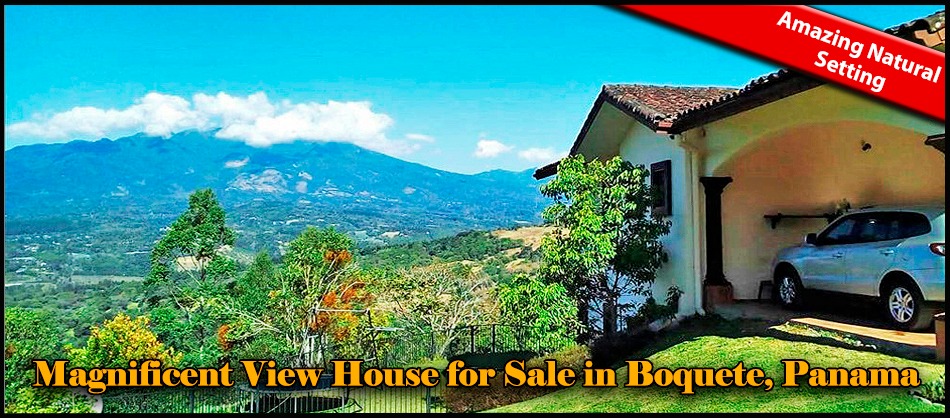 Magnificent View House for Sale in Boquete, Panama
House Size
: 3,540.00 Sq.Ft
328.88 Sq.M
Lot Size
: 3,762 Sq.M
0.93 Acres
Location
: Jaramillo, Boquete, Panama
This magnificent house is a spectacular residence with probably the best views in all of Boquete and for that matter, Panama.  This house is ideal for anyone desiring magnificent views, privacy, nature, peace, and tranquility with first-class, American-style construction.  This has it all: from mountains, rainbows, sunsets, humming birds, parrots and even a mountain stream, babbling brook.
This house sits on the perfect vantage point with jaw-dropping views in all directions.
As you drive up to the home, even before you get out of the car, the mountains of the towering Volcan Baru, Panama's tallest peak, welcome you.  Entering the house, the main floor opens into a huge, American-style kitchen which gazes out to the expansive dining and living areas, out to the breathtaking views from the covered terrace, which is an extension of the living room.
This terrace will be your focal point for meals, relaxation and tranquility as your eyes are mesmerized by the views and surrounded by nature.
From the terrace, directly in front of you is Volcan Baru and its surrounding peaks. Volcan Baru is sought after by artists and photographers for its changing moods and legendary appeal.   It is a privileged position to enjoy such a direct sight of Boquete's most famous and sought after visage.
Look to the left, and you can see down valley, past Alto Boquete, towards David and the Pacific Ocean.
To the right, are rolling, green mountain ridges, trees and a babbling brook that you can even hear.
Looking down from the terrace you can take in the landscaping that the owner spent $75,000 over 8 years to create creek beds, walking bridges, an abundance of trees, flowering bushes, colorful seasonal flowers and a manicured lawn, aided by a kilometer of underground pipes from a sophisticated sprinkler system.  The landscaping has been carefully crafted for maximal privacy in all directions.
While enjoying coffee on the terrace in the mornings, the back yard is full of humming birds, parrots, butterflies and dozens of other bird species, while the evenings display spectacular sunsets over the Pacific Ocean.  In between, are rainbows, sometimes double-rainbows, and always, privacy and tranquility.  Bring your binoculars for bird watching.  We are still looking for unicorns!
Back inside the house, the kitchen is positioned so that the super view isn't lost on the chef.  A long bar countertop helps with socializing with guests while cooking.  Custom kitchen cabinets, modern appliances, including dishwasher, gas oven/stove, stand-alone refrigerator and freezer and electric, sink disposal, great lighting featuring an elegant chandelier and plenty of space – enough for a little breakfast table – help make the kitchen a pleasure.
The master bedroom which is on the same floor – no stairs to access – is very large (enough space to put an office desk) and also has tremendous views on three sides.  The master bathroom has a long tiled, countertop with large, his and her sinks, along with an enormous shower.  The master bath connects to the spacious, walk-in closet.
Downstairs, there are two additional bedrooms.  One is an exact replica of the master bedroom upstairs and equally huge.  This second master bedroom has its own en-suite bath, as well, plus a sensual Jacuzzi jetted tub with shower.  This bedroom shares the same, magnificent views that the master bedroom upstairs has.
The second bedroom downstairs is smaller, perfect for a child's bedroom, with a built-in closet.  A second full bath is located in the hallway outside the child bedroom.
There is also a very large, living area downstairs that is used as an office, movie theater-room, living room and sleeper sofa.  This room accesses the full bath adjacent to the second bedroom.
The large washer and dryer are located in the laundry room under the stairs.
There is a downstairs terrace that has been enclosed to increase the usable interior space of the home and provides a versatile space for your pleasure.  It can be used as an exercise room, office or extra bedroom.  It is simple to access the enormous landscaped grounds through the glass door on the terrace level.
There is a fenced yard that provides a more controlled area if you have pets or children adjacent to the downstairs.
The incredible, nearly full acre of gardens cradling this residence have been carefully cultivated by the current owners.  It is sustained by an already installed irrigation system.
The property is situated so that there will be always be space and privacy between any future neighbors. The property has four borders: Two borders by streets that rarely see cars.  There is a border with another lot below, down the mountain, but has been carefully landscaped with trees ensuring privacy.
The fourth border is a small mountain stream.  This babbling brook is wonderfully audible during the rainy season. On the other side of the stream, is a large common area of the community which provides even more space as a natural buffer ensuring that any neighboring house is built well away from your home.
The house is ideal for those who want the joys of the tropical mountain life, yet believe in solid just-in-case preparations.  In that spirit, it has attractive ironwork covering all of the windows.  The upstairs sliding glass doors have movable security so you can fully enjoy the view without sacrificing peace of mind when desired.   The house is equipped with battery powered, outdoor motion sensors, motion sensor lighting and an alarm system.  There are 13 video cameras monitoring all approaches. The video cameras can be accessed through the internet. Video data is stored on a large DVR.
There is a 7,500w backup generator in case of power outage as well as a 600 gallon backup water tank system complete with advanced ultra violet and multiple water filters system.
The house comes with appliances including washer, dryer (gas), side-by-side refrigerator and freezer, dishwasher, electric sink disposal, gas stove/oven, microwave, counter-top oven, and 3 dehumidifyers, for the price shown.
Utilities: electric (Union Fenosa), propane gas (Tropigas), internet (Planet Telecom), TV (Sky Satellite), water (local water district).  All Panama wireless telephone carriers have good signals here.  There are two large propane gas tanks that usually last about three months with very heavy usage. There are two wi-fi routers (one on the main level and one downstairs) that will stay with the house. The satellite TV has two boxes for two TV's with remotes that can stay with the house.  There is no telephone landline service.  Of course, there is a backup power generator and backup water system.
This house has the tax exemption.  Enjoy the transferable tax exemption on this home good to August 31, 2027.
This house for sale in Boquete is in the Montana Verde development of Jaramillo.  It is located about 12 minutes from downtown and is host to some of Boquete's most impressive homes.  More about Montana Verde here.
Please contact Casa Solution for more information or to visit this magnificent view house for sale in Boquete, Panama.