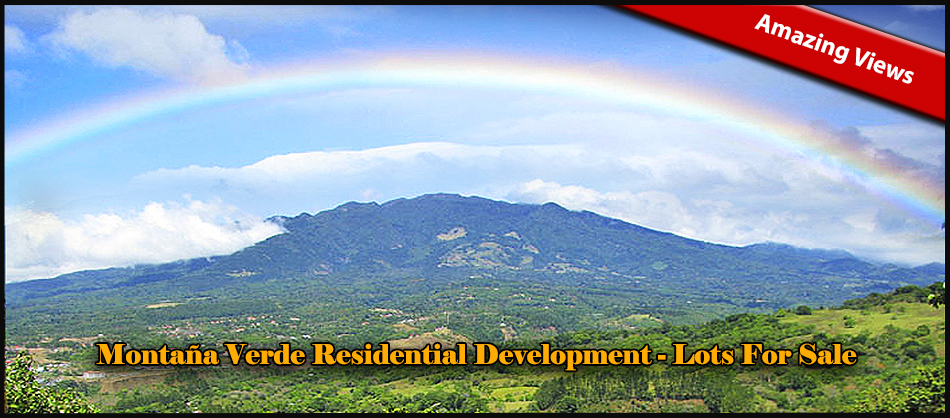 Montana Verde Residential Development – View Lots for Sale in Boquete – Desarrollo Residencial Montaña Verde
Location
: Jaramillo, Boquete, Panama
Generous home sites of up to 2+ acres. Intense Volcan Baru views. Full-year streams. Beautiful homes. Off-the beaten path yet close to town. Underground utilities. Gentle climate. Rainbows and Bird Sitings. This is Montana Verde residential development. Large lots from $136,000.
A paved road completed in August 2013 now leads to about 100 meters from this fine community.
As you ride up the road from David to Boquete, and you are about to enter the charming, high altitude, Boquete downtown, one can't help but wonder about the large group of homes up on the right with incredible views on the hillsides. In Jaramillo 10 minutes to downtown, and surrounded by large luxury homes, Montana Verde is the best choice for those who desire larger than usual home sites (3/4 acre to 1.5 acres or two sites combined for 3 acres or more) with mountain streams and completed infrastructure close to downtown in the hills above Boquete.
Also for those who would enjoy the benefits of a community, but with limited restrictions and covenants.
The project several Lots, all with spectacular views, and ready to build.
---
Desarrollo Residencial Montaña Verde – Lotes con Vistas en Venta en Boquete
Grandes lotes para construcción de casas de hasta 2+ acres. Intensas vistas al Volcán Barú. Quebradas con flujo de agua permanente.  Hermosas casas. Fuera del camino pavimentado pero cerca de la ciudad. Servicios públicos subterráneos. Clima suave. Arcoíris y avistamiento de aves.  Este es el desarrollo residencial de Montaña Verde.  Grandes lotes desde $ 67,500.
A unos 100 metros de esta excelente comunidad, se encuentra un camino pavimentado completado en agosto de 2013.
Mientras subes por el camino de David a Boquete, y estás a punto de entrar en el encantador y elevado centro de Boquete, no puedes evitar preguntarte sobre el gran grupo de casas a la derecha con increíbles vistas en las laderas.  En Jaramillo, a 10 minutos del centro de la ciudad, y rodeado de grandes casas de lujo, Montaña Verde es la mejor opción para aquellos que desean terrenos más grandes de lo habitual (3/4 acres a 1.5 acres o dos sitios combinados para 3 acres o más) con arroyos de montaña e infraestructura completada cerca del centro en las colinas sobre Boquete.
También para aquellos que disfrutarían de los beneficios de una comunidad, pero con restricciones y convenios limitados.
El proyecto cuenta con varios lotes, todos con vistas espectaculares, y listos para construir.
Para conocer los precios actuales de lotes y casas de Montaña Verde, Boquete, haga clic aquí.
Por favor comuníquese con Casa Solution si desea visitar esta propiedad o si tiene preguntas acerca de Desarrollo Residencial Montaña Verde en Panamá.