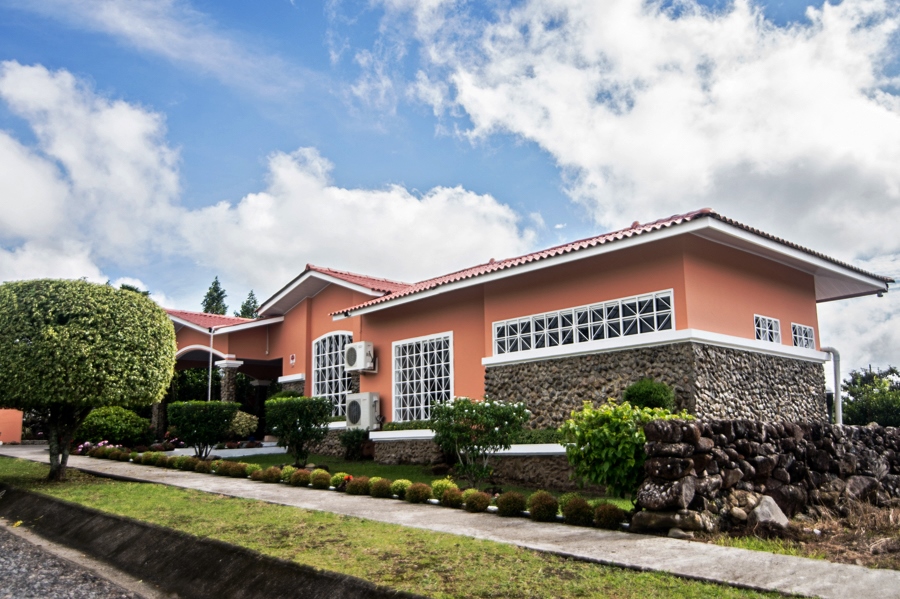 Very Nice Boquete House in El Frances, Alto Boquete, Boquete, Panama Near International School – Bonita Casa en Venta en el Frances, Alto Boquete, Boquete
House Size
: 2,572.00 Sq.Ft
238.95 Sq.M
Location
: Alto Boquete, Boquete, Panama
This very nice Boquete house for sale is in a pleasant subdivision  located in El Frances, about 20 km (12 miles) south of downtown Boquete at the midpoint between Boquete and David.
The beautiful split level open concept home features all-tiled 3 bedroom, 2.5 bathrooms, a carport for 2-cars and sits on a 1,000m² (.25 acre) lot.  It is bounded on the back and sides by a rock wall.  Total construction size is 260m², as follows:
Size
According to title
Open construction area 62m² (667sf²); includes huge partially enclosed tiled and covered  back terrace and front carport alongside a huge tiled and stylish veranda
Closed construction area 177m2 (1,905ft²) for the internal living area
Added 2 years ago
External cement pad with river rock exterior attached to house 5.639m X 3.658m or 21m²
(18.5ft X 12ft or 222ft²) for utility storage/backup water tank & filtration system
Bedrooms and bathrooms
Back and middle bedrooms come with custom made storage cabinets, drawers and clothes closets.
Back Bdrm –  3.454m X 3.962m (11'4" X 13')
Middle Bdrm –  3.962m X 3.327m  (13' X 10'11")
Middle Bthrm – 1.956m X 3.937m (6'5" X 12'11"); all tile floor and vanity, custom made cabinets and drawers, huge open walk-in tiled shower.  Ceiling was recently replaced with stylish PVC.
MstBdrm – 4.724m X 3.912m (15'6" X 12'10") with 24,000BTU split unit A/C
MstBdrm walk-in closet – 4.267m X 2.235m (7'4" X 14') with 4 custom made clothes closets, drawers and storage shelves.
MstBthrm – 4.267m X 2.667 (8'9"x14') with glass enclosed shower, garden style tub, 2 sink vanity and custom made cabinets and drawers
Living Room, Kitchen, and Dining Room – Open concept with a 2-step down split level from living to dining room (and a single step down to back bedrooms).  The living room and dining room are separated by tastefully placed columns.  The living room and dining room feature custom made drapes.  The living room has a 36,000BTU inverter split unit that cools most of the house when needed.  The kitchen was completely remodeled about 6 months ago with custom designed cabinets, all-tiled counter tops, and an over-the-stove smoke extractor ventilated to the outside.  In addition, ceiling was replaced with stylish PVC. The kitchen features a Samsung French-style refrigerator and an electric ceramic top stove.
Living room – 5.131m X 4.978m (16'10" X 16'4")
Dining room – 4.978m X 4.013m (16'4" X 13'2")
Kitchen – 3.759m X 4.521m (12'4" X 14'10")
House Amenities
North American sized rooms
Security
– In the front, two custom-built solid metal security doors with keys that cannot be duplicated.
– In the back, an outside custom built sliding door with metal security bars and a sliding  glass door on the inside.  Each door requires a key.
– Additional aesthetically designed metal bars have been installed on all existing metal security windows providing a more hardened and enhanced security posture.
– Infrastructure (wiring and conduit) has been installed and ready for the security system of your choice
– Community has an active Vecinos Vigilantes program and daily police patrols. Neighbors communicate in real time via Whatsapp on two channels.  In this community, neighbors know neighbors and who belongs here and who does not belong here.
Electric – A whole-house surge protector has been installed at the electrical junction box to protect against lightning strikes.  Each A/C unit also has an additional surge protector at the electrical outlet.
Water – Whole house water filtration system with five filters – 3 cartridge, 1 charcoal, and a UV sterilization filter.  In addition, this water system features a 1,000 gallon backup water tank and a jet pump to maintain constant pressure.  System is still under warranty.
Every room has a ceiling fan.
Internet and cable TV service is provided by Cableonda via a fiber optic connection with the promise of 100mb down and about 8-10 up.
Outside Amenities
Roof was cleaned and resealed about 2 months.
About 29m (95ft) of custom-designed cement planters with river rock exteriors border the property.  You'll find flowers, tomatoes, spinach, herbs and other vegetation growing year round.
In front of the cement planters, you'll find about 25 meters (80ft) of cement walkways to step on during rainy season.  In fact, you can maneuver nearly all around the back and sides of the house, work in the cement planters and not get your feet muddy.
A custom water drainage system was designed and installed for this property.  It routes most rain water from the roof to the roadside drainage system.  It works very well.
Out and about in the backyard, you'll find some young fruit trees to include guanabana, (2) limón, melocotón,  mangustin, and fig.  We also have several active guandu bush (pigeon peas) to add to your rice or feed your parrot.  You'll also find a small moringa tree, along with some eucalyptus, salvia, and artemisa bushes.  The property has been maintained by the same gardener for over 7 years.
Community Amenities
El Frances is a highly desired location because of its central location to Boquete and David and because of the private bilingual school, Academia Internacional Boquete, about 2 km south of Emerald Drive.
A popular upscale restaurant and spa (gym, pool, exercise equipment, massages) is just a 5 minute drive north to the Los Molinos properties.  In and around Boquete, there are coffee, nature, and wildlife, hiking trips through the rain forest and up to the peak of Volcan Baru, two zipline parks, Volcan Baru National Park, horseback riding, multiple spas, "Tuesday Market," rock climbing, water falls, community theater at the Boquete Community Players theater, and art studios.  On the Pacific side, you're about 1 hour to the beaches around Boca Chica, 90 minutes to the beach at Las Lajas, and on the Atlantic side, you are conveniently located 3 hours from the beaches of Bocas del Toro.  It takes just a little over an hour to get to Cerro Punta on the other side of Volcan Baru.
For shopping, the border (Frontera) to Costa Rica  is only 90 minutes down the road.  The Frontera has a selection of small malls, small shops, street vendors and foods to check out.  It also has the only Burger King in western Panama.  The largest mall and centralized bus station in western Panama is scheduled to open in 2018 and it is just 20km directly south to David.  David has two cinemas, several shopping centers, office supply businesses, a grocery warehouse (Pricesmart), and a variety of other shopping opportunities.
ATMs, convenience stores, and fuel stations are just 7KM down the road.
Approximately 11 to 12 years remain on a 20 year tax exemption.
Please contact Casa Solution to view this very nice Boquete house for sale.
*********
Bonita Casa en Venta en el Frances, Alto Boquete, Boquete
La bella casa esta dividida en dos niveles cuenta con 3 recámaras, 2.5 baños, un estacionamiento techado para 2 automóviles, las habitaciones vienen con gabinetes de almacenamiento, cajones y armarios de ropa hechos a medida.
Tanque de almacenamiento / tanque de agua de respaldo y sistema de filtración.