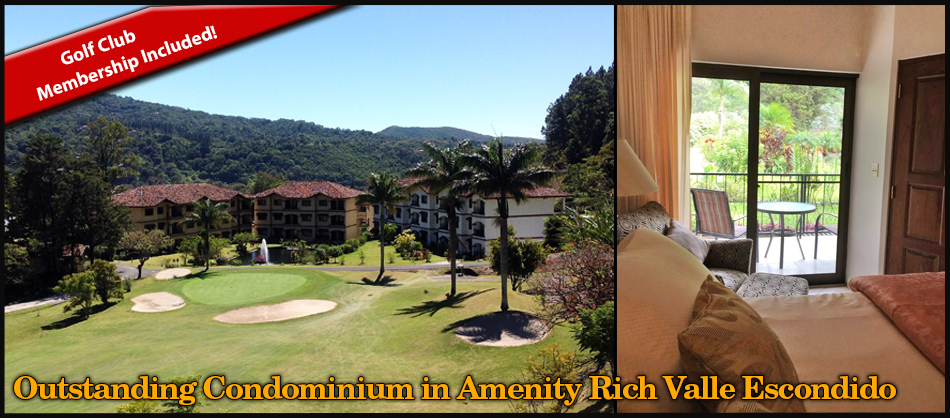 In Demand! Outstanding Condominium for Sale in Amenity Rich Valle Escondido, Boquete, Panama – Furnishings, Golf Club Membership Included! – Excelente Condominio en Venta en Valle Escondido, Boquete
Price Furnished
: $245,000
House Size
: 1,475.00 Sq.Ft
137.03 Sq.M
Location
: Downtown Boquete, Boquete, Panama
This outstanding condominium in impressive and amenity-rich Valle Escondido, Boquete is new to the market.  It has everything included that Valle Escondido has to offer and is fully loaded.  With so many great features, it is likely to sell soon.
Located on the bottom floor on the end closest to the golf course, and away from the other buildings, the condo has amazing views and more privacy.  The terrace has a gate where you can walk straight out onto the grass.  This offers easy access to the golf course and the many walking paths that circle around Valle Escondido.  It makes it that much easier to step out and enjoy Boquete's downtown a short walk away as well as the beautiful grounds of Valle Escondido.   The gardens just outside your door are lovely with a pond with a fountain.  Sitting on the patio you feel as if you are right inside the gardens with beautiful views of the mountains, golf course, and the tropical scenary of Valle Escondido.  This ground level patio is especially convenient if you have a dog.
This condo for sale is furnished throughout with fine quality upgraded furniture.  The kitchen is fully turnkey ready for cooking and entertaining.  All kitchen appliances are included, as well as the washer and dryer.  Everything is here ready for you to step into and enjoy the special Boquete lifestyle, including sheets, towels, etc.
The apartment for sale has its own designated parking spot.  Guest parking is also readily available.  In addition, this is the only condo that has the convenience of an easily accessed private side parking spot right beside it that can be used for loading and unloading.
The condo has two entry doors – one enters the open floor plan living room, the other enters the second bedroom.  The unit was designed as a possible "lock-out" combo condo meaning that each side has its own bathroom and bedroom – that is great for caretakers or for independent guest entry and exit.  This second bedroom area is actually sized more like a large studio apartment.  This unique feature gives you the unique opportunity to live in one side and rent the other.  You can have your private home and income producing unit all in one.  So many options and possibilities.
Other condos of the same 1,475 square footage in Valle Escondido have three bedrooms which is so much less spacious.  By having two bedrooms in the same amount of space, there is ample elbow room throughout providing a wider range of uses and a more relaxed, open feeling.
This Boquete condo offers a great combination of convenience, quality, access, furnishings, golf club membership and more.
The condo's valuable golf level membership in Valle Escondido's country club provides access to the great amenities such as indoor swimming pool, well-equipped gym, social areas, racquetball court, golf, tennis courts and more.
Panama has new very favorable property laws just signed into law this past October 2017, but regardless, this wonderful condo for sale has a transferable tax exemption through July 5, 2022.
This condo is in the front of Valle Escondido, close to the security guard gatehouse. The apartment is very secure and its spot puts it a short walk into downtown as well as close to the additional restaurants of Valle del Rio next door.
The appliances and quality furnishings are included.
This condominium is an excellent option for quality living in Boquete, Panama.
Please contact Casa Solution soon to view this apartment for sale in Boquete as it is very likely to sell soon.
************************
Excelente Condominio en Venta en Valle Escondido, Boquete
Este condominio en el impresionante Valle Escondido, Boquete es nuevo en el mercado y con tantas características excelentes es probable que se venda pronto.
Ofrece una combinación única de conveniencia, calidad, acceso, mobiliario, membresía de club y más.
Vistas del edificio:
Mire en una dirección para ver el hermoso campo de golf y el hermoso valle tropical.
Mire en la otra dirección para ver las montañas y las vistas de los jardines a continuación.
Es la combinación ideal de comodidad sin desplazamiento ni desplazamiento, junto con una posición de visión optimizada y una asequibilidad relativa.
El interior del apartamento es lujoso, con finos muebles, acabados y características.
El condominio tiene dos puertas de entrada: una ingresa a la sala de estar abierta, la otra entra al segundo dormitorio.
La unidad se diseñó como un posible condominio combo de "bloqueo", lo que significa que cada lado tiene su propio baño y dormitorio, lo cual es ideal para los cuidadores o para la entrada y salida de invitados independientes
Al ingresar al condominio a través de la puerta principal de la sala de estar, ingresa a un hermoso espacio con la cocina principal, la sala, el comedor y el acceso al maravilloso balcón.
A la izquierda está el dormitorio principal.
A la derecha hay otra suite con entrada propia y una zona de cocina.
El segundo dormitorio con cocina es bastante grande.
Otros condominios de la misma superficie de 1,475 metros cuadrados en Valle Escondido tienen tres dormitorios que a veces pueden ser útiles, pero sin duda son menos espaciosos.
Al tener dos habitaciones en la misma cantidad de espacio, hay un amplio espacio para los codos que ofrece una gama más amplia de usos y una sensación más abierta en todo momento.
El baño principal tiene dos lavabos para parejas.
Hay mucho espacio de almacenamiento dado el alto techo construido en unidades.
La encimera de granito se ha extendido para obtener más espacio en el mostrador.
Electrodomésticos y muchos muebles de calidad están incluidos.
El condominio también cuenta con una membresía de nivel de golf en el club de campo de Valle Escondido que brinda acceso a excelentes comodidades como piscina cubierta, gimnasio bien equipado, áreas sociales, cancha de ráquetbol, golf, canchas de tenis y más.
Panamá tiene nuevas leyes de propiedad muy favorables recién promulgadas en octubre de 2017, pero independientemente, este maravilloso condominio en venta tiene una exención de impuestos transferible.
Este condominio se encuentra en el frente de Valle Escondido, cerca de la garita del guardia de seguridad.
El apartamento es muy seguro y su ubicación lo sitúa a pocos pasos del centro de la ciudad y cerca de los restaurantes adicionales del Valle del Río al lado.
Este condominio es una maravillosa opción para una vida de calidad en Boquete, Panamá.
Póngase en contacto con Casa Solution pronto para ver este apartamento o para obtener más información.