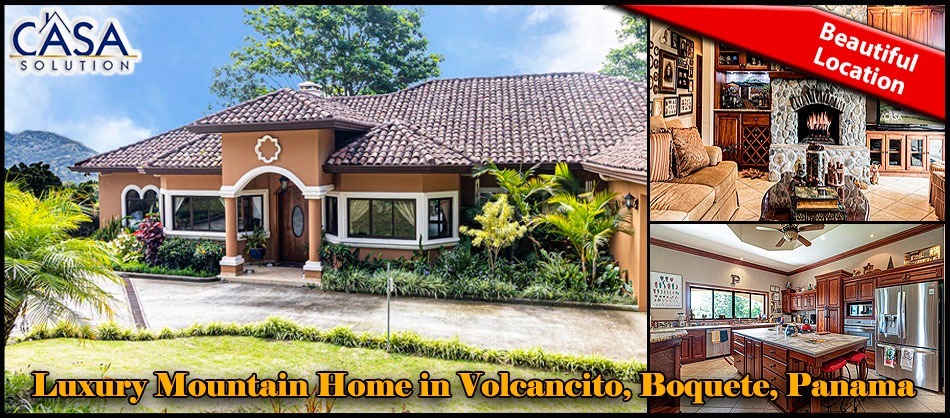 Sold by Casa Solution – Outstanding Luxury Mountain Home in Volcancito, Boquete, Panama – Asombrosa Casa Lujosa en Volcancito, Boquete
House Size
: 3,600.00 Sq.Ft
334.45 Sq.M
Lot Size
: 2,030 Sq.M
0.50 Acres
Location
: Volcancito, Boquete, Panama
This is an outstanding mountain home in a beautiful high altitude area of Volcancito, Boquete.
This luxurious home is situated on a prime site high in the mountains, yet just about 15 minutes to downtown Boquete on paved roads. It is a beautiful location with a wonderful view and a magnificent well-built home.
As you enter the home, you are greeted by a spacious open floor plan living room / dining room and high ceilings.
Despite the size of the space, the living room is designed for a cozy feeling and is naturally well-lit by the adjacent sliding glass doors. The living room has a large natural stone fireplace. It is wood burning and offers added warmth as well as ambiance for the sometimes cooler nights you will experience at this desirable high altitude. Built-in cabinetry with glass window doors and wine rack as well as arched doorways are some of the quality features.
The dining room is situated in such a way as to provide its own defined area. The many windows there along with tasteful chandelier, molding around the ceiling and windows, trey ceiling, quality floor tiles, and angled walls provide a tasteful sense of curtailed glamour.
Through sliding glass doors, there is a large covered terrace designed to flow easily from the living room. Beyond the terrace is a gorgeous yard, trees and wonderful mountain views. It is a tropical paradise from indoors or out.
The kitchen has lots of room and a huge island for gourmet food prep. Space for four bar stools overlooking the kitchen counter facilitates easy socializing while cooking.  And the island is designed to accommodate seating too for more intimate conversations as well as a good spot for chef's helpers. The extensive custom kitchen cabinetry and appliances are top-notch. A trey ceiling housed ceiling fan plus lamp offer a cool breeze and added lighting for the chef and visitors.
The master bedroom suite is very large. It is augmented by an additional sliding door accessed patio. The bathroom has a Jacuzzi style tub with large light-producing window as well as a separate shower and walk-in closet. It also has double sink vanities.
Throughout the home, the high-quality wood doors are impressive.
Glass block features, colorful and mildly playful ceramic tiles and pretty sink bowls make for lively bathrooms.
With three bedrooms plus an additional study, the house provides plenty of room for guests, office space or for a sizable family. The study has a big built-in desk plus lots of bookshelves.
The laundry room is big too with high-end washer/dryer combo plus plenty of storage space. The fine appliances throughout the house are included.
The iron fenced back-yard  is well-designed for enjoyment and entertaining.
There is a large yard, incredible views and a party-friendly outdoor kitchen that includes a small fridge, ice maker, gas grill, sink and storage spaces.
The land also has rock walls, lemon trees, coffee plants, and blackberries.  The yard has an irrigation system.
The Spanish tile roof adds beauty to the exterior.  The electric entry gate is beautiful offering a very nice introduction to the house. There is a covered entry and garage too.
For piece of mind, the house has an underground backup water storage system and complete security system.
This is an outstanding property. It is an impressive house option for those seeking to live in style in Boquete, Panama.  And, speaking from experience, a great place for a party.
Please contact Casa Solution if you would like to view this property or have questions about this  in Panama.

Asombrosa Casa Lujosa en Volcancito, Boquete
La lujosa casa se ubica en las áreas altas de Volcancito, Boquete a solo 15 minutos del Centro.  Tiene una excelente ubicación con una magnifica vista y además es sumamente accesible ya que la calle está completamente pavimentada.
Al entrar a la casa se puede observar amplios espacios abiertos que permiten que la sala y el comedor tengan una espectacular  luz natural. La sala a pesar de su tamaño se diseñó para dar una apariencia cómoda. La casa tiene una chimenea de piedra para leña que le permitirá por las noches frías tener un área cálida en su casa.
La lujosa casa tiene finos acabados, gabinetes incorporados de vidrio y madera, ventanales y puertas de vidrio con finos detalles en madera. El magnífico comedor con puertas de vidrio hacia la terraza permite apreciar la calidad de cada uno de los acabados que tiene la casa.
La cocina es uno de los espacios más especiales, consta de una gran isla con detalles de madera y amplias de gabinetes, a la vez tiene ventanas que permiten que entre luz natural, perfecta para despertarse y tomar un delicioso café. Todos los muebles de la cocina son de madera.
La habitación principal tiene amplias dimensiones, puertas de vidrio que otorgan una salida hacia el jardín. El baño tiene un Jacuzzi, una ducha por separado y dos lavados con espejo.
Con tres habitaciones y un estudio la casa da una gran oportunidad para que la familia y visitas tengan su propio espacio. El estudio puede transformarse en una habitación o bien puede ser utilizado como oficina.
La  lavandería tiene lavadora, secadora y espacio para almacenar. El jardín es gigante, podría ser utilizado para eventos o tardes de amigos con barbacoa. Además el jardín está completamente equipado, tiene una cocina en el exterior, una pequeña refrigeradora, una máquina para hacer hielo, asador (grill) de gas, lavado y espacio para almacenar.
La propiedad tiene muros de piedra, sistema completo de seguridad y portón eléctrico. Para agregar a esta sombrosa propiedad existen árboles de limón, café, moras y un sistema de irrigación para el jardín.
Como se menciona es su título es una asombrosa propiedad, se la recomendamos.
Por favor comuníquese con Casa Solution si desea visitar esta propiedad o si tiene preguntas acerca de Asombrosa Casa Lujosa en Volcancito, Boquete en Panamá.