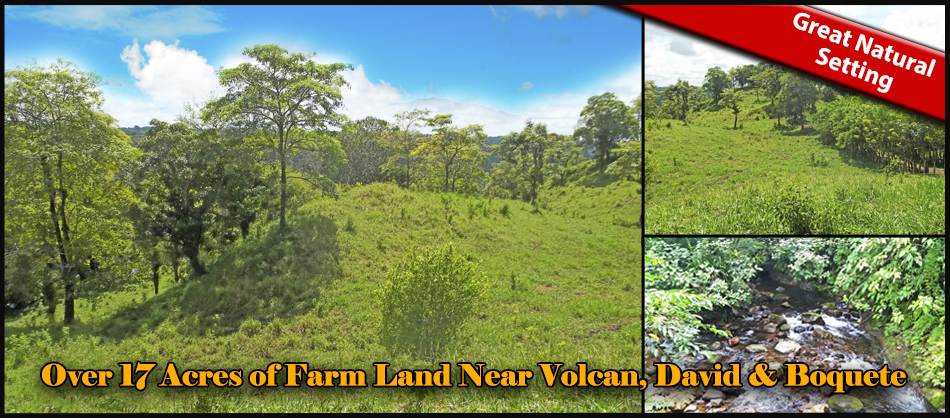 Over 17 Acres of Farm Land Near Volcan, David and Boquete Panama in Chiriqui Province For Sale – Water and Electricity – Más de 17 Acres de Tierra Agrícola Cerca de Volcan, David y Boquete Panamá en la Provincia de Chiriquí Se Vende – Agua y Electricidad
Lot Size
: 70,000 Sq.M
17.30 Acres
Location
: El Santo, David, Panama
This is a 7 Hectare, 17 acre parcel of an operating dairy and beef farm on a government maintained road.  The property for sale has lots of fruit and other trees, beautiful views and ideal  home site options.
The property borders a river and has natural springs.   This is truly beautiful farm land with cool weather living.
Water and electricity readily available in this location.
Listed under David due to proximity. Also close to Volcan and less than an hour to Boquete.
This is a great opportunity to have a farm property in Panama.  Please contact Casa Solution for more information or for a visit.
Photos shown in gallery below are included in this parcel of the property.
Also consider this property from the same owner:
Huge Price Reduction! Owner Says Sell! Was $840k, Now $475k! 93 Acre Panama Farm or Development Property for Sale Near Volcan, David and Boquete, Panama – 93 Acres de Granja o Desarrollo de Propiedad en Venta Cerca de Volcan, David y Boquete, Panama
********************
Más de 17 Acres de Tierra Agrícola Cerca de Volcan, David y Boquete Panamá en la Provincia de Chiriquí Se Vende – Agua y Electricidad
Esta es una parcela de 7 hectáreas y 17 acres de una granja de productos lácteos y carne de vaca en funcionamiento en un camino mantenido por el gobierno. La propiedad en venta tiene muchas frutas y otros árboles, hermosas vistas y opciones ideales para el hogar.
La propiedad bordea un río y tiene manantiales naturales. Esta es realmente una hermosa tierra de cultivo con una vida fresca.
Agua y electricidad disponibles en esta ubicación.
Listado bajo David debido a la proximidad. También cerca de Volcán y menos de una hora a Boquete.
Pregunte sobre el financiamiento del propietario ahora disponible.
Esta es una gran oportunidad para tener una propiedad agrícola en Panamá. Por favor, póngase en contacto con Casa Solution para obtener más información o para una visita.
Las fotos que se muestran en la galería a continuación están incluidas en esta parcela de la propiedad.