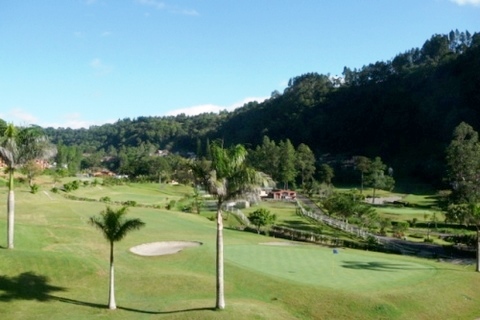 Leased – Penthouse Level Studio Apartment in Valle Escondido for Rent
55.74 Sq.M
Location
: Downtown Boquete, Boquete, Panama
This condo is rented.   For currently available rentals, please visit …
Rentals – Long Term  or  Short Term / Vacation Rentals or please contact Casa Solution.
If you would like to inquire about when this property might come available again for rent or if you would like some other rental suggestions, we are pleased to be of service to you.  Please contact Casa Solution at info@casasolution.com, 720-1331 or 6611-6049.
The location of this condominium for rent in Valle Escondido provides a great golf course, valley and lake view.  It's an extremely convenient option.  Though it is on the penthouse level, it is only one flight of stairs up from the elevated parking area.
It comes fully furnished.
The condo is technically two bedrooms, but was designed such that the second bedroom and bathroom with its own convenient and separate entrance could be locked off from the main living quarters.
The result is two comfortable apartments:
1. A private one bedroom, one bath apartment with large living room, balcony, complete kitchen and washer/dryer with its own entrance – $1,200 per month
2. A private studio apartment with its own full bathroom  – $800 per month
3.  Both units joined together as one apartment – $1,600 per month
This posting and pricing is for option number 2 with the private large studio apartment with its own full bathroom with its own entrance.
Quality finishes include custom wood cabinetry and granite countertops. The large windows look out on the valley, lake and golf course. A great choice.
Valle Escondido is the luxurious residential development credited as a major factor in starting the wave of expats coming to Panama for a better lifestyle. When AARP first announced that Boquete, Panama was one of the best places in the world to retire and the International Living organization declared that Boquete was the number 1 recommended retirement destination for expats, Valle Escondido was in the initial stages of construction and offered a prime lifestyle opportunity. Valle Escondido boasts a gorgeous mountain valley close to a sweet and friendly town center in a secure, amenity-rich setting.
Enjoy golf, tennis, a work-out in a quality gym, a swim in one of Valle's indoor or outdoor pools, or a spa treatment right there at the development.
Square footage of this section of the condo is approximate.
It is easy to walk to town from this location near the front of Valle Escondido.
Please contact Casa Solution for more information or to view this Condominium for Rent in Valle Escondido, Boquete, Panama.