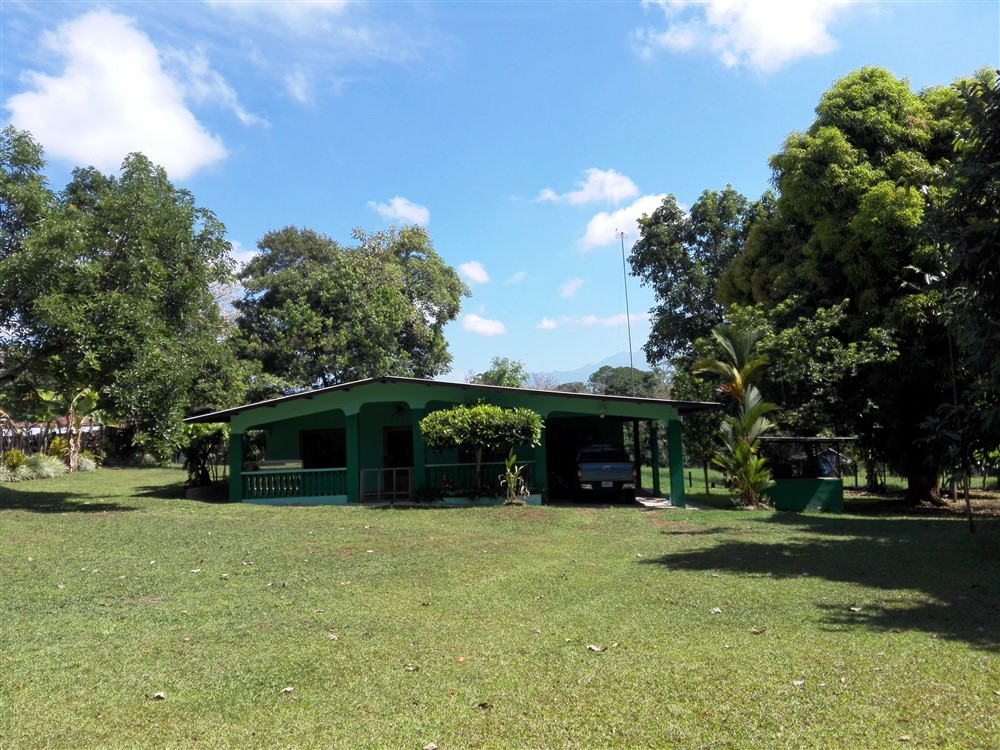 Perfect Small Farm with House for Sale in Sortova, Bugaba, Chiriqui with Well, Fruit Trees, Galera & Additional House – Disfruta de Esta Bonita Propiedad Agrícola con Dos Casas y Vistas al Volcán Barú
House Size
: 1,250.00 Sq.Ft
116.13 Sq.M
Lot Size
: 9,836 Sq.M
2.43 Acres
Location
: Bugaba, David, Panama
Enjoy this nice farm property with two houses and views of Volcan Baru.  The property has been recently upgraded since the below photos were taken.
The house has the benefit of an already drilled well.
The entire property is fenced with three entry gates – one electric and two manual.
It is a useful property as it is relatively flat.
The property has a second house – somewhat basic but with upgrade potential – that can be used as a guesthouse.
And there is a galera – a covered area that can be used for animals like goats or horses or to provide cover for stored wood, hay or other goods.
It is also perfect for a covered outdoor barbecue area.
The property is close to a paved road – about 850 meters.
Fruit trees include bananas, avocados, mangoes, grapefruit, cacao, velvet apple and 25 mangosteen trees: local roble, cedro, mahogany.
Wifi is installed as well as drinking water and electric service.
Listed under David due to proximity.  Close to the Feria de la Candelaria, Bugaba.  Easy access to David, Boquete, Costa Rican border and Volcan, Panama.

Disfruta de Esta Bonita Propiedad Agrícola con Dos Casas y Vistas al Volcán Barú
La casa tiene el beneficio de un pozo ya perforado.
Toda la propiedad está cercada con tres puertas de entrada: una eléctrica y dos manuales.
Es una propiedad útil ya que es relativamente plana.
La propiedad tiene una segunda casa, algo básica pero con potencial de actualización, que se puede usar como casa de huéspedes.
Y hay una galera, un área cubierta que se puede usar para animales como cabras o caballos o para cubrir la madera almacenada, el heno u otros bienes.
También es perfecto para una zona de barbacoa cubierta al aire libre.
La propiedad está cerca de una carretera pavimentada, a unos 850 metros.
Los árboles frutales incluyen plátanos, aguacates, mangos, toronjas, cacao, manzana de terciopelo y 25 árboles de mangostán: roble local, cedro, caoba.
Wifi instalado, agua potable y servicio eléctrico.
Listado bajo David debido a la proximidad. Cerca de la Feria de la Candelaria, Bugaba. Fácil acceso a David, Boquete, frontera costarricense y Volcán, Panamá.
Por favor comuníquese con Casa Solution si desea visitar esta propiedad o si tiene preguntas acerca de esta Bonita Propiedad Agrícola con Dos Casas y Vistas al Volcán Barú, Bugaba, Chiriquí