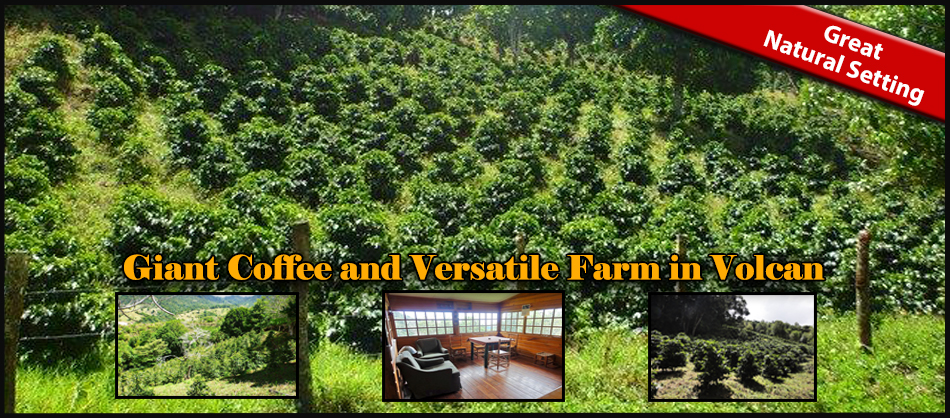 Giant Coffee and Versatile Farm in Volcan – 1.78 million square meters – Finca Cafetalera en Volcan con Hermosas Vistas
Lot Size
: 1,780,000 Sq.M
439.85 Acres
Location
: Los Pozos, Boquete, Panama
Property Features
: Coffee plants, Fruit Trees, Mountain View, River or Stream Runs Through Property, Springs on the Property
A Very Special Feature
: Enormous with a river, hot springs and an active coffee and cattle farm.
This giant farm of 178 hectares, almost 440 acres, is located in the Volcan area of Panama with great views to Cerro Totuma.
It has streams, 3 natural hot springs and a river passing right through the property making it a great natural setting and wonderful place for birdwatching.
The farm had 15 hectares of coffee in production and 6 hectares have recently been added for a total of 21 hectares, 50 hectares in improved pasture lands, a little casita (house) with electric generator and solar panel and a greenhouse.
The property has many different species of trees including fruit trees.
It is possible to tour nearly all the property by car.  Good gravel road access.
Great for nature lovers or for those seeking a large farm property at high altitude in Panama.
Imagine what a beautiful huge and coffee producing property like this could be worth  in 5, 10 or 15 years.
**********************
Finca Cafetalera en Volcan con hermosas vistas
Esta finca gigante de 178 hectáreas, casi 440 acres, se encuentra en el área de Volcán de Panamá con excelentes vistas a Cerro Totuma.
Se encuentra en ella arroyos, 3 pozos de aguas termales naturales y un río que pasa a través de la propiedad por lo que es un gran entorno natural y maravilloso lugar para la observación de aves.
La finca tiene 15 hectáreas de café en producción y 6 hectáreas han sido recientemente añadido para un total de 21 hectáreas, 50 hectáreas en la mejora de tierras de pasto, una pequeña casita (casa) con el generador eléctrico y el panel solar y una de efecto invernadero.
La propiedad cuenta con muchas especies diferentes de árboles, incluyendo árboles frutales. Es posible recorrer casi todo la propiedad en coche. Buen acceso por carretera de grava.
Para los amantes de la naturaleza o para aquellos que buscan una gran propiedad agrícola a gran altura en Panamá. Imagínese lo que es una hermosa propiedad como esta podría valer en Panamá cerca de la frontera con Costa Rica en 5, 10 o 15 años.
Características de la propiedad : Las plantas de café, Árboles Frutales, Vista Montaña, río o arroyo corre a través de la propiedad, Muelles en la Propiedad
Una característica muy especial : enorme con un río, aguas termales y un café y ganado de granja en actividad.