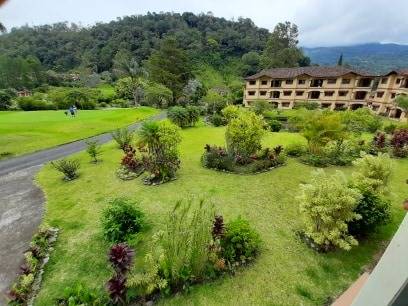 Leased – Fully Furnished Condo Rental in Valle Escondido – Available for Short-Term – Alquiler de Condominio Totalmente Amueblado en Valle Escondido – Disponible para Corto Plazo
Location
: Downtown Boquete, Boquete, Panama
If you would like to inquire about when this property might come available again for rent or if you would like some other rental suggestions, we are pleased to be of service to you.  Please contact Casa Solution at info@casasolution.com, 720-1331 or 6611-6049.
---
Besides offering a unique combination of convenience, quality, access, furnishings, upgrades and more, this condo is also in one of the very best positions of this popular twelve unit building.
This rental is for the lock-out suite with its own entry as well as a kitchenette. The condo has two sides which are "locked out" from each other.  The main suite with its own full kitchen and balcony can also be rented.
The condo's location provides the unique combination of no stairs to entry due to the position of the condo's designated parking space just outside the condo's door.   Yet the condominium is located on the second floor raised above the golf course and lake below it.  That provides the windows with great views.  It is the ideal combination of no walk-up or walk-down convenience along with optimized view position and relative affordability.  This is made possible by the topography of the site which has a driveway leading up and around the back of the building bringing people to park along the rear of the second level.
The apartment's interior has nice furnishings, finish work and features.
This condo is in the front of Valle Escondido, close to the security guard gatehouse.  The apartment is very secure and its spot puts it a short walk into downtown as well as close to the additional restaurant of Valle del Rio next door.  This is a good option if you don't want to rent a car.
Please contact Casa Solution soon to view this apartment or for more information.

Alquiler de Condominio Totalmente Amueblado en Valle Escondido – Disponible para Corto Plazo

Además de ofrecer una combinación única de conveniencia, calidad, acceso, mobiliario, mejoras y más, este condominio también se encuentra en una de las mejores posiciones de este popular edificio de doce unidades.
Este alquiler es para la suite cerrada con entrada propia.  El condominio tiene dos lados que están "bloqueados" entre sí.  La suite principal con su propia cocina completa y balcón también se puede alquilar.
La ubicación del condominio proporciona la combinación única de no tener escaleras para entrar debido a la posición del espacio de estacionamiento designado del condominio justo afuera de la puerta del condominio.  Sin embargo, el condominio está ubicado en el segundo piso elevado sobre el campo de golf y el lago debajo de él.  Eso proporciona a las ventanas excelentes vistas.  Es la combinación ideal de la comodidad de no subir o bajar junto con una posición de vista optimizada y una asequibilidad relativa.  Esto es posible gracias a la topografía del sitio, que tiene un camino que conduce hacia arriba y alrededor de la parte posterior del edificio, lo que hace que las personas se estacionen en la parte trasera del segundo nivel.
El interior del apartamento tiene bonitos muebles, acabados y características.
Este condominio se encuentra en el frente de Valle Escondido, cerca de la caseta de vigilancia.  El apartamento es muy seguro y su ubicación lo coloca a pocos pasos del centro, así como cerca del restaurante adicional de Valle del Río al lado.  Esta es una buena opción si no desea alquilar un automóvil.
Por favor comuníquese con Casa Solution si desea visitar esta propiedad o si tiene preguntas acerca de este Alquiler de Condominio Totalmente Amueblado en Valle Escondido, Boquete, Panamá