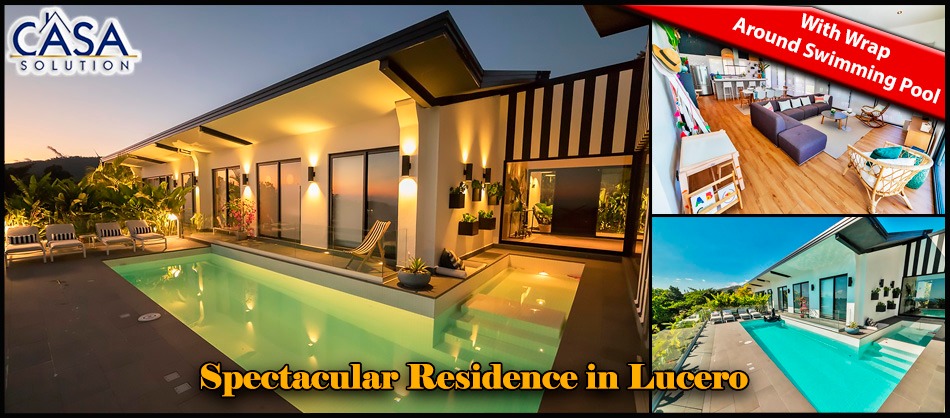 Spectacular Residence in Lucero Residential and Golf Development for Rent, Boquete, Panama – Furnishings & Turnkey Included – Espectacular Residencia en Lucero y Desarrollo Residencial Golf, Boquete, Panamá
Rental Price Furnished
: $3,500
House Size
: 9,625.00 Sq.Ft
894.19 Sq.M
Lot Size
: 2,100 Sq.M
0.52 Acres
Location
: La Estrella, Jaramillo, Boquete, Panama
What a spectacular residence!   Talk about living in style.  This Panama home for rent located in Boquete's premier golf community is a pristine, relaxing place with lots of soothing colors, modern style and esthetic pleasures.
The house's unique design elevates the gorgeous tropical setting.  Its wrap-around swimming pool with private swimming area is subtly decadent.   Thoughtful lighting here evokes vacation style relaxation.  It is a space of fantasy living.
The main living room, dining, and kitchen area is bright evoking beach house sensibilities.  Though in the Panama mountains, the property has a view to the Ocean.  The interior's color scheme bridges the space between hills and sea.  Get the urge to surf the waves or visit a tropical island paradise?  Its only a easy drive from here to multiple beach and island adventures.
Positioned on the lot just right, the long profile of the structure ensures the astounding views all the way to the Pacific reach widely into most of the residence.
Inside, the high ceilings continue the theme of lots of open breathing space.  The kitchen is lovely with white cabinets, durable and pretty Silestone countertops, and a convenient island.
The bedrooms have views that seem to go on forever.  Little recessed lights with dimmer switches allow you to set the mood.
The bold elements of the home's design extend to the bathrooms with black and white theme in one and to the hallway where lighted bamboo set in stones accompanies you along the way.
A soft blue with gentle green accents bedroom is another example of the interior design skill applied to this home.  Each room has its special character with its own color schemes; often playful, often relaxing, always enjoyable.
Quality finish choices permeate the building.  Spanish porcelain floors, European aluminum, dim-able lights throughout the home, a crystal fence and other features are representative of the quality investment here.
In addition to the four bedrooms, there are other rooms too.  A large gym could also serve as an office or a fifth bedroom.  There are maid's quarters which could serve other purposes as well.
In addition to the long, luxurious pool, there is a wide veranda that stretches along the house to ensure lots of covered outside space for enjoyment of the scene below.
The pretty gardens on the property have their own lemon and papaya trees.  The large green lawn invites playful romps or picnics.
The wonderful furnishings are included as are all the turnkey items so you can just step into the lifestyle.
The high-end appliances are also included.
Enjoy the warmth day or night – the swimming pool is heated.
This is an incredible home designed for pleasure, relaxation and aesthetic appreciation – both of the space as well as the natural surroundings.
Available for rent starting Jan 15th, 2023.
Please contact Casa Solution to view or learn more about this Spectacular Residence for rent in Lucero Residential and Golf Development, Boquete, Panama.
---
Espectacular Residencia en Lucero y Desarrollo Residencial Golf, Boquete, Panamá – Mobiliario y con llave en Mano
¡Qué espectacular residencia! Hable acerca de vivir con estilo. Esta casa de Panamá ubicada en la principal comunidad de golf de Boquete es un lugar prístino y relajante con muchos colores relajantes, estilo moderno y placeres estéticos.
El diseño único de la casa eleva el magnífico entorno tropical. Su piscina envolvente con área de baño privado es sutilmente decadente. La iluminación reflexiva aquí evoca la relajación del estilo de vacaciones. Es un espacio de vida de fantasía.
El área principal de la sala de estar, el comedor y la cocina es brillante evocando la sensibilidad de las casas de playa. Aunque en las montañas de Panamá, la propiedad tiene vista al océano. La combinación de colores del interior une el espacio entre las colinas y el mar. ¿Tienes ganas de surfear las olas o visitar una isla tropical paradisíaca? Es solo un viaje fácil desde aquí hasta múltiples aventuras en la playa y la isla.
Posicionado en el lote justo, el largo perfil de la estructura garantiza que las impresionantes vistas hasta el Pacífico lleguen ampliamente a la mayor parte de la residencia.
En el interior, los techos altos continúan con el tema de mucho espacio abierto para respirar. La cocina es encantadora con gabinetes blancos, encimeras de Silestone duraderas y bonitas, y una isla conveniente.
Las habitaciones tienen vistas que parecen durar para siempre. Pequeñas luces empotradas con interruptores más tenues le permiten establecer el estado de ánimo.
Los elementos audaces del diseño de la casa se extienden a los baños con un tema en blanco y negro en uno y al pasillo donde el bambú iluminado con piedras lo acompaña en el camino.