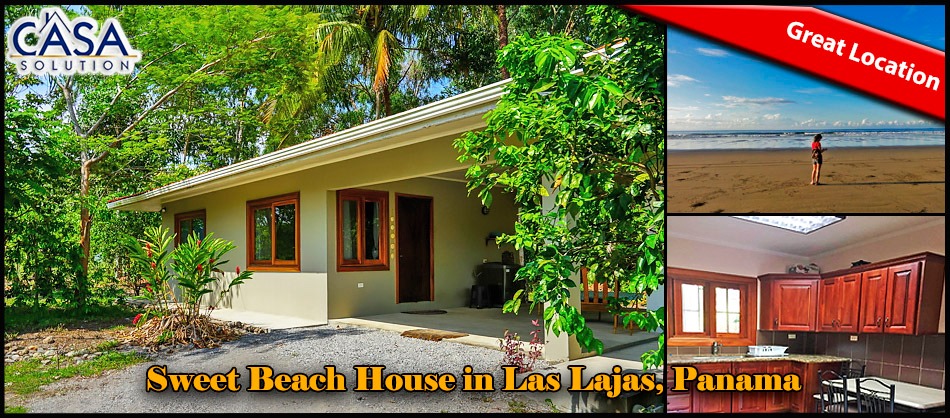 Sweet Beach House for Sale in Las Lajas, Panama – Dulce Casa en la Playa en Venta en Las Lajas, Panamá
83.61 Sq.M
Lot Size
: 1,000 Sq.M
0.25 Acres
Location
: Las Lajas, Pacific Beaches Chiriqui, Panama
Ahhh..Las Lajas, Panama… what a great beach location.  This up and coming beach destination is blessed with miles of long pretty Pacific beaches and it is a glorious place to enjoy ocean life.
While there are many fine homes in the area and some small developments, it is a largely undiscovered gem.  The beaches in the area are great for swimming with long, rolling waves presenting glorious scenes.
This house for sale in Las Lajas is an opportunity to enjoy the Las Lajas lifestyle at a low cost of entry.   This property has easy beach access just a few steps away.
And with the house comes a quarter acre of tropical paradise.
The sweet house has been the guest house for the large beachfront house next door.  It is now available to be provided as a separately titled property at closing.
Appliances are included.  Furnishings are negotiable.
The grand house adjacent to this one also for sale by the same owner.  The two houses when sold together are offered at $749,000.
Las Lajas is less than 1 and a half hours drive on good and recently expanded paved roads, mostly the Pan American Highway, from David, Panama, the country's third largest city.
Please contact Casa Solution for more information or to go experience this Sweet Beach House for Sale in Las Lajas, Panama.
*****************
Dulce Casa en la Playa en Venta en Las Lajas, Panamá
Ahhh… Las Lajas, Panamá … qué gran ubicación en la playa. Este destino de playa prometedor está bendecido con kilómetros de largas y hermosas playas del Pacífico y es un lugar glorioso para disfrutar de la vida marina.
Si bien hay muchas buenas casas en el área y algunos desarrollos pequeños, es una joya en gran parte sin descubrir. Las playas de la zona son excelentes para nadar, con olas largas y ondulantes que presentan escenas gloriosas.
Esta casa en venta en Las Lajas es una oportunidad para disfrutar del estilo de vida de Las Lajas a un bajo costo de entrada. Esta propiedad tiene fácil acceso a la playa a solo unos pasos de distancia.
Y con la casa viene un cuarto de acre de paraíso tropical.
La casa dulce ha sido la casa de huéspedes de la gran casa frente al mar de al lado. Ahora está disponible para proporcionarse como una propiedad titulada por separado al cierre.
Los electrodomésticos están incluidos. Los muebles son negociables.
La gran casa adyacente a esta también está a la venta por el mismo propietario. Las dos casas cuando se venden juntas se ofrecen a $ 749,000.
Las Lajas está a menos de 1 hora y media en auto por caminos pavimentados buenos y recientemente expandidos, principalmente la Carretera Panamericana, desde David, Panamá, la tercera ciudad más grande del país.