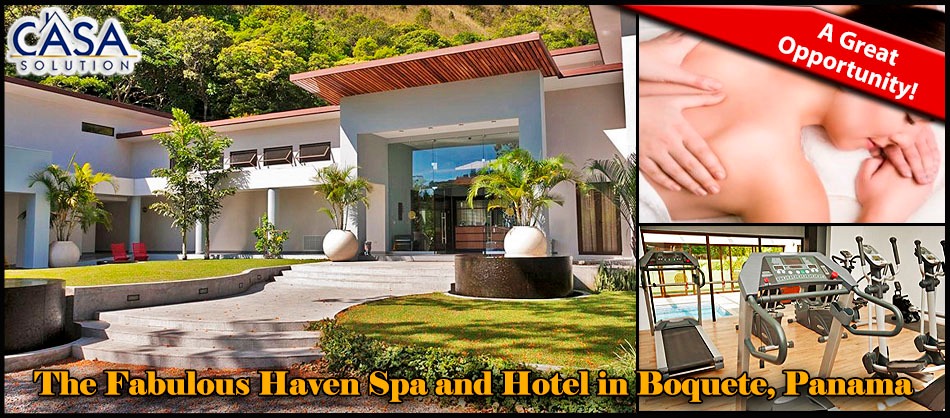 The Fabulous Haven Spa and Hotel in Boquete, Panama is Now for Sale – A Great Opportunity! – Tripavisor Traveler's Choice & Certificate of Excellence
Price Furnished
: $1,883,000
House Size
: 17,400.00 Sq.Ft
1,616.51 Sq.M
Lot Size
: 7,440 Sq.M
1.84 Acres
Location
: Downtown Boquete, Boquete, Panama
In downtown Boquete, one of the world's most acclaimed and sought after expat retirement and tourism destinations, is the Haven Spa and Hotel.   Widely considered one of the great gems of Boquete, the Haven Spa and Hotel stands out as one of the premiere destinations in all of Panama.  Now it can be yours.
The Haven has been brilliantly created by talented health and development professionals.  It is a shining example of seamless modern design incorporating a range of desirable features. It enjoys a well-earned reputation as a quality health center providing a wide range of treatments, award winning hotel and spectacular property in a prime location.
So Many Great Features and Income Streams
The property consists of a hotel with 9 air-conditioned rooms, gym with a comprehensive range of equipment, swimming pool and relaxation zone, spa with treatment rooms, landscaped tropical gardens, hot tub, steam and infrared saunas and an additional well-appointed 1 bedroom apartment.  One of the hotel rooms was recently added and more could be added with limited cost.
A Large 3,000 Square Foot Apartment (Owner's Home) Is Included!
The large luxury apartment has served as the quality owners' primary residence.  It has a large kitchen, 2 bedrooms and 2 and half bathrooms.  It is in itself a great residence.
A Major Added Bonus
A major added bonus is an adjacent undeveloped lot of 1/2 acre that offers expandability and flexibility.  It has plenty of room for more gardens, casitas, or other nice additions to this premiere property. The lot is included in the price shown.
A Great Boquete Business Opportunity
Included in the price are the well-known and branded spa and hotel business, hotel room furnishings, spa treatment tables, and much more.
The Haven is considered a highly prestigious property close to downtown Boquete, but in a quiet area and near large estate homes.
Regarding the hotel rooms, 5 have King beds, 3 queen and 1 twin.  Four of the rooms have kitchenettes.  Though only occasionally needed in Boquete, all have air conditioning.
The 1 bedroom apartment is 900 square feet.  It could easily be converted into 2 additional hotel rooms.
The grounds are tropically luscious.  They are augmented by a mountain stream that runs down the side of the property and by some of the hotel rooms.
There are five beautiful fountains spread among the grounds providing a gentle ambiance for a relaxing setting.
The property has amble parking spaces.
The spa and clinic has 2,000 square feet of designated space with 5 treatment rooms – 3 with full bathrooms and 1 with hidden plumbing for a bathroom if desired. Four of the rooms could be used as hotel rooms if you would like to move the spa or focus on hotel expansion.
The spa is very popular with expats, locals and guests.
The gym is 1,200 square feet.  There are expats and locals paying membership fees for regular use.  The Haven's gym includes 8 cardio machines on the upper level and a lower level with 10 workout stations (Body Solid Pro-dual range) free weights, and 2 vibration trainers.
There is also a yoga studio too!  It is 775 square feet with wooden floors and huge mirrored walls.
The pool and jacuzzi area are 900 square feet with a Riverpool system exercise pool with machine plus jacuzzi.
The changing rooms have a total of 4 showers, 4 toilets and each have an infrared sauna and steam area.
For those getting treatments, there is an additional tranquility room.
There is a lovely, high ceiling reception and lounge area; also, a small office and shop.
The property has a transferable tax exemption to January 4, 2030.
Or Make It Your Private Home
Could the Haven be your new large luxury home? Seeking a private yet centrally located estate property in Boquete, Panama's famous mountain destination?  Consider making this incredible property your truly amazing downtown Boquete private residence.  There are no other properties so close to downtown with the large land size combined with the large buildings and features of this one.  It could be easily transformed into a spa retreat destination or consider it for your own private residence.
More features include…

Kitchen with fridges and freezer, Laundry room with washing machines and dryers, Staff rest room, 4 Storage rooms, 1 just for supplies, Machine room with 17kw generator and other machinery, maintenance supplies, Storage for maintenance, Large storage rear of garage for 2 advanced water heating system, 4 Takagi Japanese water heaters + 4 storage tanks, computerized system, Covered Garage for two cars, 3 very large water storage tanks plus pressurized water system, 2 Solar panels on the garage and a further solar panel for pool, The water system has triple filters and UV, Central fire alarm, and a Security camera system.
The Haven's Tripadvisor Awards – Very Impressive!
Travellers' Choice – 2012, 13, 14, 15, 16, 17, 18, 19
Certificate of Excellence – 2012, 13, 14, 15, 16, 17, 18, 19
Voted 5th Best Small Hotel in Panama by Tripadvisor in 2019
This deluxe property provides a wide range of wonderful features at a low price.  It is a wonderful business opportunity or the chance to have an incredible luxury residence in the heart of Boquete, Panama.
Please contact Casa Solution if you would like to view this hotel and spa for sale or have questions about The Fabulous Haven Spa and Hotel in Panama.