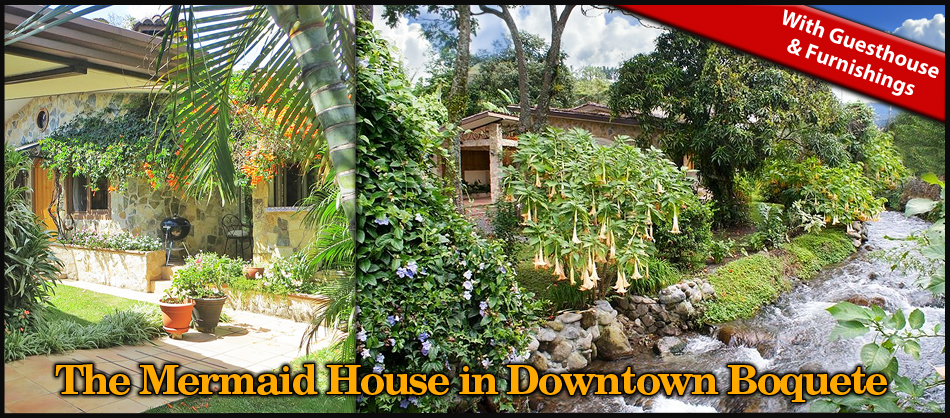 Downtown Boquete House With Guesthouse For Sale – La Casa Sirena Está a La Venta en El Centro de Boquete
Price Furnished
: $479,000
House Size
: 2,500.00 Sq.Ft
232.26 Sq.M
Lot Size
: 500 Sq.M
0.12 Acres
Location
: Downtown Boquete, Boquete, Panama
This charming house is located right in the center of downtown yet enjoys a peaceful spot next to a year-round stream.   The shops, restaurants & conveniences of being right downtown are easy to enjoy from this absolutely lovely house and guest house.
A mermaid sculpture provides a kind welcome on arrival.  As you enter the main house, you encounter a very beautiful high ceiling-ed great room.  The space has a warm feeling augmented by the fireplace, soft color tones and the sweet sounds of the babbling brook nearby.
The kitchen is large with an island that encourages guests to sit at the fun countertop.   Beams in the ceilings and fine custom cabinets add to the quasi-rustic yet tastefully artistic ambiance.  Rounded wood doors and window frames along with a portal sized stained glass style window and pretty tiles add to the setting.
It is a great space for relaxing and entertaining.
The main house has two bedrooms and two bathrooms.  The master bedroom suite has a double sink in the bathroom as well as shower and separate tub.
There are lots of outdoor spaces from which to enjoy Boquete's year-round spring-like weather.  Beautiful ironwork provide flair and added security.  Big glass doors provide easy access to enjoy the pretty gardens and lawn while also bringing in lots of natural light.
The sweet 1 bedroom 1 bath guest house has a long history of providing solid rental income and attracting high occupancy levels due to its central location and charm.
Construction size is rough approximate.  Appliances and a few furnishings are included.
__________________________________
La Casa Sirena está a la venta en el centro de Boquete – con casa y Decoración
Tamaño de construcción: 2,500.00 Pies cuadrados, 232.26 metros cuadrados
Tamaño del lote: 500 metros cuadrados, 0.12 Acres
Habitaciones: 3, Baños: 3
Ubicación: centro de Boquete, Boquete, Panamá
Descripción: Esta encantadora casa está situada justo en el centro del pueblo pero en una zona tranquila junto a un arroyo que fluye todo el año. Las tiendas, restaurantes y comodidades de estar justo en el centro son fáciles de disfrutar de esta casa y casa de huéspedes absolutamente hermosas.
Una escultura de sirena ofrece una calurosa bienvenida al llegar. Al entrar en la casa principal, se encuentra con una hermosa sala de estar de techo alto. El espacio tiene una cálida sensación aumentada por la chimenea, los tonos suaves y los dulces sonidos del arroyo.
La cocina es grande, con una isla que anima a los huéspedes a sentarse y divertirse. Vigas en los techos y armarios finos hechos  a la medida son una adición al ambiente casi-rústico pero con buen gusto artístico.
Es un gran espacio para relajarse y divertirse.
La casa principal tiene dos dormitorios y dos baños. El dormitorio principal tiene un doble lavabo en el baño, así como ducha y bañera separada.
Hay muchos espacios al aire libre para disfrutar del clima primaveral de Boquete durante todo el año. Hermosa herrería proporciona estilo y seguridad. Puertas de cristal grandes proporcionan un fácil acceso para disfrutar de los bonitos jardines y del césped al mismo tiempo que incorpora una gran cantidad de luz natural.
Tienr una dulce casa  de huéspedes de 1 dormitorio 1 baño que proporcionar un  ingreso sólido alquiler a largo plazo y atraer altos niveles de ocupación debido a su ubicación central y encanto.
Tamaño de construcción es aproximada. Unos muebles y electrodomésticos están incluidos.