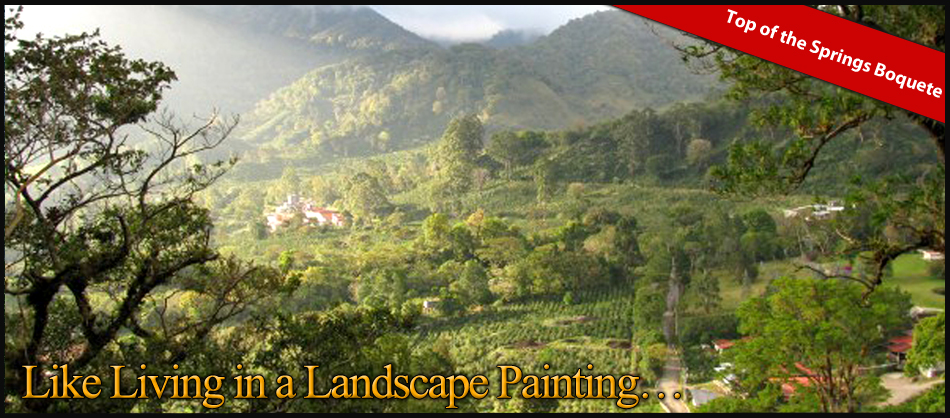 Top of the Springs Boquete Lot 11a – Al Tope de The Springs, Boquete Lote 11a
Lot Size
: 1,707 Sq.M
0.42 Acres
Location
: Palo Alto, Boquete, Panama
A sweet hillside spot in the fabulous Springs Boquete.  The lot provides a nestled on the hillside hideaway with views at the top of Boquete's prime boutique development.
A new literally million dollar house has just been completed on the adjacent lot.
The Springs Boquete.
Like Living in a Landscape Painting…
The Springs Boquete presents the finest residence sites that Boquete has to offer. On the green side of town, this quality development has been gently crafted to provide an environment full of artistic pleasures, brilliant landscaping, relaxing parks and full enjoyment of the natural beauty of Boquete. Less than 5 minutes to downtown and near La Amistad International Park, the property is filled with flowers, rainbow sitings, a wide range of bird and plant species and unobstructed "Espectacular" views of Volcan Baru and Kotowa coffee fields. No time-to-build requirements. Authentic. Beautiful. Secure. Artistic. Serene. Convenient. Comfortable. Stimulating. A must see location for those considering sites for their new home in Boquete.
**********************
Al Tope de The Springs, Boquete Lote 11a
Una dulce ladera en el fabuloso Springs Boquete. El lote ofrece un enclavado en el escondite de la ladera con vistas en la parte superior de Boquete de desarrollo de primera clase.
Una nueva casa literalmente de un millón de dólares acaba de ser terminada en el lote adyacente.
The Springs Boquete.
Como vivir en una pintura de paisaje …
The Springs Boquete presenta los mejores sitios de residencia que Boquete tiene para ofrecer. En el lado verde de la ciudad, este desarrollo de calidad ha sido cuidadosamente diseñado para proporcionar un ambiente lleno de placeres artísticos, paisajismo brillante, relajantes parques y el pleno disfrute de la belleza natural de Boquete. A menos de 5 minutos del centro y cerca del Parque Internacional La Amistad, la propiedad está llena de flores, zonas de arco iris, una amplia variedad de especies de aves y plantas y vistas "Espectaculares" sin obstáculos de los campos de café Volcán Barú y Kotowa. No existe tiempo específico para construir. Auténtico. Hermoso. Seguro. Artístico. Sereno. Conveniente. Cómodo. Estimulante. Un lugar de visita obligada para aquellos que consideran sitios para su nuevo hogar en Boquete.