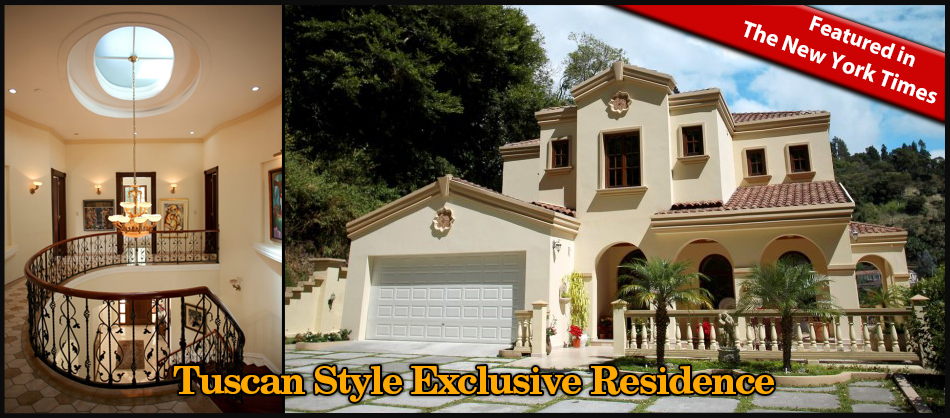 Featured in the New York Times: Tuscan Style Exclusive Residence in Valle Escondido – Now For Sale – Exclusiva Residencia Estilo Toscano en Valle Escondido
House Size
: 5,600.00 Sq.Ft
520.26 Sq.M
Lot Size
: 3,302 Sq.M
0.82 Acres
Location
: Downtown Boquete, Boquete, Panama
Property Features
: Fireplace, Garage, Golf Course community, Landscaped Gardens, Mountain View, River or Stream Along Border
One of the finest homes in Boquete is now for sale.  This 4 bedroom exclusive residence (plus apartment and maid's quarters) is an ascended position in the Estates section of amenity-rich Valle Escondido.
The home is large with approximately 5,600 square feet, two stories with a lovely view of the valley on nearly an acre of land. It has been built to a high North American standard with many exceptional features unusual to see in this up-and-coming market. Italian floor tiles, graceful chandeliers, arched picture windows bringing in extra light, and a curved stairwell are some of the special attributes. The wood railings, 10 foot ceilings, imported Italian glass, and fine ironwork add to the fine details.
The kitchen is a cornerstone feature with a wonderful implementation and design: fully equipped with side-by-side refrigerator, dish washer, a spacious pantry, island and breakfast nook. The kitchen cabinets are rosewood.
The multi-directional windows and exterior doors are custom-designed.
The living room and dining room are spacious and bright with impressive integrated built-ins and crown molding accents. The master bath has double sinks, a makeup counter, shower and tub plus the master has a large walk-in closet. The living room and master bedrooms both have fireplaces.
The house comes with a full golf membership. There are two primary balconies with wonderful valley views. A tongue-in-groove wood ceiling accents and brings the Tuscan style closer to the tropics. The countertops are made with rich marble. 4 bedrooms, 4 and ½ bathrooms plus an additional studio apartment ideal for a separate rental, visitors or deluxe caretaker accommodations. Garage, backup water tank, gas fireplace and irrigation system are included.
Many furnishings also included. Completed in 2010 with a transferable tax exemption in effect until 2031.
This house was chosen by an editorial board of the New York Times to be the featured house to represent Boquete in a 2015 article called "House Hunting … in Panama."
The house saw enormous interest and was sold almost immediately after the article appeared.  Now, this impressive residence is once again available.
We look forward to sharing this fine Panama house with you.  Call 011-507-720-1331 or 011-507-6617-4408 or email info@casasolution.com for more information or to schedule a showing today.
Property Features and Photos Below.
Features include:
Italian Floor Tiles
Graceful Chandeliers
Arched Picture Windows
Curved Stairwell
Ten Foot High Ceilings
Imported Italian Glass
Fine Ironwork
Imported Custom Cabinetry
Fully Equipped Kitchen with Side-By-Side Refrigerator, Dish Washer,  Spacious Pantry, Island and Breakfast Nook
Multi-Directional Windows
  Integrated Built-In Cabinetry
Crown Molding Accents
Double Sinks in Master Bath
 Large Walk-In Closet
 Two Primary Balconies With Wonderful Valley Views
Tongue-In-Groove Wood Ceiling Accents
Rich Marble Countertops
4 Bedrooms, 4 And ½ Bathrooms Plus An Additional 1 Bedroom/1bath Apartment
Garage
Backup Water Tank
Gas Fireplace
  Irrigation System
Bonuses at No Extra Charge
 A Full Golf, Fitness Club and Spa Membership – Amenities include a nine hole executive golf course, pro-shop,  state of the art fitness center, indoor heated swimming/lap pool, outdoor solar heated swimming/wade pools at the hotel, locker/shower rooms with Turkish steam bath, Swedish sauna and Jacuzzi, lounge and bar with game room including billiards and card tables, event room for parties and meetings, racquetball court and tennis court.
Transferable Tax Exemption on the house until 2031
Many Furnishings and Appliances included such as imported Italian lighting, sofa, love seats, rosewood dining room table set imported from the Netherlands – seats 10, outdoor furniture, master bedroom set, guest bedroom set, flat screen TVs, oven/stove, microwave, dishwasher and washer/dryer.
Construction
Concrete Block and Steel
Completed November, 2010
The Location in Valle Escondido
As you enter Valle Escondido after admission at the gate house, you see a beautiful valley setting with a charming babbling brook and golf course to each side of you.  You pass some three story condominium buildings and many duplexes of various sizes and designs set back on the hillsides along the golf course.   After a short ride, you arrive at the town center with a quality hotel, spa, fitness facilities, entertainment venue, golf shop and restaurants.  There are fine homes behind an electronically controlled gate up on the hillside plateau to your right.  But, if you go straight instead, pass the hotel you come to the Estates section of the development.  Boasting an ambiance of casual opulence with an air of exclusivity, most of the larger homes and expansive lots are in this area which also has it's own gated entry.  This Tuscan style residence is located near the far end of the Estates section close to the developer's residence on the southern side of the Valley.
About Valle Escondido
Valle Escondido is the luxurious residential development credited as a major factor in starting the wave of expats coming to Panama for a better lifestyle. When AARP first announced that Boquete, Panama was one of the best places in the world to retire and the International Living organization declared that Boquete was the number 1 recommended retirement destination for expats, Valle Escondido, which began construction in 2001, was in the initial stages of development and offered a prime lifestyle opportunity.  Continued… More About Valle Escondido, Boquete
*************************
Exclusiva residencia Estilo Toscano en Valle Escondido
Una de las mejores casas en Boquete está ahora en venta. Esta exclusiva residencia de 4 dormitorios (además de apartamento y de habitación de empleados) en una de las zonas más exclusivas de Valle Escondido.
La casa es grande con aproximadamente 5.600 pies cuadrados, dos pisos con una hermosa vista del valle en casi un acre de terreno. Se ha construido a un alto nivel de América del norte con muchas características excepcionales en este mercado emergente. Azulejos de piso Italiano, elegantes lámparas, arqueados ventanales trayendo más luz y una escalera curvada son algunos de los atributos especiales. El pasamanos de madera, techos de 10 pies, vidrio Italiano importado y herrajes finos agregan un toque especial a los detalles.
La cocina es una piedra angular con una maravillosa aplicación y diseño: totalmente equipada con refrigerador side-by-side, lavadora, amplia despensa, isla y desayunador. Los gabinetes de cocina son de palo de rosa.
Las ventanas y puertas exteriores multidireccionales fueron diseñados de una manera personalizada.
La sala y comedor son áreas amplias y luminosas con impresionante funciones integradas y acentos de moldura corona. El baño principal tiene doble lavamanos, un mostrador de maquillaje, ducha y bañera, además la habitación principal tiene un gran vestidor. La sala de estar y el dormitorio principal tienen chimeneas.
La casa viene con una membresía de golf completo. Hay dos principales balcones con vistas al maravilloso valle. Un techo de madera machimbrada en acentos y trae el estilo toscano más cerca a los trópicos. Las encimeras están fabricadas con mármol. 4 habitaciones, 4 baños y un apartamento adicional ideal para alquiler, para visitantes o alojamientos de lujo para un cuidador. Garage, tanque de reserva de agua, gas, chimenea y sistema de riego están incluídos.