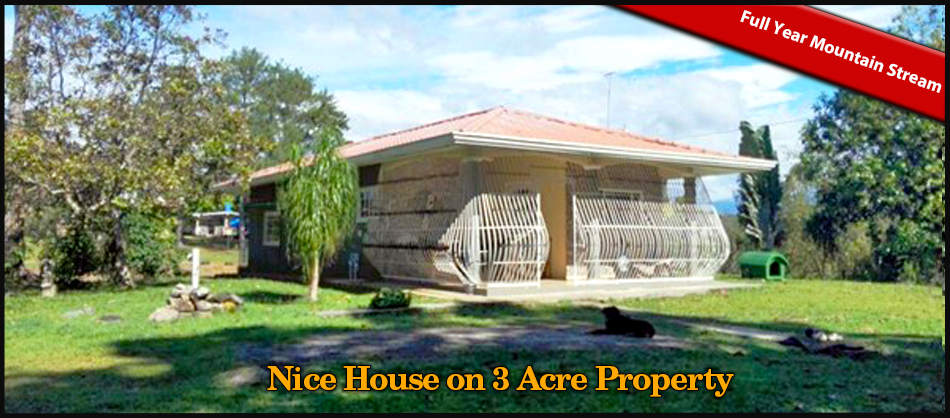 Nice House on 3 Acre Property with Full Year Mountain Stream & Water Well on Paved Road – Casa de dos habitaciones en 3 Acre Propiedad, Tinajas Dolega
House Size
: 1,460.00 Sq.Ft
135.64 Sq.M
Lot Size
: 12,173 Sq.M
3.01 Acres
Location
: Dolega, Boquete, Panama
This Chiriqui property for sale has many great attributes.  It has a nice small house, a full three acres of beautiful land, a full year river on the border, a well and it's location puts it within 20 minutes of Boquete and 20 minutes from David on excellent roads.
The property also has municipal water which means two water sources. There is an electric gate for entry.
The property has many mature tropical fruit species (three types of Avocados, lemons, and oranges).   It also has a long road frontage on a well paved road that joins Anastacios, Dolega to San Pablo, Panama.
There are pretty palm trees in the gardens.  There are also five mango trees and guanábana trees too.
In addition to a full year river there is also a pretty seasonal stream that runs through the property for sale too.
The property is perfect for someone who wants to keep farm animals or a horse given its location, nice climate, gentle topography and river frontage.
Stainless Steel appliances are included.  There is a full-size freezer, full-size fridge, washer dryer and stove.
Three air conditioning units are included.
Listed under Boquete due to proximity.
Please contact Casa Solution to visit this Nice House on 3 Acre Property with Full Year Mountain Stream & Water Well on Paved Road.
**************
Casa de dos habitaciones en 3 Acre Propiedad, Tinajas Dolega
Esta propiedad Chiriquí en venta tiene muchos atributos. Tiene una bonita casa pequeña, un total de tres acres de tierra hermosa, un río lleno años en la frontera, un pozo y su ubicación le permite llegar a los 20 minutos de Boquete y 20 minutos de David en excelentes carreteras.
La propiedad también tiene agua municipal, que significa dos fuentes de agua. Hay un portón eléctrico para la entrada.
La propiedad tiene muchas especies de frutas tropicales maduras (tres tipos de aguacates, limones y naranjas). También tiene un largo camino de frente en una carretera asfaltada que une así Anastacios, Dolega a San Pablo, Panamá.
Hay palmeras bonitas en los jardines.
Además de un río año también hay una corriente muy estacional que atraviesa la propiedad a la venta también.
La propiedad es ideal para alguien que quiere mantener a los animales de granja o un caballo dada su ubicación, clima agradable, suave topografía y frente al río.
Para más información y una completa descripción de esta propiedad, por favor, copie y pegue la dirección URL del Web anterior en su navegador para poder ir directamente a la página web de esta propiedad. O bien, visite www.casasolution.com