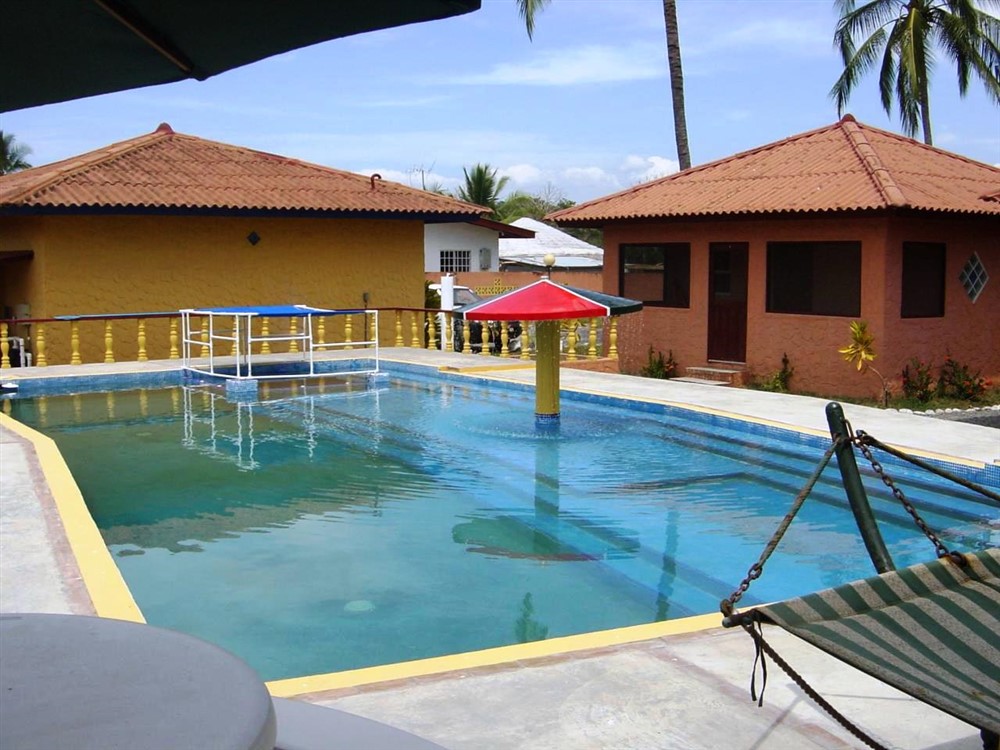 Vacation Resort Rental Villas Business & Property Near Beach for Sale in Las Lajas, Chiriquí, Panama
House Size
: 2,041.00 Sq.Ft
189.62 Sq.M
Lot Size
: 2,458 Sq.M
0.61 Acres
Location
: Las Lajas, Pacific Beaches Chiriqui, Panama
Las Lajas is a fabulous miles-long beach resort area in Chiriquí province Panama.  It is enjoying steady development and is poised for rapid expansion as a premier beach destination.
This property is a business and investment opportunity.  It consists of four vacation rental villas, an administration building with cafe and a huge 24,000 gallon recreational pool with jacuzzi.
Appliances and air conditioning for each unit included.
Titled and landscaped property.
Only about 200 meters away from a safe and beautiful Las Lajas beach.
There are two water sources for the property – well and local municipal supply line.
There is a 5′-8″ deep 40 foot swim lane, a large 3′  deep yoga and water arobic workout area, a large 2′ deep childrens area with a plunge fountain and a covered spa area with 6 jets, shower and shaded seating areas.
Some more about this vacation destination for sale:
"The "little girl of the coast" is a jewel of comfort and luxury in one of the most beautiful beaches in Panama and perhaps all of the world. One of the safest & cleanest beaches on Panama's Pacific Coast, the soft tan sand has a flat bottom and an amazing low tide that makes it the perfect beach. This vacation rental villa location is the perfect safe and comfortable, place for singles and families to relax and enjoy it all.
The district of San Felix has many scenic attractions and an Indian village to visit. The pueblo of Las Lajas has many yearly activities including many candelarias and a  carnival complete with floats and two beautiful carnival queens.
Located 75 kilometers east of David and 11/2 hours from Boquete, this is a perfect base to explore Chiriqui. 90 miles west of Santiago it is equally convenient to visit the old world charm of Veraquas and its historic sites and churches. A scenic 3 hour drive over the continental divide to the Caribbean coast to explore Bocas Del Toro too. Playa Las Lajas is a popular playground for International tourists and on weekends the fun never stops as local Panamanian families flock to the beach.
A New Dive Shop has moved nearby and offers Suba, Snorkeling and fishing trips. Horseback riding on the beach is also available by reservation.
Dry or rainy season, anytime is a great time for Playa Las Lajas!"